It's no easy ride. Even top cyclists are daunted by the numbers: almost 600 miles in one week. Thousands of dollars in pledges. Hundreds of hills, and too many aches and pains to count. Still, they ride. Thousands of cyclists sign up for annual fundraisers that benefit AIDS Project Los Angeles and other AIDS-service organizations.
Uphill All the Way
Among them is a dedicated corps of HIV-positive riders who call themselves the Positive Pedalers. In California AIDS Ride 8 last year, more than a hundred of them made it all the way from San Francisco to L.A. They describe it as an amazing, life-affirming experience where lifelong friends can be made. But they also call it an uphill ride, from start to finish.
Robert Orosco, 38, was motivated to participate in the California AIDS Ride by his pharmacist.
Advertisement
"It was something that I never thought that I could do," said the 38-year-old resident of Orange, who has been aware that he is HIV-positive since 1998. "I had to prove to myself that I could do it. It was hard. Really hard. But I did it."
Orosco completed California AIDS Rides 5 and 6 and will complete California AIDS Ride 9 in June.
Los Angeles resident Louis Patzuro was drawn into California AIDS Ride 6 by his roommate, who said that she would give him her bicycle on the condition that he would participate in the AIDS Ride.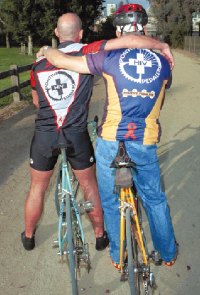 Drew Franklin and Paul Hulse
"I had not been on a bike since I was a pre-teen," Patzuro laughed. But noting that his 40th birthday would fall in the middle of the AIDS Ride, he registered. "What better way to mark the second third of my life?" he asked.
Patzuro said that he tested positive for HIV in 1996 but describes his health today as "incredible," with T-cells above 1,000 and an undetectable viral load. He said that he is doing California AIDS Ride on behalf of other people with HIV who could not do what he is doing. Now Patzuro is a coach for Pallotta Team Works, organizer of the California AIDS Ride.
Systems analyst Terence Alessandro, who said he has been HIV-infected since 1986, is participating in California AIDS Ride 9 after doing rides for other causes. He is looking forward to the challenge.
"The hills are hard," he admits. "But I love the distance. I get caught up in riding and lose track of time."
Not an Easy Endeavor
"It's not easy to get up every morning and everything in your body hurts, all the odds are against you, and then try to figure out where to get the hope that'll get you through the day," says Drew Franklin, who will complete his sixth San Francisco to Los Angeles ride this year, as a participant in AIDS/Life Cycle, benefiting the Los Angeles Gay & Lesbian Center and San Francisco AIDS Foundation.
Franklin's participation was a last-minute surprise. While others in the group rode up to 300 miles a week in training, he dealt with an HIV-related cancer that covered his hands and feet, along with a failing liver. Then, with just a few weeks to go, his condition changed for the better and Franklin felt strong enough to ride again.
"It just gives support," Franklin says of the group. "If nothing else it's just someone to listen and say 'I know how you feel.'"
"A lot of it's adrenaline. The group energy. The last three or four years there's been a gentleman that does the ride, and he has no legs. He does the whole ride with his hands. And I love to whine from time to time. Then you see someone like that, and it's just like 'how can I complain?'"
Franklin draws inspiration from some riders, and provides it for others who seek him out once they see his Positive Pedalers jersey.
"One of the best moments I had was two years ago, there was a girl who asked if she could ride with me. She told me it would be an honor. So many people came up and just can't believe that I'm doing the ride, and it shows that people are living with AIDS and not dying with AIDS."
Tom Vance has lived with HIV disease for years, and heads up the Positive Pedalers in L.A.
"It's amazing how many of the riders haven't met anyone who's positive, and to some extent we help give a face to the disease," he says. "We are there to support people who are supporting us."
"The sixth day of the ride has been Positive Pedaler Appreciation Day the last couple of rides. I've had people come up to me and say 'I see you guys with your flags on the bikes, and I've never met anybody who is positive before.' In my world, that is almost unthinkable. Everybody I know is positive."
"Then there are those who've lost a family member. For those people, we seem to be a way of dealing with their loss, because there's some hope for somebody else. It gives some meaning to their fight."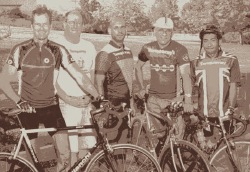 Drew Franklin, center, says that he was never athletic to start with. "I didn't even know how to throw a football. And to get on a bike and do 600 miles was something that was so challenging physically. It was kind of crazy to do."

From left, APLA Executive Director and California AIDS Ride participant Craig Thompson (#9105), Positive Pedaler Tom Vance, AIDS/Life Cycle participants Drew Franklin (#1220) and Paul Hulse (#7040), and California AIDS Ride participant Robert Orosco (#1827).
Special Needs
The fight for an HIV-positive rider goes beyond the physical challenge of a week-long ride. There are special nutritional needs, like extra protein, that are not always met at camp. Digestive problems plague many HIV-positive riders, and there are medication schedules to be kept. Even simple exposure to the elements can be dangerous.
"My main problem is that because of the medication I'm on, I'm very, very sensitive to sunlight, and so I could be wearing 50 block sunscreen and still be horribly sunburned by the end of the day," he says. "But I was so tired I didn't notice."
Vance feels organizers go the extra mile in meeting the needs of the riders like himself.
"Basically if there's any kind of medical concern, anyone who's HIV-positive goes right to the front of the line."
Vance organizes social events, training rides and bike tune-up clinics for Positive Pedalers, many of whom have completed multiple rides. Their energy is boundless, but this year, some notice fatigue setting in among donors.
"It's harder and harder to get people to donate," says Paul Hulse, who participated in AIDS/LifeCycle as a sound engineer. "After six or seven years they go, 'what, again?' It's just harder and harder to get money. People think AIDS is over now, all taken care of."
Drew Franklin, too, has had some trouble finding sponsors.
"I really think it's gotten to a point where people are tired of dealing with AIDS," he says. "I know I've been living with it for 12 years. I'm tired of it, but I have no choice."
It was on a ride that Franklin met Tom Vance. They've been friends ever since.
"The people I've met on the rides have become friends very quickly, and have stayed friends over the years," says Vance.
Despite setbacks facing the group, the ride and himself, Vance keeps pedaling, participating in various ways to be part of something he believes is almost perfect.
"It's like seeing a little miniature city, where everything I was ever brought up to believe in is right, and everybody's acting on that."
| | |
| --- | --- |
| | Ron Mackovich is a volunteer in AIDS Project Los Angeles' Publications Program. |