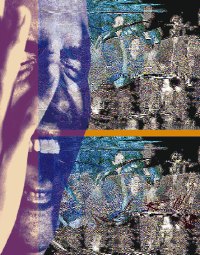 Graphic: Barry Markowitz
We come to Los Angeles from many places and for many reasons.
For we men and women who self-identify as gay, lesbian, bisexual or transgender, one of the reasons we come here may be the promise of freedom to exist in a place that exhibits at least some level of acceptance and tolerance for our kind. Many of us have been through years of self-doubt; self-hatred; and verbal, emotional and physical abuse targeting us because of who we are. Many of us feel we can breathe easier here.
Over the past decade, however, a new force of influence has risen. As this force has grown it has tightened its hold on our community, it has come to define gay cruising in Los Angeles. It starts by making us feel euphoric and sexy. We can forget all of the harsh realities, the hate, the homophobia, rejection from our families or religion. We can forget where we came from, and just be in the moment. We can forget about the search for lasting love, acceptance and intimacy. We can forget about the specter of AIDS and enter a new and empowering world.
Advertisement
In the beginning we get together with friends, dose up early in the evening and then go out dancing without stop until the dawn, re-booting as necessary. No need to rest, eat or drink. No limits! Invincible, beautiful, sexy, available at the asking, our mounting libidos rub up against one another on testosterone-drenched dance floors. The dance beats match our boundless energy -- pounding, sweating, relentless.
Soon we choose partners in ones, twos, threes and fours. "Are you partying tonight? Come back to my place and we'll play." We convoy to our party-buddy's home as the dawn breaks, dose up again and proceed to live out our every sexual fantasy. Our bodies feel so much more intensely. Our cocks stay hard forever. Our nipples tingle like fire. We fuck, get fucked, dose up again, suck, get sucked, dose up again, rim, get rimmed, dose up again.
No need to think about anything joyless. No need to concern ourselves with anything that would lessen our pleasure or come between us. We fuck like members of a gay tribe, united in our insatiable natures and lust for walking on the edge.
Eventually we notice that night has fallen again and we depart our new friends to start the cycle all over. We've entered the seductive world of crystal methamphetamine.
Later our feelings of sexual desire remain high, but our ability to maintain Herculean erections begins to wane. In our quest for never-ending pleasure, we compensate by increasingly submitting to penetration. The mental barriers are gone, and the act brings sensations at a level we never imagined before. We walk closer to the edge, lost in a dream euphoria. Each night becomes a search for someone to supply another dose, a place to party, and a hard dick.
We begin to lose friends. They say they don't like our behavior, but we know they're just boring people who don't party, anyway. People we used to think loved us want to take away the beauty, the joy. They don't get it! They begin to plot against us, but we outsmart them. We distance ourselves and keep a watchful eye on their activities.
Soon our jobs and/or school are taking a back seat to the non-stop party. Work and school demands just don't match our freewheeling lifestyle. We're getting our priorities in order. Nothing is more important than flexing our newly found super-egos. We're part of a super race of gay men who have come into our own. We can feel our power. Life should always have been like this. Invincible. Pure. Riding the crest of a wave.
Our minds race ahead of everyone else. The boring types just can't keep up! We see connections they can't imagine. We become aware of strands that connect the seemingly unconnected. We see the way things really are. We see the plots, the conspiracies, the inner-workings and behind-the-scenes schemes.
We see that the super race is out-numbered by the simpletons, and we become very careful. We look over our shoulders and lock our doors. We look for clues that someone has been in our apartment. We know the manager is watching us. We know that man across the street is a spy. Things have changed since 9/11. Conservative forces are at work. We know they've been tracking our moves on the Internet, and we feel the net descending over our heads, the noose tightening around our necks. We can't trust anyone now, even our so-called friends. We dose up again. The dream continues.
If we're lucky, someone or something intervenes. Real friends band together and confront us with our delusions, demanding we seek treatment. We lash out at others or ourselves in a haze of drug-induced psychosis and end up committed to a psych unit, where our substance and mental health issues begin to be addressed. If we accept treatment, we have a long road ahead, complicated by nearly-irresistible cravings, long, gray and joyless days spent with the boring types, and suspicions about everyone and everything that defy logic and diminish but slowly. There is light at the extreme end of the tunnel, but we're not sure we have the energy to reach it.
If we're less lucky, our psychosis becomes our permanent reality. The dream takes over the waking hours. The darkness devours the light, and we see no hope, no way out. The beauty, the joy, the power -- all are gone. We're left with nothing but ashes where our lives used to be. We've lost our jobs, ruined our careers. We've crashed our cars, been charged with DUI and possession. We're facing prison time and disgrace. Our real relationships have crumbled, and our party friends have disappeared. Nothing is left but the fear. The paranoia rises within us until we are consumed and all else is blotted out. Desperate for relief, we take any escape route we can find. A gun, a knife, pills, a noose. The dream is over.
This may seem like a harsh indictment of crystal use. I'm sure many of you know people in our community who seem to be in control of their crystal use, and who will never come to such an end. Maybe you're that person.
What I know is that Feb. 1, 2002, my best friend of 10 years, a brilliant composer, musician, singer, actor and teacher, a 41-year-old gay man originally from the Midwest who had long struggled with self esteem, sexual identity, internalized homophobia and the death of a lover from AIDS and the HIV infection of other loved ones, who had finally conquered 20 years of addiction to alcohol only to replace alcohol with crystal and ecstasy, whose underlying mental health issues came roaring to the surface with the use of these drugs, who became convinced that key close friends, family and lovers were plotting against him, who came to perceive conspiracies within conspiracies on a personal, local, national and global level, who crashed his car in a high-speed frenzied attempt to inform authorities that "crystal meth is being put in cigarettes," was charged with DUI, locked in a psych unit and fired from his teaching position, who faced the possibility of jail time, who lost all self-esteem, all hope and all perspective, whose once-formidable intellect tried in vain to reconcile logic with paranoia, who braved three weeks in a drug treatment program before sustaining one last attack of paranoid psychosis, during which he effectively eluded the treatment facility staff and hung himself by the neck with his own belt until dead. Who is now a memory and a small urn of ashes. By his own account he had used crystal fewer than 10 times.
As I've tried to make sense of my friend's passing, one thing has become crystal clear. At the risk of appearing un-hip, or naive, or one of the boring types -- or even of alienating some people -- I am compelled to send this message.
This drug is evil. It destroys peoples' lives, and often destroys their minds. It works on a brain neurotransmitter level, and its effects can take months or longer to begin to dissipate, if they dissipate at all. Underlying mental health issues are brought to the surface in the most malignant ways, and prolonged use can bring on psychosis and paranoia where none previously existed. You lose your friends, your housing, your erection, your teeth, your health, your grip on reality and often your life.
If you survive, the road back is slow and painful. If you're not so lucky, you end up like my friend.
If you haven't tried crystal, don't. If you've tried it a few times with no apparent ill effects, don't be seduced. If you or someone you know has a problem, reach out for help. It's there for the asking.
I'd give just about anything to have my friend back, but that's not possible. What is possible is for our community to recognize what an enormous problem this has become, and start to face it. Ten years ago I saw colorful, vital gay men populating dance floors all over this city. Now too often I see joyless, clammy, flaccid, paranoid, twitching zombies whose eyes look like black holes of hopelessness.
Ten years ago we were still passionate about protecting our community from an epidemic. Look around you. Welcome to the new epidemic.
Resources
Alternatives
1420 S. Central Ave.
Four South
Glendale, CA 91204
(800) 342-5429
American Recovery Center
2180 West Valley Blvd.
Pomona, CA 91768
(909) 865-2336
Behavioral Health Services
15519 Crenshaw Blvd.
Gardena, CA 90249
www.bhs-inc.org
Betty Ford Center
39000 Bob Hope Drive
Rancho Mirage, CA 92270
(800) 854-9211
www.bettyfordcenter.org
Cedar House Rehabilitation Center
18612 Santa Ana Ave.
Bloomington, CA 92316
(909) 421-7120
www.cedarhouse.org
Crystal Meth Anonymous (CMA)
(213) 488-4455
Del Amo Hospital
23700 Camino del Sol
Torrance, CA 90505
(800) 533-5266
www.delamohospital.com
Friends Health Center
6769 Lexington Ave.
Los Angeles, CA 90038
(323) 460-6855
www.friendsresearch.org
Las Encinas Hospital
2900 East Del Mar Blvd.
Pasadena, CA 91107
(800) 792-2345
www.lasencinashospital.com
Narcotics Anonymous (NA)
(800) 863-2962
Redgate Memorial Recovery Center
1775 Chestnut Ave.
Long Beach, CA 90813
(562) 599-8444
SMART Recovery
7537 Mentor Ave., No. 306
Mentor, Ohio 44060
(440) 951-5357
www.smartrecovery.org
Tarzana Treatment Center
18646 Oxnard St.
Tarzana, CA 91356
(800) 996-1051
www.tarzanatc.org
Van Ness Recovery House
1919 N. Beachwood Drive
Los Angeles, CA 90028
(323) 463-4266
(888) KRISTAL
(888) 574-7825
Treatment Programs.com
(888) 720-2345
| | |
| --- | --- |
| | Buddy Akin is a Health Promotion Specialist in AIDS Project Los Angeles' POWER Program. He can be reached by calling (213) 201-1515 or by e-mail at dakin@apla.org. |