APLA Hosts Open House at the David Geffen Center
June/July 2002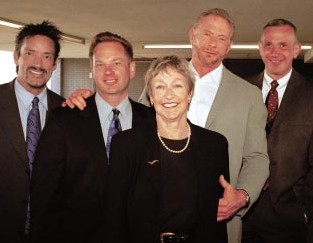 An open house was hosted by AIDS Project Los Angeles on May 9 at the David Geffen Center. Special guests included staff members, clients, elected officials and individuals from the founding days of the agency. Above, current Board Co-Chairs Jeffrey S. Haber and Brenda R. Freiberg are joined by West Hollywood Councilman John Duran, left, and founder Matt Redman, second from right, and Director of Programs Lee Klosinski.

Executive Director Craig Thompson displays a proclamation from the City of Los Angeles.

APLA client Shelley Singer


APLA client Michael Sausser
---

This article was provided by
AIDS Project Los Angeles
. It is a part of the publication
Positive Living
.