On September 29, AIDS Survival Project hosted a delegation of visitors from three countries in Africa -- Kenya, Nigeria and South Africa. The group, all members of parliament in their respective governments, had come to the United States on a fact-finding mission to look at our federal government's response to HIV/AIDS. While in the U.S., they held several meetings in Washington, D.C., and Atlanta with agencies including local legislators, community leaders, civic organizations and faith-based groups. The focus of the meetings was to learn about local governance responses to AIDS.
The participating members of parliament were recruited from diverse backgrounds and from numerous political parties within their countries. An additional aim of the study tour was to forge strong working relationships with their counterparts in other African parliaments and to continue those partnerships after the conclusion of the study tour. On the last day of their visit to Atlanta, they visited AIDS Survival Project. Once they completed a tour of our facility, they were seated in the Bruce Almond Community Room for a group session enabling them to speak openly with persons living with HIV/AIDS. The group seemed very excited by the prospect of being able to ask questions and to receive information from people who have hands-on experience with living with the virus and who do not mind speaking openly about it.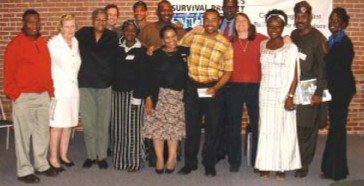 ASP staffers met with members of parliament from several African nations.
The group was not shy at all and launched into a friendly mêlée of inquiries, as if afraid that all of their questions would not have a chance to be answered. They wanted to know such things as how do we handle the stigma attached to the disease and what types of alternative therapies do we have access to? Of the nine individuals that visited, everyone was curious about certain things and wanted to find out information about specific areas. I remember one woman stating that she wished that our comments could be recorded on a compact disc or filmed on a DVD so that they could take our images back home and share us with others. I was so moved by her simple enthusiasm that I gave her a copy of an article that was written about me in an issue of
The Atlanta Journal-Constitution
that had been published earlier in the year. "Take this home with you and share it with your fellow countrymen. Tell them that we are doing very well over here and that we are always thankful for the options that are available to us and for all the choices that we have."
The tour, funded by the International Republican Institute, also received additional funding from the State Department. Before departing on the tour, the members held meetings to discuss their goals and objectives with other representatives from their home countries. Their goals and objectives were then evaluated through the length of the program through debriefing sessions and breakout discussion groups. At the conclusion of the program, there was a scheduled panel discussion at the Institute's office in Washington, D.C., where members presented what they learned and discussed ways in which they can apply their findings to their work in their home constituencies and national parliaments.
Advertisement
It is always eye-opening to talk with people from other countries about the plight of people with HIV and AIDS. We take so much for granted in this country. We are so fortunate to have the range of options that are open to us: the number of doctors and specialists available, not to mention the medications, complementary and alternative therapies and the wide range of support groups. There is still so much stigma and discrimination on the continent of Africa that people cannot even share their diagnoses with members of their families, much less get access to good medicines, doctors or clinic facilities. It was good to be able to share information with these dignitaries who are working diligently through their government agencies in order to improve conditions and access to medications for people in their countries and to gain greater access to whatever resources are available to them.
As an African-American woman living with HIV, I always make time to give thanks for the many blessings in my life and in turn, I bless all the people that I come in contact with, many of whom are struggling just to keep afloat. Let us remember that expressing gratitude should be a part of our daily routine. The visit from our African neighbors certainly made me more aware of how much I have to be thankful for and how little it takes to bring a little sunshine into someone else's life.