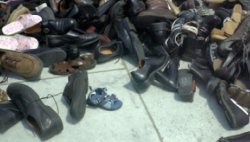 Just a small segment of the pile of shoes representing deaths from AIDS at the AIDSWatch march and rally, May 5. Photo: Tracy Bruce.
May 2 through May 5 was an experience to remember. I joined
Jeff Graham
,
Kendal Richardson
and
Maurice Bell
in Washington, D.C., for AIDSWatch, an annual week-long event in which activists visit their representatives and senators to lobby for AIDS issues. Our goal this year was to stress to our legislators the importance of the reauthorization of and increased funding for the Ryan White CARE Act, fully funding the Housing Opportunities for People with AIDS Act (HOPWA), a fulfilled promise of funds for the global fight against AIDS, more dollars for domestic prevention and protection from budget cuts to Medicaid.
Terje Andersen, Executive Director of NAPWA, and Charles King, CEO of Housing Works, started the first morning by stirring up the crowd and getting us excited about the days to come. After the morning pep session, we were broken into groups by geographical proximity. What followed was an intensive training that told us what we might expect: distractions, off-topic questions and opposition from tight-fisted, closed-minded legislators. Facts, dollar amounts and responses to negative questions were stressed. My aging brain felt like it was swimming with overload. A lunch break was a welcome reprieve. After lunch, additional training sessions and seminars kept everybody busy. The day ended with an enthusiastic pep rally that stirred the passions of activists gathered from every state and territory of the union.
Lobbying for AIDS Drug Assistance Program (ADAP) funds at the state capitol was never like this, but it certainly provided a good prep for visiting Capitol Hill and our legislators. Our first visit was to Cynthia McKinney's office, to speak with staff assistant Adrienne Cole. Jeff did what he does best: he spoke eloquently on each of the asking points, providing facts and figures while Ms. Cole took copious notes. He then turned the floor over to each of us in turn, and we told our stories, emphasizing some of the asking points with personal stories. I spoke on how ADAP has helped me obtain medicine that I am unable to afford out of pocket and how important prevention efforts are to me as a mother of HIV-negative sons. Kendal and Maurice followed with their own experiences. Congresswoman McKinney's assistant was receptive and supportive.
We had four Hill visits scheduled for Wednesday, and we lost Maurice but gained Bob Gibeling from Atlanta Interfaith AIDS Network. The first visit, with Senator Johnny Isakson's legislative correspondent Bradford Swann, was much easier, having done this the day before. Mr. Swann was certainly knowledgeable of services available and some of the organizations in the state that provide those services. However, he was not very receptive to requested increases in the budget. He implied that Isakson, as a junior senator, was unwilling to make waves and would sign whatever budget President Bush presented.
Advertisement
Our second visit was with
Todd M. Coons
, the legislative assistant for Rep.
Phil Gingrey
. Congressman Gingrey, my own representative, is a pro-life M.D. specializing in OB/GYN. I pushed a point home with young Mr. Coons when I told him that access to treatment and medications constituted a pro-life issue.
Our third visit was with the Honorable John Lewis. It was a breeze since he has always supported our causes. We all got a chance to share our stories with the congressman and received a warm response in return. It was an honor to be in the presence of someone who has helped change public perception and mold civil rights legislation.
The final visit on Capitol Hill was with Sarah Jarrett Balog, senior legislative assistant to Congressman David Scott. She was incredibly receptive and offered the moon and stars in support of our requests.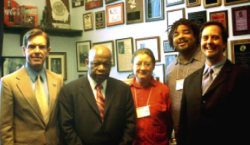 Atlanta Interfaith AIDS Network's Bob Gibeling, Rep. John Lewis, Tracy Bruce, Kendal Richardson and Jeff Graham at an AIDSWatch meeting with the Congressman. Photo: Tracy Bruce.
On the whole, the opportunity to speak with these people provided an "I'm off my ass and doing something about this!" feeling. This was an experience I won't easily forget and one that I hope to repeat. AIDSWatch week came to a climax on Thursday, May 5, with a nine-block march down Pennsylvania Avenue to the White House. I planned on picking up the march in the middle since I had an early flight and was marching with my luggage. The pickup point I chose turned out to be the same point where the
Campaign to End AIDS
folks were unloading 8,500 pairs of shoes, representing the number of deaths daily attributed to AIDS globally. With the marchers less than ten minutes away, I pitched in and helped unload the boxes upon boxes of slippers, boots, sneakers, sandals, high heels, low heels and everything in between. I found children's shoes especially poignant.
The marchers, numbering over a thousand, were escorted by a fire truck, ambulance and many police cars. As they reached the pile of shoes, they grabbed as many as possible, and then it was on to the White House. I had five or six pairs of shoes cradled in one arm while dragging my suitcase and satchel behind me.
The scene at the White House was spectacular. While the President sat in the Oval Office, activists laid out row after row of shoes, running the entire length of the building. Whistles blew, voices raised and the administration was challenged. President Bush didn't make an appearance, but he had to know we were there. It was at that point that I had to leave due to my aforementioned early flight. I missed the rally that followed the march, but I'm sure that it got people fired up for the Campaign to End AIDS, coming in October.
Tracy Bruce is a former board member and the newest staff member of AIDS Survival Project, now serving as ASP's Linkage to Care Associate. She is also a graduate of ASP's Positive Action Network.