Introduction
Gung Hay Fat Choy!
is a salutation for the Chinese New Year. It seemed appropriate that the 11th Annual Retrovirus Conference, which began on the final day of celebration of the Chinese New Year, should take place in beautiful San Francisco, just blocks from Chinatown.
Although the celebration in Chinatown was full of excitement and optimism for the New Year, the tone of this year's Retrovirus Conference was much more subdued and unenthusiastic. Much of the discussion this year centered on the lack of success in vaccines to prevent HIV infection, the increasing numbers of new infections in specific minority populations, new problems being found in the techniques to prevent mother-to-child transmission of HIV and the lack of adequate funding for this pandemic.
Vaccines for HIV Prevention
In a sobering presentation entitled "Why an HIV-1 Vaccine Is Not Currently Within Our Grasp," Ronald Desrosiers from Harvard Medical School explained the difficulties of finding a truly effective vaccine. Dr. Desrosiers acknowledged that all of the vaccine approaches we have attempted thus far have completely failed, and even though we do have at least 13 different products in varying stages of research, none of them are likely to actually provide real protection against HIV infection.
Advertisement
According to Desrosiers, the root cause for why we been unable to develop an effective vaccine is "our inability to solve fundamental scientific questions." That was a sentiment echoed by Dr. Dennis Burton in another presentation. "At the end of the day, we don't really understand how vaccines work, and that's part of the problem," stated Burton.
Ambassador Stephen H. Lewis also cited the lack of progress in vaccine research in his keynote address opening this year's Retrovirus Conference. "If ever a Nobel Peace Prize lay waiting, it's for an AIDS vaccine," declared Lewis. Funding, he stated, is the major problem. Lewis acknowledged that the only pharmaceutical company that is apparently involved in research for a vaccine is Merck & Co., and that the governments should be helping out much more. Research for a vaccine should be a priority, Lewis argued.
High Rates of HIV Infection in Minority Populations
Even though here in the U.S. we have made significant advances in the prevention of new HIV infections, there still are increasing rates of infection in specific populations.
In the first major report of an HIV outbreak among college students, North Carolina researchers found an epidemic in students primarily involving African-American MSM (men who have sex with men) and MSM/W (men who have sex with men and women). A startling 88% of newly reported cases of HIV infection among college students in North Carolina were African-American, and 91% were MSM or MSM/W. Lisa Hightow, University of North Carolina at Chapel Hill, declared that this should be a "wake-up call" that there is an increasing trend of HIV infection in college age groups and that college students are an at-risk population that needs to be targeted for better education and prevention.
Greg Millett, a behavioral scientist for the Centers for Disease Control and Prevention (CDC), presented an oral abstract entitled "Men on the 'Down Low': More Questions Than Answers." Men living on the "down low" ("dl") has become a culturally specific term referring to men in the Black community who self-identify as heterosexual, are actively having sex with both women and men and who do not disclose their same-sex activities to their female partners. This subgroup of bisexually active Black men has become a focal point of interest in the HIV prevention community in the past several years. One of the primary reasons for this interest is the question of whether these men serve as a route of HIV transmission to the heterosexual community. Citing the lack of research into this population, Millett called for more research to determine where men on the "dl" fit into the spectrum of HIV risk among all Black men, and thus how to provide better education regarding prevention methods for these men and their partners.
Prevention of Mother-to-Child Transmission of HIV
Tremendous success has been achieved in preventing mother-to-child transmission (pMTCT) of HIV. It was exactly one decade ago, in February of 1994, that the results of PACTG 076 were announced. This was the pivotal study that showed the dramatic effect that providing ZDV (AZT) to expectant mothers would have in preventing HIV transmission to their newborns.
Since that time, we have discovered that the addition of nevirapine (NVP) to ZDV reduced rates of transmission even more; and that NVP given by itself as just a single dose to the mother before delivery, and to the newborn after delivery (at just a cost of approximately $4.00), would provide a very significant reduction in transmission in areas where ZDV is not affordable or where women are not diagnosed HIV-positive until going into delivery. Now, however, we are finding that a percentage of the mothers and newborns that have been given this therapy are developing resistance to the drugs, most notably NVP.
The crucial results of research into these new findings were discussed extensively here at the Retrovirus Conference; much of it was released here for the first time anywhere. The implication of the development of drug resistance in mothers and newborns receiving nevirapine is the possible reduction or even lack of effectiveness of the non-nucleoside class of antiretrovirals, to which nevirapine belongs, to mothers and newborns in future treatment for HIV. This has the potential to severely limit the choices of treatment for many HIV-infected patients, especially in developing countries, as this particular class of drugs is a potent class less expensive than the protease inhibitor class.
Various studies presented here looked at this complication. Many of them found that the resistance that does develop in some of these patients may only be a short-term problem, and the resistance may decrease over time, possibly as short as six months. If that would be the case, then nevirapine, or other drugs in the same class such as efavirenz, might still work in these patients. Because of this belief by many of the researchers that the resistance may be short-term, and the proven successfulness and low cost of nevirapine in pMTCT, the consensus seems to be to not change any recommendations for using nevirapine in resource-limited settings at this time.
Oversimplification of Antiretroviral Therapy
In an effort to increase adherence to HAART (highly active antiretroviral therapy), researchers have continually been trying to make the drug combinations easier to take. Once-a-day dosing or combining multiple drugs into a single pill have been popular attempts to achieve better adherence.
The creation of Trizivir, which combines three separate drugs in the nucleoside class into a single pill, has prompted research into regimens that consist of only one class of drugs and whether they could constitute a viable and effective combination. This could have the potential of saving the protease inhibitor (PI) class and the non-nucleoside (NNRTI) class for later use, postponing the toxicities associated with those classes. Unfortunately, most of the research looking at these triple-nucleoside/nucleotide combinations has failed to show comparable effectiveness to other multi-class combinations of antiretrovirals, and in some cases, very suboptimal performance.
However, one combination did look encouraging. In a study looking at the safety and efficacy of once-daily (QD) Trizivir (TZV) combined with QD tenofovir DF (TDF), patients whose baseline viral load was less than 100,000 copies/mL appeared to show suppression of the virus. This was a small (88 patients) study, so larger studies are needed to verify these results, but it is encouraging to see this outcome using a PI-sparing and NNRTI-sparing regimen.
More Evidence of HIV Superinfection
The debate over superinfection appears to be over. A study from the Universities of California San Diego (UCSD) and Los Angeles (UCLA) confirmed several earlier reports that patients with recent infection are engaging in high-risk sexual activity that can result in a second HIV infection, also known as "superinfection."
In a study that took place in both San Diego and Los Angeles, three subjects out of 54 were found to be infected with more than one strain of HIV. In these three patients, superinfection occurred five to thirteen months after the estimated time of initial infection. Two of the three were initially infected with a strain of HIV that was already resistant to at least one of the antiretrovirals currently in use, and then were re-infected with a wild-type strain. The third was initially infected with a wild-type strain of HIV and then re-infected with drug-resistant virus. All three subjects were male whose risk factor was sexual exposure.
Each case of superinfection was accompanied by an increase in viral load, a decrease in CD4 counts and a change in antiretroviral susceptibility, which could limit future treatment options.
This study provides just one more example of the continued need for harm reduction counseling in populations that are already HIV-infected.
New Drugs in Development
There was a small group of abstracts presented this year that described new antiretroviral drugs in early trials. Of most notable interest this year were new entry inhibitors. Currently approved antiretrovirals (other than Fuzeon) attack the HIV replication process after the virus has already entered the cell. The new entry inhibitors actually work by preventing the virus from entering the cell in the first place.
Schering-D (SCH-D) is a compound that inhibits HIV replication by stopping the binding of HIV to the CCR5 receptor. In a study of 49 patients, this new drug was found to be safe, well-tolerated and demonstrated potent antiviral activity.
BMS-488043 is a new drug that blocks viral entry by preventing the binding of the viral envelope protein gp120 to the cellular CD4 receptor. In a small study involving 30 subjects, BMS-488043 was also found to be well-tolerated, safe and effective at reducing viral load.
The success of these drugs in initial trials demonstrates that antiretrovirals that inhibit HIV replication by preventing binding of the virus to the cell receptors can be effective and supports further evaluation of these types of compounds.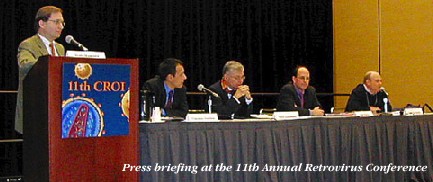 For More Coverage From the Retrovirus Conference
Visit Web sites such as
www.thebody.com
,
www.natap.org
or the official Retrovirus Conference Web site
www.retroconference.org
.
All conference photos courtesy of the author.