The fifth annual African-American Outreach Initiative (AAOI) conference, held in Atlanta March 12-14, was undoubtedly the best one yet! Having outgrown the previous hotel venue, the conference was based in a new location at the Renaissance Hotel, near the Hartsfield-Jackson Airport. Shuttle buses were provided to bring participants from the MARTA train station starting at 7:00 a.m., and at 7:15 on Saturday morning when I arrived, people were already making their way to the breakfast buffet lines.
The overall mission and goal is to target those African Americans who are HIV positive and not yet in treatment. This is a conference that simply cannot be beat! Two full days, including breakfast and lunch, free transportation (via MARTA tokens), lots of good information and an opportunity to network and meet new friends, healthcare providers and agency representatives from around the area. This year, there were 33 exhibitors who provided information on everything from pharmaceuticals to life insurance. Participants are encouraged to access holistic treatment services in order to increase utilization of health care and promote medical adherence by providing information on available services, programs and other resources.
The conference provided some 29 different plenary sessions, panels and workshops. Topics were as diverse as "Disclosure" to "Using (Qi Gong) Chinese Breathing to Promote Healing." There were also separate seminars for Men Who Love Men, Men Who Love Women, For Women Only, Sexually Alive and HIV-Positive, and Can I Get an Amen (spirituality and HIV). The lunchtime plenary session on the first day was a research panel with representatives from the AIDS Research Consortium of Atlanta (ARCA), the Emory Clinic, Emory Vaccine Center and SisterLove, Inc. Plenary topics included "African Americans and Clinical Trials," "HIV Vaccine Research and Development" and "Microbicides."
Advertisement
The second day, there was a panel discussion with representatives from diverse sexual orientations discussing living positively. The discussion brought together all of the workshop topics from the perspective of people living with HIV and AIDS. The African-American Outreach Initiative has always been a volunteer effort. The planning committee is composed of some individuals who have been involved since the beginning and others who have joined along the way. Some of the committee members have become involved after attending the Initiative. The planning committee meets over a nine-month period to plan each year's activities. Additional volunteers attend the Initiative annually to perform a variety of tasks. All of the speakers, workshop presenters, panelists and group facilitators volunteer their time and services. The primary goal of the Initiative is to continue to bring information on taking care of one's body, mind and soul to African Americans positively living positive.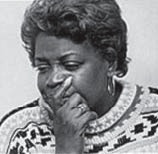 Faye Brown-Sperling
This year, the entire conference was dedicated to the work of Faye Brown-Sperling. Faye was a pioneer in the field of substance abuse and its connection and interaction with HIV and AIDS. Among the many hats she wore so competently, Faye was the cofounder of the African-American Outreach Initiative and the first chairperson of the AAOI budget committee, as well as the co-founder of Our Common Welfare (OCW), the first licensed, specialized drug treatment facility for persons with HIV/AIDS in Georgia.
OCW runs a Substance Abuse Day Program (SADP). Operational since 1995, SADP offers a licensed, 45-day intensive outpatient program, delivering a full drug treatment curriculum supported by HIV/AIDS education and prevention services to persons with HIV/AIDS. Services include intake and assessment, individual and group therapy counseling sessions and a continuing care program for continued support in recovery. OCW has short and long-term housing available for substance abusers with HIV in DeKalb County. Housing and support programs (HSP) accommodate persons who are homeless and have low or no income. The goal for the HSP is independent living and assisting residents to achieve positions of productivity and usefulness in society. OCW also offers financial assistance to persons living with HIV/AIDS. An application and proof of need is required.
The Partner and Significant Other Notification and Education program (PSONE) is available to assist HIV-positive persons become educated and notify sex and/or needle-sharing partners or family and friends about their HIV status. PSONE (pronounced "P-S-One") offers individual and group sessions. Education, Support and Prevention (ESP) is a course designed to provide a safe environment for participants to explore the sensitive issues that inhibit behavior change. ESP supports the drug treatment messages and provides an introduction to the foundation steps of 12-step programs. Registration for this program is required. Finally, OCW conducts HIV counseling, testing and referral services. The organization was the 2001 National Life Award recipient for their efforts in community HIV antibody testing. In 2001, they tested more than 1,900 persons, with 87% returning to receive their results.
Our Common Welfare is located at 4319 Memorial Drive in Decatur, Georgia. Their hours are Monday to Friday from 8:30 a.m. to 5:00 p.m. (Hours for different programs vary. Call the main office for more information.) Their phone number is (404) 297-9588 and their Web site is www.ourcommonwelfare.com.