In 2003, Congress enacted the Medicare Prescription Drug Improvement and Modernization Act, which created a new opportunity for Medicare beneficiaries to become eligible for prescription drug coverage under a new plan called Medicare Part D, to begin in January 2006. Under this new plan, Medicare beneficiaries will have to choose to enroll in either a private prescription drug plan or in Medicare Advantage, a managed care plan that includes prescription drug coverage. Although this is a solid step in providing access to needed medical resources for those who benefit from Medicare, there is a group of individuals that will be greatly impacted by this change.
Currently, there are approximately six million individuals considered "dual-eligibles," e.g., people who are enrolled in both the Medicare and Medicaid programs to provide their healthcare needs. Currently, Medicare and Medicaid work together to provide a comprehensive medical plan: Medicare covers basic health services, while Medicaid helps to cover the cost of Medicare premiums and to cover important benefits that Medicare does not offer, such as prescription drug costs and long-term care. Individuals who use both programs have limited financial means and more extensive medical needs. Many individuals living with HIV/AIDS use both programs and are considered to be in the dual-eligible category.
Beginning in Fall 2005, individuals who are in the dual-eligible category will be asked to identify and enroll in one of a minimum of two prescription drug plans offered through Medicare Part D. Understanding the options that will be available is extremely important for dual-eligibles, because if a plan is not self-selected before January 1, 2006, those individuals will be automatically enrolled in a randomly selected prescription drug plan. The drug coverage offered through Medicare Part D will not necessarily be the same benefits afforded through Medicaid, so it is most important for dual-eligibles to understand the changes in order to make an informed decision.
All private prescription drug plans utilized by Medicare, regardless of the company, will include a monthly premium and an annual deductible. To help offset these additional costs, there will be substantial assistance offered through subsidies to those individuals who are considered dual-eligible and have restricted financial resources. One major concern to be aware of in choosing a plan: Prospective enrollees are not given information about whether specific drugs are covered or what the costs will be before they have a chance to decide whether or not to enroll. There is a one-year commitment for each prescription drug plan; every year between November 15 and December 31, enrollees will have the opportunity to change plans, if necessary.
Advertisement
Advocates for individuals accessing both Medicare and Medicaid have concerns with this new law. The worry is whether the new Medicare drug plan will be able to provide the comprehensive coverage necessary to give dual-eligibles the quality of service similar to the Medicaid benefits it will replace. Furthermore, individual companies will be able to control all aspects of the plan, including drug prices, program costs and preferred drug formularies.
The following two questions are ones often asked by consumers and community members and addressed by the Kaiser Commission of Medicaid and the Uninsured.
Will Drug Coverage Be Affordable?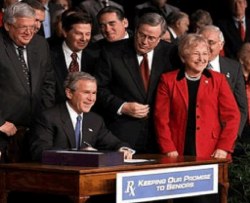 President George W. Bush signs HR-1, the Medicare Prescription Drug Improvement and Modernization Act of 2003, at Constitution Hall in Washington, D.C., December 8, 2003. Program changes created by the legislation will have some impact on those currently eligible for dual coverage under Medicare and Medicaid. (Photo: Paul Morse, The White House.)
Individuals who access Medicaid have limited financial means, which becomes a concern with the new prescription drug plans offered through Medicare Part D. There are several out-of-pocket expenses that may occur and, depending on which private plan is chosen, may inhibit access to appropriate drug coverage. The Medicare drug law does contain significant subsidies to help offset these additional costs. However, the following problems may still create a barrier to access to care:
Dual-eligibles may not have access to the full range of prescription drug plans in their area if they are unable to pay the premium costs for selecting a plan with above-average costs.
Small cost-sharing levels on individual drugs may add up to an unaffordable amount for dual-eligibles if multiple drugs are needed.
The potential that drugs could be withheld if beneficiaries are unable to pay cost-sharing could lead to interruptions in treatment regimens.
For individuals living with HIV/AIDS, many of the drugs that are the most effective are among the most expensive -- costs must be controlled to ensure access.
Will Dual Eligibles Be Able to Get the Drugs They Need?
To meet the needs of the dual-eligible population, an effective prescription drug plan should be comprehensive, allowing qualified providers to prescribe the full range of available prescription drugs. Unfortunately, the new Medicare law allows the private companies offering the drug plans through Medicare Part D to operate under closed formularies. A formulary is a list of approved drugs for which the prescription drug plan will provide coverage. A closed formulary can limit access to drugs by not including them on the approved list, regardless of the medical need of the insured. This control over what drugs are available on the prescription plan could create substantial problems for dual-eligibles by limiting access to lifesaving drugs because of limited financial resources to purchase drugs not on the formulary.
The closed formularies permitted under the Medicare prescription drug law could potentially restrict access to medications.
The Medicare prescription drug law permits prescription drug plans to deny coverage for off-label uses of medication that are currently covered by Medicaid.
Under Part D, dual eligibles that have been unresponsive to previously available medications could be affected by not having access to drugs that are newly approved.
Individuals living with HIV/AIDS who have been unable to successfully treat their health issues with current medication may be affected by not having full access to newly approved drugs because they are not listed on the closed formularies.
With transition to the new Medicare prescription drug plan approaching, it is important for current beneficiaries to begin considering what they will need to do before the end of the year to ensure that this process of change is successful. From November 15 through December 31, 2005, individuals affected by this new law will have the opportunity to learn about the new prescription drug programs available through Medicare. It is important for current beneficiaries to make their decision before the end of year so that the best program for their needs is chosen -- and to avoid having a program chosen for them. The transition process could be overwhelming and it's a good idea for each affected individual to talk with his or her physician or pharmacist for help in understanding the health plans being offered and which is the best choice for their own health care.