The year 2003 marks the 20th anniversary of the discovery of HIV-1. To mark this occasion, the International AIDS Society (IAS) and the French National Agency for AIDS Research (ANRS) joined forces and resources to hold what is sure to be this year's largest scientific and medical conference on HIV/AIDS. Taking place in Paris, France, the goal of this conference was to create a truly international conference, where the top researchers and scientists could not only share the latest in basic and clinical science, but could also integrate all of the issues relevant to expanding access to treatment to all areas of the developing world.
The conference drew over 6,000 delegates from 120 countries, with a noteworthy 37% attending from Africa and 10% from Asia. Almost 1,900 abstracts were submitted, with 900 being accepted as poster presentations and 180 as oral presentations. There were 15 forums held, six cutting-edge plenaries and eight controversy debates. The controversy debates were especially exciting. In these sessions, two experts took opposing sides on subjects that are still causing much debate in the medical community; such as whether structured treatment interruptions are a good and helpful idea or whether we should be changing the patients' antiretroviral therapy because of the possible risk of cardiovascular disease. There were also media briefings each day that provided an opportunity for those of us in the press to directly speak to many of the key presenters at the conference.
Advertisement
Due to the sheer magnitude of topics that were presented and the limitations of space available for one article, I will attempt to provide information on a variety of issues that I found to be especially noteworthy. Following this article will be a list of resources where you can find additional, more extensive coverage of the conference.
Success in Botswana
Although the word "success" may be arguable to some, Botswana has made great strides in fighting the HIV epidemic. Already, because of HIV/AIDS, the life expectancy in Botswana will drop by 30 years. However, because of aggressive action by the government and their ministry of health, Botswana is making remarkable progress in controlling the further spread of HIV.
Ernest Darkoh, Operational Manager for the Botswana National Antiretroviral Program, described the impact that vigorously distributing antiretrovirals in their country has had. Botswana began implementing antiretroviral (ARV) therapy in 2002, immediately treating patients even before all planning for their program was finished because people were dying.
As of June 15, 2003, approximately 9,000 people have enrolled in their program with 6,000 receiving ARV. Patient follow-up is a remarkable > 90%, and switching of therapies due to toxicities is less than 7%. Complete viral load suppression after 6 months has been achieved in 85% of those receiving treatment. Deaths after beginning treatment are a notable 6.5%. What this shows is that even in developing countries access to treatment is effective. There are many people who believe that providing ARV to developing countries will lead to drug resistance and further spread of drug-resistant virus because of the lack of ability of people in these settings to properly adhere to their medication schedules. This is obviously not the case in Botswana. As Joep Lange, IAS President, said in a later media briefing; "Some claim we shouldn't treat developing countries because of likelihood of developing resistance, but we still treat in the developed countries where transmission of drug resistant virus is occurring."
In a particularly moving statement, Mr. Darkoh closed with the words; "In the time that I have spoken, ladies and gentlemen, we have lost many hundreds of lives. I hope this is something that is sobering to all of us and makes us realize that history will remember us for how we act in this particular moment."
20 Years of Science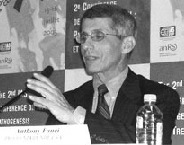 Dr. Anthony Fauci
In what was billed as an Extraordinary Plenary Session, Anthony Fauci gave an exceptional description of the past 20 years since the discovery of HIV-1. In his first slide, he noted that 135,083 HIV-related papers were in the PubMed Database as of July 11, 2003, just days before this presentation. He showed a slide of the first ever glimpse of the actual virus that would be later identified as HIV. Dr. Fauci then gave a thorough overview of the science of HIV from observing it in 1981 up to the present. He addressed the achievements we have made, noting that we currently have 19 different anti-HIV drugs FDA approved and 22 formulations of these drugs available. He also recognized the importance of community activism in the development of, and access to, antiretrovirals.
In addition to the advances we have made, Dr. Fauci also noted our failures, such as our dream back in the mid-to-late '90s that eradication would be possible, and our lack of an effective vaccine, also stating that a vaccine, both safe and effective, is the most important objective in HIV science.
For a complete copy of Dr. Fauci's presentation, you can visit the Kaiser Network Web site listed following this article. It was also published as an article in the July issue of Nature Medicine.
Nelson Mandela Makes an Appearance
Receiving an extended standing ovation by a packed auditorium, Nelson Mandela spoke to the attendees present at this conference and thanked the scientists for the advancements in the science of identifying and treating HIV. Mr. Mandela praised President Bush's 15 billion dollar promise for the fight against AIDS and asked for the President to increase the percentage of it going to the Global Fund. After asking for additional contributions to the Global Funds from other countries, particularly in Europe, Mandela stressed that it is essential that every sexually active person know his status.
After citing some worldwide statistics, including the estimate by the United Nations that there are 45 million people living with HIV and that 26 million have already died, Mandela declared that this is the greatest health crisis in human history and that the most striking inequality is our failure to provide life-saving treatment to the millions of people who need it most. He pleaded for access to treatment throughout the developing world.
Controversy on Cardiovascular Disease
The author with former ASP staff member Dawn Averitt
Dawn Averitt and Michael Saag
In one of the Controversy sessions, Marc Van der Valk, from the University of Amsterdam debated with Sam Bozzette, University of San Diego, on the issue of modifying ARV based on the risk of cardiovascular disease (CVD).
Van der Valk argued the pro side, that we should change therapies according to the possible risk of CVD in patients receiving ARV. Multiple studies, although somewhat inconsistent, have shown some risk factors increased due to the antiretrovirals used. Some of the drugs raise blood lipids, blood pressure, lead to insulin resistance, etc. And it is well known that these are all contributing factors to CVD.
Van der Valk also stated that although there are other behavior modifications that may decrease risk of CVD (stopping smoking, lowering blood pressure, controlling lipids, etc.), for most people, these are almost impossible to do.
Sam Bozzette, however, arguing that we should not change therapies, felt that these behavior modifications are very possible. His argument was that we should work on these behaviors first, that they would have a much greater impact on lowering the risk of CVD than changing ARVs based on risks associated with each specific ARV or class of ARVs.
Stop smoking was a message echoed repeatedly throughout the conference.
ACTG 5095 -- "The Trizivir Study"
A study that has made headlines in numerous community newsletters and journals compared three different protease inhibitor (PI) sparing regimens. Due to the belief that PIs are to blame for a large percentage of the metabolic toxicities of antiretroviral therapy, this study was proposed to evaluate therapies that did not include a PI. Three different regimens were compared. One arm consisted of Trizivir, a triple nucleoside regimen, and this was compared to an arm that contained two nucleosides (NRTI) plus efavirenz, a non-nucleoside (NNRTI), and an arm which contained the three NRTI drug Trizivir and also efavirenz.
In this study, the two efavirenz-containing arms significantly outperformed the arm containing Trizivir, the NRTI only arm. The difference was so significant that the NIAID Data and Safety Monitoring Board (DSMB) recommended, based on a planned interim review, termination of the Trizivir arm.
There has always been some concern in the community that any regimen containing only drugs from one class would be doomed to earlier failure than regimens that combine classes, either because of lack of potency or increased risk of acquiring resistance to that class. This appears to be the case here, however even though the efavirenz containing arms do perform better, the Trizivir arm was still able to achieve undetectable levels (<200 c/ml at week 48) in 74% of the patients, compared to 89% in the efavirenz-containing arms in this group of ARV naive patients.
Switch Studies to Improve Lipoatrophy
Complications of HIV therapy, particularly problems with metabolic changes and the resulting lipodystrophy syndrome(s), were heavily studied here at this conference. There were studies presented that looked at the causes of some of these toxicities, as well as possible treatments or strategies to avoid the problems.
One popular idea is to switch from the drugs we "believe" are more likely responsible for causing some of these conditions to drugs that we think will be less damaging. Many believe that the NRTIs AZT and d4T are major contributors to mitochondrial toxicity, which is thought to lead to lipoatrophy (LA). One such "switch study" was described in abstract #51. In this study, patients either switched from AZT or d4T to Abacavir, another NRTI. Both arms showed modest, but progressive, increases in body fat through week 48.
The feelings in the medical community are that these improvements will likely continue; however it is also believed that the regression of LA will be a long process. Better results may come to those who are just initiating therapy by avoiding the drugs most likely thought to cause these problems.
Reyataz -- A New Protease Inhibitor
Already in 2003, we have had three new antiretrovirals approved by the FDA for use in the fight against HIV/AIDS. One of the new drugs, a new protease inhibitor manufactured by Bristol-Myers Squibb, Reyataz (atazanavir sulfate, ATZ), was approved on June 20. In one study (abstract #543), 48-week data was reported on and demonstrated that Reyataz-based therapy can maintain virologic suppression while also allowing for improvements in lipid profiles in PI-treated patients. Reyataz is also the first PI to be indicated for once-daily (QD) dosing.
Several previous studies have also shown that Reyataz has an improved profile when looking at changes in blood lipids (total cholesterol and triglycerides).
Emtricitabine -- A New NRTI
ACT-UP Paris demonstrating at conference
Emtricitabine (FTC) is the newest approved antiretroviral here in the US. Marketed by Gilead, Emtricitabine was the subject of at least two studies presented in Paris. Abstracts #546 and #547 both studied the drug in two different patient populations. In a study looking at the drug used in a treatment-naive patient group, it proved to be a potent, once-daily NRTI that provided significant efficacy.
In a highly treatment-experienced patient group, once-daily Emtricitabine also performed well, comparing favorably to a twice-daily regimen of abacavir. In this study, both drugs were combined with d4T and efavirenz.
Fuzeon -- The First Entry Inhibitor!
Fuzeon (enfuvirtide, ENF, T-20) is the first drug approved in the exciting new class of entry inhibitors called Fusion Inhibitors and is a joint venture from Roche Pharmaceuticals and Trimeris, Inc. This new drug was represented very well at this conference with numerous abstracts and oral presentations taking place.
The TORO 1 and TORO 2 studies both compared regimens consisting of Fuzeon plus an optimized background (OB) regimen versus the OB alone. The OB regimens were selected based on patient treatment history and resistance test results. In both studies, the addition of Fuzeon to the OB regimen resulted in a lower percentage of patients experiencing virologic failure compared to OB alone, and significantly delayed time to virologic failure in those who did eventually reach failure. Although it appears that Fuzeon can be effective in patients with various degrees of disease progression, it appears to have the greatest benefit when used earlier in treatment rather than later or when patients have a higher baseline CD4+ cell counts (greater than 100 cells).
And So Much More ...
This is just a tiny sample of the important data presented at this conference. For more reports from the IAS Conference, please visit the following Web sites: