An important part of your HIV health care involves regular doctor's visits for lab work. These laboratory tests are used as a part of your treatment plan to help monitor your HIV progression as well as providing information to help you and your doctor make decisions about your treatment regimen -- whether you should start, stop or change treatments. A commitment to regularly monitoring your lab work is an important way to take charge of your health. Just knowing and understanding this aspect of your health care is crucial for many to find a level of comfort with understanding their HIV.
The Basics
There are several different types of laboratory tests that can be used to monitor HIV. The four common tests are
viral load, CD4 count, complete blood count
and
blood chemistry tests
. These four tests are blood tests and are the most comprehensive tests available to monitor the health of individuals living with HIV. Depending on your health and whether you are on a treatment regimen, most doctors will run these tests every three to six months. Since these tests are used to monitor your overall health through comparisons of tests over time, it is important when you are first diagnosed or when you start your first treatment regimen to get your lab work done to provide a baseline for future comparisons.
To read your lab report, you will find listed on the summary the names of the tests performed, the results of the tests and the reference ranges. The results are typically reported as absolute numbers measured per a specified unit or as percentages, which can then be compared with the reference ranges provided for those particular tests. Reference ranges are determined by sampling a large population of healthy individuals in order to determine a range of averages. A person's test results should fall within those averages in order to be considered in a "normal" range.
Advertisement
Viral Load
This test is responsible for measuring the amount of HIV in your blood (copies/mL). There are two types of viral load tests:
polymerase chain reaction
(PCR) or
branched DNA
(b-DNA). The test results summary will specify which test was used. Although these two tests come to comparable conclusions, the results of the two different tests don't correlate. So, even though the results basically provide you with the same information, it is important to use just one of these tests over time for more consistent comparisons.
The goal with this test is to reach or get as close to undetectable as possible. For the PCR viral load test, less than 50 copies of HIV in the blood is considered undetectable, and for the b-DNA viral load test, less than 400 copies of HIV in the blood is considered undetectable. With a viral load test, it is recommended that you are tested every three months. It takes approximately four to seven days for the laboratory to process the test.
CD4 Count
This test measures how many CD4 cells (T cells) are in your body, reflecting the health of your immune system. The focus of this test is to measure the absolute CD4 count. The absolute CD4 count refers to the number of CD4 cells available in your immune system. CD4 cells are the part of your immune system responsible for fighting infections and are the cells directly targeted by HIV. As HIV progresses, they take over the CD4 cells, using the cells to replicate HIV, killing off the original CD4 cell in the process. This is why a CD4 count is a useful indicator of immune system health. The more CD4 cells, the stronger the immune system. On average, individuals living with HIV are encouraged to monitor their CD4 count to make sure it is above 200. If you go below 200, however, it is highly encouraged that you work with your doctor to either start a treatment regimen or adjust your current drug regimen. With the CD4 count, it is recommended that you test as soon as you test positive for HIV, then follow up every three to six months. Expect the laboratory to take two weeks to process this test.
Complete Blood Count (CBC)
This test is a measure of all the components that make up blood. CBCs are important because some drugs can cause low red or white blood cell counts, which can lead to anemia or other blood disorders. This test measures the amount of white blood cells, hemoglobin, hematocrit and platelets in your blood. With this test, a high white blood cell count can suggest that the body is fighting an infection which may be undetectable; a low red blood cell count with the hemoglobin and hematocrit could be the result of anemia from the HIV medications; and a low platelet count could affect blood clotting. This test is different from the viral load test or the CD4 count because it doesn't show a direct progression related to HIV, but it does help with determining the overall health of the individual. With the CBC, it is recommended that you be tested every three months if you are taking a drug regimen. If you are not on HIV medications, this should be a test included with your annual physical. This test takes one day for the laboratory to process.
Chem-Screen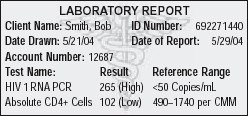 This test is a general screening to measure whether your major organs (heart, liver, kidneys, pancreas), muscles and bones are working appropriately by measuring specific chemicals in your blood. This test is essential in the detection of infections or side effects from medications. One of the most important focuses of this test is the monitoring of liver enzymes. The liver is an important organ because it helps process medications, and with these medications demanding more from your liver, there is a potential for liver toxicities that could affect your general health. It is important to monitor the albumin, alkaline phosphatase and bilirubin to ensure a well-functioning liver. Another important focus of this test is the monitoring of the lipid levels in your heart. This test helps monitor LDL cholesterol (the bad cholesterol), HDL cholesterol (the healthy cholesterol) and triglycerides. It is important to be aware of these lipids, to help monitor the potential for heart disease. The Chem-Screen test should be taken every three months and the results take two to three days to be completed by the laboratory.
Lab tests are an invaluable part of your comprehensive HIV health care by helping to monitor HIV progression. These tests can be a good indicator to help detect problems. However, when using your labs as a comparison tool to monitor your health, it is important to recognize that one unexpected test result may not necessarily signal a major problem with your health, and trends in your results over time are more important than relying on a single lab test. Also, there are many factors that can create variability in your tests results, and always remember: if you are not comfortable with your first blood work tests, request that your doctor perform another test. It is important for everyone to have a general understanding on how to read a summary of lab results. However, it is even more important that you talk with your doctor about your lab results and that you ask him or her to help you with the interpretation of the results and how they may affect your treatment plan.
Sarah Biel-Cunningham, M.S.W., can be reached at SBiel@aidssurvivalproject.org.