By the time you read this, we will have held the 8th annual Women's HIV Empowerment Forum. I thought I'd like to take a look over the years and see how this retreat has evolved into what is today. Many thanks to Susan C., Cara E. and Eva H. for their memories and input. Cara told me, "With the first retreat, I remember we were so excited, but we were apprehensive about how many people would show up. We set up 50 to 60 chairs hoping for the best, but only three people showed up. There were no breakout groups -- the women came to bare their souls and share their tales of terror. One woman left a particularly deep impression as she talked about having sex with different men and wondering how long it would take before she could get back to the business of buying and consuming more drugs." I remember a woman from the north Atlanta suburbs that came with her daughter. Both were positive. When she told the story of how her husband's parents came to her door with an ambulance in tow to remove him from their home, I found that tears were rolling down my face. You never know what other people are going through until you hear it from their own lips. But there were also funny times, like the luncheon plenary speaker we had, author River Huston, who brought her dog in a tote bag and a copy of her book for each of us. She was a hoot!
Susan filled in some historical information for me with the following: "For starters, ASP had a women's treatment forum in a two-hour format for two years before the all-day format was developed. The idea for the retreat approach (with pampering as a focus and relaxation included along with scientific information) came from Eva, after several women from a support group attended an AIDS, Medicine and Miracles workshop. Two of the women facilitators from that retreat were invited to participate in our first effort. What we learned from that first women's retreat at ASP was that we liked having local resources available to the women who attended, including massage therapists, doctors, aromatherapists, yoga instructors, etc. That way, they would speak at our retreat and then be available for the women to follow up, if they chose, in this community. Also, after the first retreat, we learned from the way the women enjoyed sharing experiences and thoughts with one another during the art project that small discussion groups needed to be available. [We established these] safe spaces for women, often isolated in their lives with this disease, to talk with one another rather than just sit together and listen to speakers. I think that particular addition to the format has been its most successful."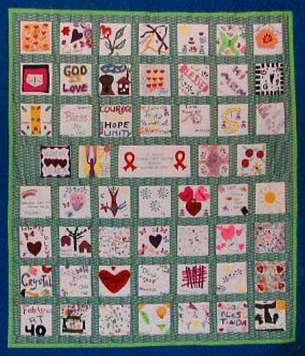 The cooperative quilt made by women who attended a previous HIV Empowerment Forum.
Advertisement
Susan concluded her remarks by stating, "The most special moments for me have been seeing women attending the retreat as participants and later seeing them participating in more of a leadership capacity in the following retreats -- women who previously were participants now facilitating small groups or speaking on panels or working on the retreat planning committee (or working at the agency). For me, it makes the idea of self-empowerment come to life in a tangible way. I see it as a very necessary part of the cycle in rotation of leadership. Women living with the disease started the retreat in this ambitious format. And each year, more HIV-positive women are needed to step up and join in that process. I think the retreat should grow and change according to the feedback given each year by the women attending so that it always stays relevant and fresh ... attracting newcomers and 'repeat attendees' each year."
Eva was the one that went to Jeff Graham (Executive Director of ASP) after attending the event sponsored by AIDS, Medicine and Miracles. She suggested that our event take on more of a pampering and relaxation mode. Several activities were added, including crafting a memorial quilt and giving the participants "goody bags" filled with donated items and discounts from area businesses. Eva remembers that around the third or fourth year of the event, the demographics changed and the attending participants were older. She adds that Drs. Edith Biggers and Kimball Johnson are always well-received and that the small groups are very important. Eva says, "The retreats have made a difference in my life and have given me purpose." I can certainly buy into that. Eva was my facilitator at the first retreat that I attended. She was so confident and energetic, she was the first to make me feel that perhaps there would be life after HIV. I am so grateful to have met Eva at the Women's HIV Empowerment Forum. There is a good chance that I would not be doing the work I do today were it not for strong and dynamic leadership from women like Eva. Thank you!
The primary focus of the retreat is teaching women about the importance of taking care of themselves and encouraging them to be proactive in terms of their health needs. One of the facilities where they can do this is the West End Medical Center. The agency's mission is "to improve access to healthcare services for indigent and underserved populations for poor health." Their services include client advocacy, clinic services, dental, education/risk reduction, furniture referral, home health care, and medical and nutritional information. The Center is located at 868 York Avenue in the southwest area of Atlanta. Their phone number is (404) 752-1400.
Sheryl Johnson can be reached at SJohnson@aidssurvivalproject.org.