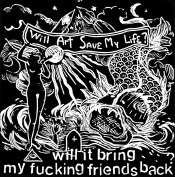 Nancer LeMoins
"Will Art Save My Life?"
Block print
12" x 12". 1997
Founded in 1988 as a collaboration among artists and professionals, Visual AIDS strives to increase public awareness of AIDS through the visual arts. The Visual AIDS Archive Project documents the work of the artists with HIV/AIDS to ensure that their artistic legacy will be preserved, thereby safeguarding their place within art history. The Archive Project also facilitates the creation and presentation of new work and provides practical services to artists with HIV/AIDS, assisting in their pursuit of a professional career. In keeping with this issue's focus on the intersections between AIDS and the arts, in the following pages and throughout this issue, we present the works of two visual artists with AIDS: Nancer LeMoins and Edwin Lacend.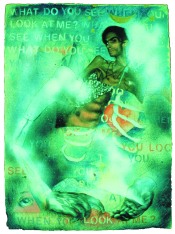 Nancer LeMoins
"What Do You See? (Look at Me)"
Mixed media
24" x 18", 1997
Nancer LeMoins
A longtime artist, Nancer LeMoins works with Positive Art as a mixed media teacher and has taught positive-women art workshops. Since finding out that she was HIV-positive in 1986, her artwork has become increasingly focused on emotional and political aspects of HIV.
Advertisement
"I have tried to make art that would create a picture of the epidemic that was very personal. As I go through my life with this disease, I see things that feel very obvious, kind of truths that become universal to most or all of us living with HIV, and I try to document them in a way that will make people open their eyes. I do teach for Positive Art currently, a program that offers free art classes for folks with HIV/AIDS around the Bay Area. I am a printmaker as well as a painter. Not all of my work these days is about HIV, but I can't deny that it always affects my vision. I don't really believe you can have HIV and go through your life without profound change, both good and bad, and my art has changed in a similar way. We are living history, all of us, and I want to have input into how all of this is remembered through the art I create."
An additional mixed media piece by Ms. LeMoins appears in "The AIDS Theatre Project" in this issue ("Fear," 30" x30", 1998).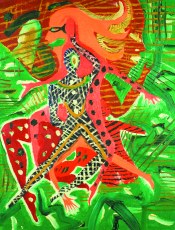 Edwin Lacend
"Eye Dancer"
Oil on canvas
12" x 16", 2000
Edwin Lacend
A resident of East Harlem, artist Edwin Lacend is the winner of the Positively 2000 Calendar competition sponsored by Abbott Laboratories. His work has appeared throughout New York City, most recently at the Williamsburg Art and Historical Center, the Harlem Branch of Banco Popular, the Lenox Lounge Jazz Hall of Fame, and the Queens Independent Gallery.
"Why do I paint? First, I paint because I can and learned how. I suppose the next question is how I learned to draw. The answer is simple yet complicated. I was drawn to draw. My the earliest recollection of how I was drawn would be directly linked to my nuclear family. What I remember is real to me. I remember at the age of about three, or maybe four, when my mother would gather us up on the kitchen table on East 112th Street in Spanish Harlem. There, my mother would stimulate and stir the passion that I now know were the roots of who I have become as an artist. I am the youngest of four, a set of twin brothers and a sister four years my senior."
Two additional works by Mr. Lacend appear on the cover ("Chapter 2 Rehersal," ink on paper, 11" x 14", 2000) and in "LIFEbeat" ("Blow Da Trumpets," acrylic on chip board, 60" x 38", 2000) in this issue.
Back to the
April 2001
Issue of
Body Positive
Magazine.