For the past two weeks, Jane has been nervous because the condom her boyfriend was using broke while they were having sex. He has HIV, and now she's wondering if she might as well but doesn't know how to find out.
Esteban knows how important it is to take his HIV meds at the right time and in the right dosage every day. But his life is busy and he doesn't always manage to do it. He needs information about adherence to medication but doesn't know where to start to find it.
Since her partner died, Louise hasn't had anyone to talk to about the difficulties of living with HIV. She knows that it would be helpful if she spoke to a therapist, but has no idea how to find one near her home.
Advertisement
When living with HIV, there are so many questions in so many categories: medical, social, and legal are just a few. How do you get the information you need to properly address all these issues?
One potential source is Body Positive's Helpline. It is a national, toll-free telephone number -- 1-800-566-6599 -- that handles many of your questions, Monday through Friday, 10am to 6pm Eastern time. The Helpline is staffed entirely by volunteers, who are trained at Body Positive. According to Helpline coordinator, Timothy Wearne, "Our volunteers bring their life experience to the Helpline," he explained, "and I train them on handling the calls. Each volunteer gets a minimum of twelve hours training; each also gets ongoing monitoring, assistance and coaching, as necessary."
What are the topics that the Helpline addresses? Almost anything that's HIV-related. It's important to remember that it's a referral service, and does not provide professional counseling. So if you need to find out about any range of concerns, including: treatment, symptoms, transmission, safer sex, relationships, ways to meet other persons with HIV, housing, benefits -- then this is the place to call. Body Positive's Helpline has referral information for all these issues.
On occasion, if Body Positive's Helpline isn't appropriately equipped to handle a question, a caller is directed to another, more appropriate service. A specific case: though some of the Body Positive volunteers are bilingual, if one isn't available when you call and you speak only Spanish, you would be referred to the New York State Spanish AIDS Hotline (1-800-233-7432). Or, if you need answers to specific treatment questions, the AIDS Data Treatment Network would be the recommended agency to contact as a starting point.
How do people learn about the Helpline, especially since it is national in scope? "Well, we advertise in Body Positive magazine," Tim said. "Also, we advertise or are known in many agencies, cross country, that deal with HIV issues. We receive referrals, too, from GMHC, the Centers for Disease Control (CDC), social workers, and doctors."
I asked Tim to explain exactly how the Helpline operates. "There's usually one volunteer working at a time, and two incoming lines. If we get a second call while on the primary line, we answer and put it on hold, but not for long: we understand that the caller has a need and can't be kept waiting. If necessary, another full-time Body Positive employee or I will take the second call if the first can't be completed quickly. We usually track between five and twenty-five calls per day."
I Listened In (Confidentially) ...
As he was explaining this, indeed, Tim was needed to take an incoming call, and I monitored Tim's side of this process (the caller's identity remained confidential to me; I only heard Tim's side of the call). The caller wanted to get on Body Positive's mailing list, because he wanted to "keep current with information regarding HIV." He was from a different region of the country. Tim offered to send a copy of the most recent
Body Positive Resource Directory
, explaining that it would be updated shortly. Then, he offered a complimentary copy of
Body Positive
magazine, which the caller accepted. Finally Tim asked if there was anything else he could help with. The caller said, "I don't think so, I'm doing OK right now but just want to know what's going on with treatment." Tim asked if the caller had Internet access and when he said yes, recommended a Web site,
www.thebody.com
. He explained that it contains comprehensive HIV information, and also offers a service called "Ask The Doctor," in which you can e-mail a medical question and get a response from a physician. According to Tim the caller seemed very pleased with the abundance of information the Helpline provided.
When he finished the call, Tim checked items on a form and jotted down a few words. "We keep documentation on every call," he explained, "Of course, the information we receive is anonymous, and the statistics that we log are generic -- names are never used." Subsequently, I've heard Helpline volunteers discussing pregnancy, sperm-washing, contracting HIV, and a host of other issues.
... Then I Tried It Out
I wondered what it was like to be a caller to the Helpline; to test my curiosity, I made a "blind" call assuming the position of a typical caller. The phone was answered on the first ring; a pleasant-sounding man greeted me. I said that I was HIV-positive and thinking about going on disability. I needed information about how to do so. "It's not as easy as it used to be," he informed me. "Ten years ago, if your T cells were under 200, you could do so automatically. Now, you'll need to get your physician involved, and there'll be a review of your case. But let me get you the numbers of some agencies that can give you specific information." The volunteer asked me to hold, and thumbed through the reference sources in the office. He kept me apprised of his progress, and continued to ask permission to keep me on hold. His phone manner was very professional.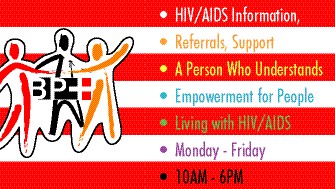 The first agency he suggested was the New York State AIDS Hotline, and he gave me the number; then he asked if I'd hold while he found some other resources. I said yes, and in a few moments he came up with Project Health, giving me their number. Still, he wasn't satisfied. He asked if I would continue to hold (I'd told him that I was at work), I said yes, and he checked a colleague. When he came back to the line, he also suggested that I call GMHC. "They have a lot of experience with medical case management and advocacy. They're probably the best resource to start with. Are you a member there?" I said yes, and he asked if I had their number, to which I also responded yes. The volunteer asked, "Is there anything else I can help you with?" I said no, thank you, and he ended the call by saying, "After you call these agencies, if you still need help, give us a call back and we'll see what else we can come up with." This is the sort of attentive treatment you can expect if you call the Helpline.
I asked Tim what is most important about the handling of your call to the Helpline. "The first issue is confidentiality: this is our highest priority. Next, we have a non-disclosure policy: volunteers don't give their HIV status or other details about their personal lives." When I questioned why, he explained further: "Let's say a caller says 'I'm positive and want to speak to someone who is, also.' Our feeling is that the call should be about the caller, not the volunteer. So the Helpline person will say, 'It doesn't matter if I'm positive: some counselors are, and some aren't, but we are all equally trained and have the same information for you. Body Positive has a non-disclosure policy.'"
Neither will a volunteer give out his or her name. "Many times, callers may contact us more than once," Tim continued. "If they previously spoke with someone and knew the counselor's name, they might ask for the same person. Again, the call should be about the caller, not the volunteer. It's not intended to build a relationship with a caller." If you call the Body Positive Helpline, be assured that you'll be referred to the organization that will handle your questions; that's the overall mission of the Helpline, to get you the information you need in a pleasant, professional manner.
Was there a particular call that Tim remembered more than most, I asked? After a flicker of thought, he smiled and said, "Sure. An elderly woman called and explained that she was trying to locate her grandson, who was in the hospital for HIV-related illness. She began to cry, said she was housebound, and had called the hospital he'd last been in and they said they had no patient by that name. She was so scared that he had died. She knew he hadn't had a phone in his room, so was relying on the information operator in the hospital. By using the HIV Resources Directory, I located the names of other hospitals and clinics in her area, and gave her their telephone numbers. A couple of hours later, she called back and thanked me profusely, saying that she'd located him in another facility. And shortly after that, the young man himself called to thank me for helping his grandmother. On days like that, you know your work is meaningful."
Do you have questions regarding any aspect of HIV? If so, please call Body Positive's Helpline at 1-800-566-6599. You'll find a caring, helpful person who'll refer you to the proper agency to address your questions. When you call, remember that your issues, and your confidentiality, are the highest priorities.
Ronald C. Russo is a freelance writer living in New York City and a regular contributor to Body Positive.