Many of us die with the music still in us.
-- Oliver Wendell Holmes

Passionate poets who have lived with aids and then passed away each leave behind a highly singular, splendid yet fragile gift: talent that has flourished as well as the painful realization of potential cut short.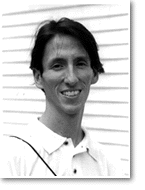 Late last year, the poet Scott Hightower brought to my attention the work of Will Heekin. Will, born November 13, 1959, grew up in the Bronx. He attended Fordham University and was an actor as well as a poet. While on holiday break from studying writing at Columbia University and after a short stay in Cabrini Hospital, Will died at home on January 3, 1996.
David Matias lived -- and wrote -- in Provincetown for nine years. I did not know him personally, but I encountered him via a beautiful poem posted on the bulletin board at the Universalist/Unitarian Meeting House. The son of a Baptist minister, David was born in Dallas on February 5, 1961. He graduated from Trinity University and received an M.A. from the University of North Dakota. In 1994, David was a fellow at Provincetown's prestigious Fine Arts Work Center. His work will appear in two forthcoming anthologies: Starry, Starry Nights and Things Shaped in Passing: More Poets for Life. David died on December 13, 1996.
MEMENTO MORI


paul says let it go, it is a dish that never
had value. i pack it with the sherry glasses
in old paper, protecting, even as i give it
to trash. the world is a mountainside of things,
a clumsy scaling of erupted accumulation,
a teetering dusty wobble walk that drags.

paul says i have too much, that to breathe
i must free the air. i fill green hefty bags

with pinstriped shirts, with sailing sweaters,
and shoes bought for german beaches. i push



Advertisement
my things out of my mountain like spit chunks
of scalding debris, clumps flung without aim.

paul says things, and lets the sound float.
one summer we took a bus from assisi to pompeii

to move with thick awe through the worst souvenirs
of our lives, those hands stretching through pain

toward a hope they would not believe. we saw
a fear like a majesty of silence trapped

in exhalted grief as what looked like us
twisted into time. paul says the books too.

i make boxes for thrift shops thinking soon
i will not need these, thinking of sweet lava

burning me into a white icon, a clean relief
without burden or border, a land mast pointing

like fabulous hot stone into directions
where fingers will remember each other.

-- Will Heekin



LAYING STILL
There's a rainbow across your face,
Samantha said, as she stuck
needles along my earlobe.
Sun through a window, through a
dangling prism, refracts into colors.

I inhale deep. On exhale she inserts.
One in each ear, the shen men: spirit calming,
One at each wrist, for lung strengthening.
One at below each knee, the immune points.
Three on each foot, for my neuropathy.

I began to pray when she left the room.
Over the half hour, recited a God monolog;
blessed the people who bring meaning.
One for Lenny, Mom and Dad, Lydia,
Priscilla, health providers, poet mentors . . .

I had an itch. And I'm not supposed to move.
Then I prayed for friends who have died.
That list was longer. I passed judgement
on myself, forgetting a few names.
Will our paths cross again?

I heard a baby in Sam's waiting room.
A mother's voice, He's learning to laugh.
Suddenly, I recalled a name.
I remembered flesh. An embrace.
And asked from the throat, Is that you?

Sam brought the child into the room with me,
preparing his Chinese baby massage.
She joked about her new assistant, Buster.
He's known me before he was born.
Miniature limbs kicked in her arms.

Rubbing alcohol where needles
once angled out like blades of grass.
Released, I said goodbye. The infant grabbed
my index finger. I got to go, I whispered.
A new giggle came out. He released his grip

that grip adults covet so.

-- David Matias
A VIEW FROM OUR DECK
On the deck, on the roof, close with the South sky,
I observe life like a hawk at the top of his tall tree.
All those joggers, roller bladers, bicyclers, cars going
back and forth like pedestrian ballet dancers, dashing across
the Route 6-A stage. The proscenium of curving road to my right
and curtain of trees to my left, hide their entrances and exits.
I sit on white K-Mart plastic furniture, happy I have
the strength to be up here today, on a beautiful July afternoon
which offers a blue dome and a subtle sea breeze that cools sunrays.
"The Walking Lady" darts by. She's a bit of a mystery right now.
People in town rumor she has Anorexia, a foul mouth,
and is constantly moving her limbs, or eating fudge.
Gaunt and sickly, she stares up at me with a look in her
heavily made-up eyes, like she knows something I don't know.
A lot of them stare. With a shake of their head a friendly envy
points its way to my lounging. Vacationers gawk or even yell
as they pass, Great deck! I smile and wave. Sometimes.
They want to know. They want to think life can be great.
They want to see themselves relaxing on a deck, across from a beach,
sipping a chocolate frappe, and reading an Isabel Allende novel.
They want to believe I am healthy or have never battled aids.
Just like the runners, just like all of us, they want to live longer.
Upon this pressure-treated-wood deck, connected to a black
steel spiral staircase, which gives a few friends vertigo,
I'm unable to really see the sunset. It takes place behind a hill
of wild pine and steep roof tops. But gliding Westward, the
Herring gulls' bellies do reflect an orange glow . . . which an hour
later, turns into a light lavender. Their view far better than mine.
-- David Matias
Back to the April 97 Issue of Body Positive Magazine.