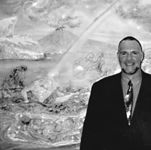 "I think anybody that's dealing with the virus, and showing up for themselves -- going to their appointments, taking their medication -- is a powerful example to everybody else around them. Because it's very difficult."
For artist and writer Greg Maskwa, the example of the many friends who have gone before him has given him strength in his battle with HIV. "When I face difficulties with my illness," he says, "I have all of their experience, and I know that I can get through this, with the help of God. I'm willing to be open, and I have a lot of self-acceptance." Greg speaks especially of his lover of ten years, Harold, who died two years ago. Also an artist, Harold worked on his art until the day he died. "He was going blind, and he had problems with dementia," says Greg, "and he would get up in the morning, and he had such a positive attitude about life -- 'Okay, Greg, let's get painting.' He was a tremendous example to me, about living life with grace, dignity, integrity, and a lot of courage."
By the time of his own diagnosis, in 1994, Greg Maskwa was already a veteran of the epidemic. Born in New York and raised in northern Ontario, he spent the '70s in San Francisco and Miami, painting and working in story development for film studios. His art was exhibited in shows in New York, San Francisco, Los Angeles, Boston, Key West, Miami, Cape Cod, and West Palm Beach, and he was also shown in Berlin and Canada. He produced commissioned portraits of Allen Ginsberg and Ram Dass. He returned to New York in 1979 to become New York City Editor and Art Director for The Connection, a Long Island-based gay newspaper for whom he worked for five years.
In the early '80s, many of Greg's friends began getting sick, and his attention turned to the epidemic. He started writing about HIV and AIDS for The Connection. Through syndication, his articles appeared in over eighty countries around the world, in publications such as the New York Times, Time Magazine, Paris Match, and Germany's Stern. As a journalist and AIDS activist, he contributed to 20/20, Bill Moyers' Journal, and the BBC's "Remembering Kenny."
Advertisement
At a time when the AIDS death toll worldwide was somewhere around 500, he helped organize the AIDS Memorial in Central Park, one of the first public AIDS demonstrations in New York City and the subject of the first AIDS coverage by the New York Times. He was one of the founding fathers of the AIDS Resource Center, Bailey House, and served on its Board of Directors. In 1992 and 1993, he facilitated a caregivers' support group at Body Positive.
Meanwhile, Greg continued to lose friends, and Harold had become sick. Greg tested negative in early 1994, but six months later became very sick with a mold and neuropathy. He tested again, and this time was diagnosed with full-blown AIDS, even though his T-cells remained high.
At the time he was diagnosed, Greg thought he was ready to deal with his own illness. "My thinking was, I can handle this," he says. "But I had been in recovery for about eight years, and shortly after I was diagnosed I started drinking -- having a drink or two on the weekends. And then after Harold died, my drinking just went out of control. And so I ended up having to take a serious look at that, and went back into recovery."
Looking back, he says, "I thought at the time I was handling it very well. But I just pushed all those feelings about it away. But no matter how experienced you are, when you're diagnosed, it's a big deal. It was a big deal for me, even though I didn't think it was. I just thought, I can handle this. I didn't really reach out for any help, or talk about it very much to my friends, or things that I should have done."
Even as this was going on, though, Greg continued to work at his art and on behalf of himself and others with HIV and AIDS. Shortly after his diagnosis, he and Harold were sitting in the dining room at Gay Men's Health Crisis, talking with some fellow clients over lunch. It turned out that three of the other people at the table were also artists, and they started discussing the possibility of getting together to have a show. Soon, with some help from the staff of GMHC's Therapeutic Recreation program, Straight from the Heart, a Life in Art Project, was born. Since the group's first public show in 1996, Straight from the Heart has shown its members' work in galleries and exhibition sites throughout New York.
Greg's creative life remains important to him. He and Harold codesigned The Queen Elizabeth Wreath of Roses, a silk scarf that was printed in a limited edition for sale at Buckingham Palace to commemorate Queen Elizabeth II's fortieth year on the British throne. Another high point came in 1997, when Greg entered three of his paintings in the "Make a Difference" National Art Competition sponsored by art-supply manufacturer Liquitex for the benefit of The Estate Project for Artists with AIDS. All of his entries placed, among the thousands of entries received, and one his paintings was awarded first prize.
These days, while he continues to paint and also offers tattoos of his own design in his home (very, very hygienically, with a professional autoclave to sterilize the needles), Greg is mostly focused on his writing. He is working on a screenplay with a dark theme of homophobia and hate crimes, and has the interest of some of his old colleagues in the film industry.
He lives comfortably in the Hell's Kitchen apartment that he moved into when he first returned to New York in 1979. It's one of those long railroad apartments and was pretty much a blank canvas when Greg moved in. Since then he has made it into a place that is almost as much a part of him as it is his home. He has installed the walls where he wanted them to configure the rooms to his personal and artistic needs. Some of the walls and ceilings are decorated with his murals. The walls are covered with art -- his own paintings, Harold's, and other work that he admires. In the main room, a group of venerable tropical fish swim peacefully in a large aquarium. And most important is the presence of Mister, a miniature pinscher and Greg's best friend.
His physical health is up and down, from pretty healthy to really sick. He has been on protease inhibitors for two years and has no serious side effects, while his T-cells have remained pretty high and his viral load has dropped to undetectable levels. On the other hand, he continues to battle neuropathy, which has manifested itself in carpal tunnel syndrome and has also attacked his internal organs.
Although his health status is questionable, Greg is determined to get the most out of each day. On a good day, he will work for about four hours on his screenplay and devote the rest of the day to volunteer work with AIDS service organizations or recovery groups, to networking with his friends, and to taking Mister for a walk (a pleasure for both of them, not a necessity, since the tiny dog is litterbox-trained). While he did have problems when he received his own diagnosis, Greg stresses that he did not fall apart. "With any life-threatening disease," he says, "it brings you immediately to the present. You stop projecting about the future and you stop worrying about the past. It brings you to the present -- what are you doing with your life right now? Where will this day take you? How can you make the most of your day?"
Greg answers these questions, he says, "just by doing the best that you can every day. A lot of it is about opening your heart. And finding grace and patience, and being still enough to listen. Those are the gifts."
The key things to Greg personally, he says, "are to remain creative, to cultivate my friendships, to network with people, to talk about things when things aren't going so well for me, to reach out and ask for help. One of the things about me is that I'm so well connected -- to my friends, and to different support groups, to agencies in the city. In New York City, there is so much support. I really feel blessed, and very grateful, to live in New York City. I can't imagine living anywhere else with this illness and having the quality of life that I have." Besides his participation in GMHC's Straight from the Heart project, Greg receives services from the Momentum AIDS Project and God's Love We Deliver, and has shown his work at an art show at the Manhattan Plaza AIDS Project (see picture).
Looking ahead, Greg's outlook is positive, but guarded and skeptical. "When it comes to my own prayers, praying for me, I don't pray for a cure for me. I only pray that I'll be able to deal with whatever God's will is for me." He cautions that protease inhibitors are really new. "Nobody knows," he points out, "five years down the road, what the side effects or potential detriments are."
Greg is very aware that, as he puts it, "The AIDS fight is not over. There are a lot of young people who think that AIDS is a chronic disease that can be treated now and therefore they don't really have to practice safe sex. That's such a mistake."
Greg's attitude is to wait and see. Meanwhile, he cautions young people, "Be cautious. Take your medications. If you're not diagnosed with AIDS, if you're negative right now, practice safe sex. And also, don't give up. Keep fighting for people with AIDS. Because the problem is not over. There are still a lot of problems that need to be addressed, such as AIDS orphans, especially here in New York City, the availability of medications in Third World countries. There's this general attitude that the AIDS crisis is over, and I couldn't disagree more. We have had some progress, but I still see people getting really sick, and still people are dying of AIDS."
Still, Greg is optimistic about his own life. " I feel really fortunate to have been in two long-term relationships. I have hope that maybe I'll meet someone again. I'm a very domestic person and a very committed person. The bar scene definitely is not me, but I'm slowly learning new skills about dating and stuff like that."

Photo by Juan Sanchez
Laura Engle is Editor of Body Positive.
Back to the April 1999 Issue of Body Positive Magazine