"I do not believe that the first regimen should be designed to be salvaged. I know that a great number of AIDS physicians support this, but once the first regimen has failed, a patient's chance of doing better on the second regimen is not increased."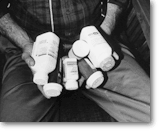 On February 10, 1998, a week after the 5th Conference on Retroviruses and Opportunisitic Infections in Chicago, Charles Farthing, M.D. was interviewed about recent findings on double protease therapies, and his thoughts on adherence (or compliance) to HIV therapies. Since 1994, Dr. Farthing has been the Director of the AIDS Healthcare Foundation and Assistant Clinical Professor of Medicine at the University of California at Los Angeles. Originally from New Zealand, Dr. Farthing emigrated to the USA in 1989, training in infectious disease at New York University Medical Center, where he was an investigator with the ACTG (AIDS Clinical Trial Group) and became Medical Director of the Bellevue Hospital AIDS Program. He has a strong interest in antiretroviral therapy and has participated in many AIDS clinical trials.
BP: What strategies do you use to talk about adherence issues with your patients?
CF: The most important is to speak with the patient honestly. It's also important not to simply tell the patient to take the drug, but to explain exactly what the situation is vis a vis prognosis, detailing his or her risk of developing AIDS, when it might happen, and why the physician wants him or her to take the drug. It's up to the patient to make the decision. I find that people hate being told what to do. If they decide to do something for themselves they are more likely to do it. That's from the point of view of getting someone on treatment.
Advertisement
There are many things to do to help patients with compliance while they are on treatment. First, spend a lot of time talking to them about the problems that may arise, because they seem to think that it is going to be easy. Point things out to them, like what time they should take their pills and various practices that can aid their memory (like putting their pills next to their toothbrush). Ask them what time they eat. Advise them to take their pills before they do some routine activity: It is easier to remember before rather than after. We give them pill boxes with electronic alarms, so they will remember. If they don't like to carry pill boxes with an electronic alarm because it identifies them as a pill taker, give them a watch that rings when it is time.
The most important thing of all is to give them a Metra set (a transparent pill box) so they can load their medications up for the week, dose by dose, and can tell whether they are taking the dose by looking at the box to see if the container for that dose is empty. It's very helpful. Pharmacies can deliver medications weekly in the Metra sets. Also, if the patient loads their own Metra set, they can tell if they are running out of a week's supply. Often they hit the bottom of the bottle and miss two or three days because they can't get a hold of their doctors or the pharmacist to get a repeat prescription. If they are loading up their weekly dosage at the beginning of the week, they know in advance that they are going to run out within a week. Perhaps one the most important things of all is to guard against depression. Patients who are depressed don't care if they live or die. The easiest way to commit suicide slowly is to not take the drugs. I treat depression aggressively, not just with counseling but with antidepressants.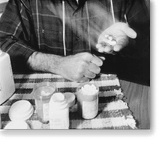 BP: How have antidepressants interacted with protease inhibitors, especially ritonavir?
CF: Actually very few of them have. Patients can take most of the SSRIs (Selective Serotonin Reuptake Inhibitors) with ritonavir; Wellbutrin (bupropion) is one that you can't. Your hands are not very tied.
BP: Do you have any data, even anecdotal, on methadone interaction with protease inhibitors?
CF: There is some data with ritonavir. At the ICAAC (Interscience Conference on Antimicrobial Agents and Chemotherapy), there was a paper suggesting that, because ritonavir was an inhibitor of p450 and methadone uses p450, we would expect greatly elevated levels of methadone, and should be concerned that people would be overdosed. However, pharmacokinetics studies done by Abbott Laboratories show the reverse. If you give methadone with ritonavir, you get low methadone levels. (Editor's note: For more on methadone and protease inhibitor interaction, see the article titled, "Recreational Drugs, Methadone, and Protease Inhibitors," and Viewpoint titled, "Treatment Education for HIV-Positive Clients" in this issue.)
BP: So people would have to have their methadone levels increased?
CF: Yes.
BP: Could you tell me about double protease therapies and to whom you think it's recommended?
CF: I think it's useful for patients with almost any nucleoside analogue experience (e.g., AZT, ddI, d4T, ddC, 3TC), because there is much cross resistance between them. Recent discoveries indicate that even if you are not cross-resistant, your second regimen may have only half of the power of the first. So, I get very worried when people just switch nucleosides and add a single protease inhibitor, assuming they have a secure three-drug regimen. Rather than switching nucleosides and adding one protease inhibitor, I think it's much safer to switch nucleosides and add a double protease inhibitor. Moreover, after attending the last conference (in Chicago), I am not so sure that we shouldn't be using it in everybody. I am not saying specifically ritonavir/ saquinavir, but any of the double protease regimens. As I went from poster session to poster session at the Chicago conference, I saw that the double-nucleoside and single-protease regimens were bringing 80 to 90% of people to undetectable (levels) on the usual PCR (polymerase chain reaction viral load) assay (i.e. less than 500 copies); but they are only bringing 60% of people to undetectable (levels) on the ultra sensitive (viral load) assay, which detects as little as 20 copies of virus.
We have a lot data telling us that unless you have less than 20 copies, you will probably not be able to keep that prolonged suppression of viral load to less than 20 copies. So in our naive patients (patients with little or no previous HIV medication experience), of whom only 60% are reaching undetectable levels on the ultra sensitive viral load (less than 20 copies), we ought to aim at having 100% of them at undetectable levels.
Since our current regimens are not potent enough and, as it was pointed out in Chicago by an abstract by De Wolf and Lukashov from Amsterdam, regimens with four drugs and five drugs are more potent than three-drug regimens. David Ho assumed the production of viable virus was completely switched off with use of a three-drug regimen. All his calculations were based on that particular assumption, a reasonable assumption. However, as documented by the Dutch, four- and five-drug regimens lead to a faster reduction in viral load, and that suggests that three-drug regimens do not completely shut off the production of virus, since you can get a steeper cut off with four or five drugs. So, it seems to me that we probably should, in those who tolerate them, aim for four-drug regimens. There is a definite logic to using, in any cocktail, a four-drug regimen (which includes two protease inhibitors) to create the most potent regimen and, therefore, bring as many people as possible to undetectable levels on the ultra sensitive viral load assay.
BP: Could you comment on the tolerability of these double protease regimens?
CF: They are not nearly as intolerable as people would estimate. In fact, most of the double protease inhibitor regimens seem to increase tolerability.
BP: Do you know why?
CF: I'll explain. Take ritonavir/saquinavir, for example. People can't tolerate 600 mg. of ritonavir very well, so you get poor compliance. With ritonavir/saquinavir, the dosage is 400/ 400, so you get good tolerability. Compliance with 600/600 was very poor. Compliance with 400/400 was very good. Now, let's take a look at ritonavir/indinavir. Indinavir as monotherapy is difficult with which to comply, since it is 400 without food, three times a day. It is a very difficult regimen for people to fit into their lives. The 400/400 dosage that's been experimented with converts indinavir to a twice a day dosage that can be taken with food. Patients find this to be much more convenient.
BP: Can you tell me a little more about patterns of resistance and cross-resistance among protease inhibitors, especially in relation to nelfinavir? When nelfinavir first came out it was supposed to have a very low level of cross-resistance, as a first line regimen, to other protease inhibitors. This seems not to be the case.
CF: I think that there is considerable cross-resistance between all the protease inhibitors. This is documented in an abstract from Virco analyzing nearly a thousand different patients isolates (virus removed from patients to be tested) that were resistant to individual protease inhibitors -- about 250 resistant to indinavir and 250 resistant to ritonavir. The virus resistant to indinavir was then tested with ritonavir, saquinavir and nelfinavir, and then the one resistant to nelfinavir was tested with ritonavir, saquinavir and indinavir. There was about 80% to 90% cross-resistance to every protease inhibitor, regardless of the one which was started first.
BP: What would you suggest for someone who failed the ritonavir/saquinavir regimen?
CF: I do not believe that the first regimen should be designed to be salvaged. I know that a great number of AIDS physicians support this, but once the first regimen has failed, a patient's chance of doing better on the second regimen is not increased. I suggest starting with four of five drugs at the outset so patients won't need to be rescued. If a patient needs to be rescued, it's already a very dangerous situation. I have had patients in this situation.
If they are failing ritonavir, saquinavir, AZT, and 3TC, I would use an NNRTI (non-nucleoside reverse transcriptase inhibitor) that they haven't seen, like DMP-266 (Sustiva). I would probably use ddI-Hydrea, because there is some evidence indicating that highly resistant isolates to nucleosides and protease inhibitors may be sensitive to ddI-Hydrea. If I could, I would put in adefovir, the Gilead compound, because there doesn't appear to be cross-resistance between a nucleotide and a nucleoside, at least not often. I might try 1592. This would depend a bit on the patient's previous experience with nucleosides. If a patient had only seen ritonavir, saquinavir, 3TC, and AZT, documentation from the conference shows that there probably would be something like an 80% likelihood that the virus would be sensitive to 1592; however, if the patient had exposure to more than AZT, 3TC, and also had ddI, d4T, that probably would not be true. If it were just a failure of AZT, 3TC, ritonavir, saquinavir, I might try something like ddI, hydrea, 1592, adefovir and DMP-266.
BP: Could you please state your definition of "failure," since it might mean different things to different physicians in terms of when to switch or not to switch. Some physicians would argue to stay on a particular regimen, even if the patient has a detectable viral load or if that viral load is stable enough. Some would argue that change should occur as soon as viral load is detectable.
CF: If you look at the data now, it clearly supports switching promptly. The work of Joel Gallant of Johns Hopkins and Keith Henry in Minneapolis supports, for example, that if patients are failing a nelfinavir regimen with a return of detectable viral load after previously being undetectable, they can probably all be saved if they are switched very quickly to a double protease regimen and a nucleoside. However, if they are not switched until they are back to baseline (the Virco data really kicks in here), high cross-resistance is likely to be the result. This phenomena is actually quite logical, because what is high level resistance as opposed to low level resistance? It's more mutations. So if someone who has a baseline of 100,000 went undetectable, and came back to 2,000, they won't stay at 2,000. They will creep back to 100,000, and when they are back to 100,000, they won't be salvageable.When they are at 2,000, they will.
Failure is "detectable" after previously being "undetectable." That's virological failure. It's not clinical failure. It's confusing when physicians speak to patients and say, "You failed." It's more appropriate to say, "You are beginning to fail."
This virus is totally unforgiving. If it comes back, it is going to get fully resistant. Once it gets fully resistant, the CD4 count is going to fall, and so on. It's not rocket science. It's quite obvious.
BP: And what about the rates of penetration through the blood brain barrier, and the CSF (cerebrospinal fluid) levels?
CF: I am increasingly less concerned about that, because of a little sub study we did with patients who were undetectable on ritonavir/saquinavir also being undetectable in the CSF, and because of a recent report that Crixivan free-drug levels are the same in the CSF as they are in the blood. There's also the fact that dementia is going away. Papers at the conference indicated that viral load in the CSF is always in close proportion to the one in the blood. If people are undetectable in successful regimens in the blood, they are also undetectable in the CSF. If they are failing in the blood, they also failing in the CNS (Central Nervous System). I think there's an increasing body of evidence supporting that whatever is happening in the blood, it is happening in the CNS. This concern about the CNS being a reservoir is more theoretical than factual. The data I have seen shows that if the virus is gone from the blood, it is also gone in the brain.
BP: Could you comment on recent data released by Bob Siliciano of Johns Hopkins showing that even though a patient might be undetectable on the ultra sensitive test (less than 20 copies), and might not have "productive" or "activated" virus in the lymph nodes, they can be "activated" by infections or other triggers?
CF: We are now moving away from the CNS. That to me is not surprising. The work of Bob Siliciano has been documented by others and supports that there are virus infected cells that have the potential to reactivate. This is what many people suspected all along when it was proposed that medical science might be able to eradicate HIV. Many people did not believe that a virus that integrates can be eradicated. David Ho was saying that a virus that was integrating could be eradicated. However, when it comes to the immune system, memory T-cells are designed to live the life of an individual, so that a person has immunological memory.
Now that we've documented that memory T-cells are infected (which is no surprise since they happen to be CD4 cells), one would expect that there'll be cells infected with HIV for the life of an individual. Therefore, one would expect they could reactivate if you remove drug pressure, given some stimulus to reactivate. Let us assume that a patient had a memory T-cell against measles (infected with HIV) and had stopped taking HIV medications. If the patient got reinfected with measles, those memory T-cells against measles would start dividing and, therefore, would produce more HIV. It is probable that most people infected with HIV will have to remain on suppressive antiretroviral therapy for life.
BP: If you add the possibility of integrase inhibitors to the picture would that still be the case?
CF: It makes no difference whatsoever, because the virus is already integrated.
BP: Is the half life of a memory T-cell equal to a person's life span? Is that the reason you would not be able to eradicate this virus?
CF: I am not sure that anybody can define or measure the half-life of a memory T-cell.
BP: So if people do not know how long a memory cell lives, then we can not say that the virus will never be eradicated. Is this a reasonable assumption?
CF: Correct. We don't know. However, unless there is some other mechanism of immunological memory, they should live for life; and if they live for life, they are infected for life.
Photography by Robert Paluch and Elliot Photography
Back to the Apr/May 1998 Issue of Body Positive Magazine.