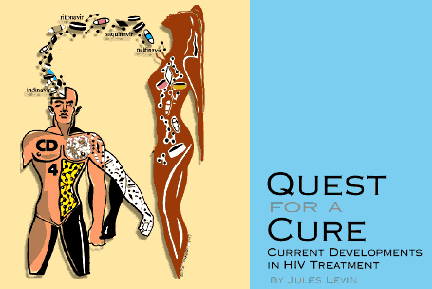 Illustration by Elton Tucker adapted for the web by Jim Ryan
On May 16, 1997, the National AIDS Treatment Advocacy Project (NATAP) organized a community treatment forum co-sponsored with New York University Medical Center, Mt. Sinai Hospital AIDS program, St. Vincent's Medical Center AIDS Clinic, Body Positive, and a number of additional local community organizations in New York City. Over 900 individuals registered to attend, but the event was limited to 500 seats in the auditorium. A follow-up forum was held several weeks later for those who did not attend the first forum.
The forum provided the most recent information about HIV treatment. Leading researchers reported the newest information about protease inhibitors and non-nucleoside reverse transcriptase inhibitors (NNRTIs -- nevirapine, delavirdine, and a new drug in the pipeline called DMP-266; the researchers discussed the latest information about the potential for using protease inhibitors and NNRTIs together. Drugs that are still in development were discussed: PMPA, IL-2 (an immune therapy), DMP-266, 1592U89, 141W94, ABT-378. This article will review some of the information reported at the forums. Over the course of the last two years major advances have been made treating HIV. We have found that three-drug combination therapy can raise your CD4 count, lower the viral load in your blood, increase survival, and delay the progression of HIV disease. Developments concerning viral load testing are also an important part of the progress being made.
Protease Inhibitors
New information was reported concerning individuals who previously used AZT but never used 3TC or indinavir (brand name Crixivan, a protease inhibitor from Merck Labs) before. These individuals were given indinavir with AZT and 3TC; prior to taking this three-drug combination they had an average CD4 count of 142, which indicates their stage of HIV disease was moderately advanced; their average viral load was about 25,000 copies/ml .
After 68 weeks of taking the three drugs, 18/21 (86%) had less than 500 copies/ml of viral load in their blood. There are several viral load tests. This viral load test only measures as low as 500 copies. If the viral load in your blood is below 500 the test cannot detect it and that is good. The same study participants were given a different viral load test that measures to a lower level of 50 copies and it was found that 10/14 (71%) were below that level, which is even better. The CD4 increase for these study participants was greater than 100 cells. Previously these same study participants were tested after being on the same drugs for six months; the results after six months were the same as after 68 weeks. This means that the benefits to these people were maintained. The same CD4 count rises and viral load reductions were continuing for 68 weeks.
Advertisement
Also reported at the forum were the results of a study on the new protease inhibitor
nelfinavir
when taken with
AZT
and
3TC
. Its brand name is Viracept and it is manufactured by Agouron Pharmaceuticals. The individuals in this study had never taken any of the three drugs and had a CD4 count before the study of about 280 cells. This means their disease was not as advanced as those in the study described above that involved
indinavir
. After 40 weeks of receiving the three-drug combination these individuals' CD4 counts increased about 100 cells, their viral load was reduced 2 log, and about 80% had below 500 copies of viral load in their blood.
Four protease inhibitors are approved by the FDA and are available in your pharmacy: indinavir, ritonavir, saquinavir and nelfinavir. Ritonavir's brand name is Norvir and is manufactured by Abbott Labs. The possibility of combining two protease inhibitors started about a year ago with a pilot study exploring the combination of Norvir with Invirase. Just after our forum the latest results from the study were reported -- after 48 weeks the study participants had an average increase in CD4 count of over 100 cells, their viral load was reduced by about 3 log, and 88 to 90% had below 200 copies of viral load in their blood. These study participants had a CD4 count of about 270 cells and viral load of between 38,000 and 53,000 prior to taking the study drugs; they also had experience with nucleosides before entering the study.
In November 1996 study results were given concerning ritonavir used in combination with AZT and ddC for individuals without experience using HIV antivirals. After 72 weeks the small number of study participants had CD4 increases of about 170 cells, viral load reductions of about 1.9 log, and 52% were below 200 copies/ml (undetectable).
Some individuals have difficulty tolerating ritonavir while others do not. The dose escalation method for taking ritonavir in association with eating large fatty meals can make it more tolerable. Speak to your doctor about the dose escalation method. However, in the double protease study of ritonavir plus saquinavir they experimented with two different doses of ritonavir. They found that 50% less ritonavir could be given in that combination and still get equal benefit. Taking less ritonavir will lessen the side effects; speak to your doctor about this. You can contact NATAP for further details of the study results.
Additional combinations of protease inhibitors are being studied. The combination that is the furthest along in research is nelfinavir with saquinavir. Fourteen individuals are in a preliminary study, and after five months, their CD4 counts have increased about 100 cells and the viral load in their blood has decreased by 2 log; this is encouraging but it is too soon to begin using this combination. The only double protease combination that we have enough information to feel confident about using is Norvir with Invirase. It can be harmful to you to use other combinations of protease inhibitors until they have been thoroughly researched.
There are several new protease inhibitors that are still being developed and are not available yet in your pharmacy. Glaxo Wellcome is developing 141W94. It is in the early stages of being tested on humans. Preliminary information points toward this protease inhibitor being effective, but studies will continue for about one more year before the FDA will review it for approval. Abbott Labs is developing ABT-378, an important protease inhibitor that is in an earlier stage of development than 141W94. Thus far, it has been tested in animals and HIV-negative individuals only, but it might be effective for individuals who are resistant to Norvir and maybe for persons resistant to Crixivan. Studies will explore using one dose of this combination per day. Invirase has been available for over one year but the manufacturer has developed a more potent form of it that may be significantly more effective than the older form. The company has applied to the FDA for approval and the new form of Invirase should be available in late 1997
Non-nucleoside Reverse Transcriptase Inhibitors (NNRTIs)
This class of antiviral drugs is the third to receive FDA approval. The first class was nucleoside analogues such as AZT, d4T, and ddI. The second class was protease inhibitors. The first NNRTI to be approved was nevirapine, manufactured by Boerhinger Ingelheim. It received FDA approval in June 1996. Several months ago delavirdine received approval and DMP-266 is in human studies; the latest information about NNRTIs was reported at the NATAP forum. NNRTIs are processed through the liver in the same the way protease inhibitors are. If you combine a protease inhibitor with a NNRTI the blood levels of one or both of the drugs can be changed. So before using these two different classes of drugs together it is important to understand how one affects the other because frequently the doses of the drugs have to be altered. Each individual NNRTI affects each protease inhibitor differently and each protease inhibitor may affect each NNRTI differently. Before combining any of these drugs you should consult with your doctor because if you use the wrong doses you might harm yourself and possibly never be able to benefit from the combination in the future.
An official from the manufacturer of nevirapine reported 76 weeks of data from a study of individuals who had never participated in antiviral therapy; their average CD4 count was 376 and viral load was about 25,000 copies before starting in the study. So this was a relatively healthy group of individuals who received nevirapine with AZT and ddI. After 76 weeks, their CD4 counts increased about 100 cells and their viral load decreased about 1.4 log. After 68 weeks 60% had their viral load below 200 copies (undetectable).
In a small study, it was discovered that nevirapine decreases the blood levels of Crixivan. A small study was conducted with 21 individuals who had an under 50 CD4 count and had a lot of experience with nucleoside antivirals like AZT and d4T. So this was a group of individuals with advanced HIV. The 21 persons received nevirapine with Crixivan and 3TC; and they had all used 3TC previously. After five months their average CD4 count increase was about 100 cells and their viral load was reduced by 3.12 log; 55% of the 21 lowered their viral load below detection using the 500 copy test. These are good results and show a way in which a protease inhibitor can be used effectively in combination with a NNRTI.
Delavirdine was the second NNRTI to receive approval a few months ago. Its brand name is Rescriptor and it is manufactured by Pharmacia and Upjohn. The studies conducted by the manufacturer showed disappointing results. There was debate about whether this drug should get FDA approval. Three studies were reported to the FDA comparing delavirdine in various combinations including AZT and ddI to monotherapy and combinations including AZT and ddI; the first two studies showed slight increases in CD4 for delavirdine and the third study showed some increases in CD4; the third study also showed some moderate additional reductions in viral load for the delavirdine combination in comparison to the other combinations in the study. The manufacturer is planning to conduct further studies to better define how this drug can be effectively used.
Upjohn has conducted a limited amount of preliminary research about how to combine delavirdine with a protease inhibitor. They have discovered that delavirdine can increase the amount of Crixivan and saquinavir in your blood, but may not change theamount of ritonavir in your blood. More research needs to be done about combining delavirdine with protease inhibitors to better understand how to do so effectively.
New information was provided about DMP-266, a new NNRTI from DuPont Merck. The information is from a small study of the combination of DMP-266with indinavir. Research, indicated that DMP-266 decreases indinavir blood levels, so they are using an increased dose of indinavir in their studies. After 42 weeks, the average CD4 increases were greater than 100 cells, the viral load reductions were about 2.5 log, and about 80% were below 400 copies (undetectable). These are good results but more studies need to be conducted before the FDA grants approval. If all goes well DMP-266 should be available by mid-1998.
IL-2
A researcher who is employed by the NIH (National Institutes of Health) came to the forum to discuss the research that has been conducted using IL-2. It is not an antiviral like protease inhibitors, nucleosides, or NNRTIs, and is not approved to be used for HIV, but it is approved for other uses. It is called an immune-based therapy because it is hoped that it improves the functioning of your immune system by raising your CD4 count.
Results from studies show that for individuals with greater than 200 CD4, IL-2 used alone can dramatically raise the CD4 count, but if IL-2 is used alone in individuals with low CD4 counts you do not get increases in CD4. The results of another study suggested if individuals with low CD4 use IL-2 in combination with potent antiviral therapy it might cause CD4 increases more than antiviral therapy without IL-2. This possibility needs to be researched further and is currently being studied.
There are a few concerns about IL-2. When used alone it can raise your viral load which is not what you want to do. But the studies showed that the rise in viral load was temporary for individuals with higher CD4 counts. In addition, when individuals with low CD4 counts combined IL-2 with potent antiviral therapy this was not a concern.
There are several ways to take IL-2. At the NIH studies it was administered for several consecutive days by IV every couple of months in high doses; it has been studied when given more often by subcutaneous injections; and it has been studied given by IV at lower doses. Even when you can achieve a rise in your CD4 from IL-2 therapy, there is a question of whether or not these new CD4s are functional. Do they really improve your immune system? We do not know for sure the answer to this question but a study is being planned that we hope will answer it. In January 1997 at an important AIDS scientific meeting called the Antiretrovirus and Opportunistic Infection Conference, researchers reported preliminary results about the effect of the new antiviral combination therapies on the immune system. The results are preliminary and usually based on small studies but they suggest that the immune system can be reconstituted by potent antiviral therapy such as a potent multi-drug combination therapy. In some instances in these studies certain opportunistic infections (OIs) appeared to be prevented; while in certain instances where individuals already had a certain OI it went into remission.
It appears as though these improvements were due to the increases in CD4 and decreases in viral load from taking potent antiviral therapies. A new nucleoside analogue, 1592U89, which is like AZT or d4T, is being developed by Glaxo Wellcome. In a small preliminary study, it showed potential to be potent and promising as CD4 counts increased about 100 cells and viral load was reduced about 2 log. It showed potency similar to a protease inhibitor but could be important because it is a nucleoside; it can be combined with a protease inhibitor and should represent a new treatment option for individuals who have used up benefits from the available nucleosides -- AZT, d4T, etc.
Nucleotide Analogues -- New Class Of Drugs
Because the interest in attending the forum was greater than the size of the auditorium, we held a follow-up forum three weeks after the first at Mt. Sinai Medical Center. We reviewed the information discussed at New York University and in addition we talked about two new drugs in development -- PMEA and PMPA. These two are a new class of drugs called nucleotide analogues and the manufacturer is a biotech company called Gilead Sciences. PMEA is in the middle stages of development with studies in humans and should be available by mid-1998 if all continues to go well. The CD4 increases and viral load reductions seen so far are moderate but they also represent a new treatment option for individuals who have used up the available nucleosides -- AZT, 3TC, d4T, etc.
In an earlier stage of development is PMPA. Animal studies indicated a unique potential for this drug. Recently reported results from the first small human study showed promising and unique potential for PMPA. It is hoped that the results of a human study that was recently started will be encouraging when they become available in late 1997 or early 1998.
The new issue of our newsletter NATAP Reports will have detailed and lengthy articles about PMEA and PMPA as well as further discussion of treatments. Frequently, our web site contains more detailed reports than the newsletter (our web site address is given at the end of this article).
The new combination therapies have been in study and use for only about one to two years. Although the benefits of these therapies in the short term appear to be clear, we do not know how long these benefits will last. People on treatment regimens need to stay informed about new developments. Researchers will be following the effects of the drugs for years to come, and of course we hope they will prove to be safe and effective over the long haul.
NATAP has published the New Protease Inhibitors Users Guide, Revised June 1997, which is available for free by contacting our office at 212-219-0106. It is a compliance manual which discusses all the important requirements to adhere to when taking any of the protease inhibitors, including dosing, diet and hydration, drug interactions, how to monitor your viral load, and more. : For information about treatments, please speak with a NATAP representative, access our web site or request our newsletter. Our web site address is: http://www.aidsnyc.org/natap.
What Is CD4? What Is Viral Load? What Is A Log?
When you visit your doctor, he or she usually conduct certain blood tests to evaluate your health and the progression of HIV in your body; the tests include a CD4 test and a viral load test. The CD4 test measures the number of CD4s in your blood. This gives your doctor an idea about the health of your immune system. The higher your CD4 count, the healthier your immune system should be. The viral load test has been available for about two years. It is a major advancet in treating HIV because it measures the amount of HIV in your blood. Your particular stage of the disease can be measured by your CD4 count and your viral load. You can also detect benefits from treatment you are receiving by measuring changes in CD4 and viral load that result from taking the drugs. Your viral load test result is reported by the number of copies/ml in your blood. The lower the number the better. For example, 5,000 copies/ml is a relatively low number but 100,000 copies/ml is a high number. Research has shown that individuals with low viral load are less likely to get sick. Reductions in viral load are usually measured by log numbers. For example, if your viral load was 100,000 copies/ml to begin with, a 1=log reduction means your viral load is 10,000; a 2=log reduction means your viral load is 1,000; a 3=log reduction means your viral load is 100; and a 4=log reduction means your viral load is 10 copies/ml. There are two viral load tests that your doctor can use. The Chiron bDNA test measures as low as 500 copies/ml. If your viral load is below 500, it is called undetectable. The Roche Amplicor test measures as low as 400 copies/ml and, if your viral load is below 400, it is called undetectable. An undetectable result does not mean there is no virus in your blood or body. There is still virus in your blood and body. Safer sex is still required.