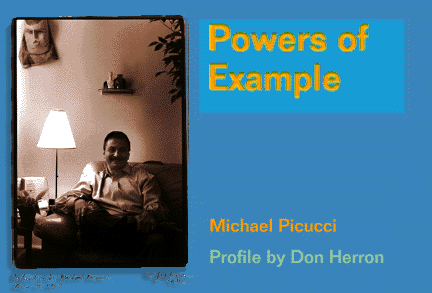 In 1983, Michael Picucci was five years into recovery from alcohol and drug dependency.
A successful advertising executive, he was half owner of his own agency, but was selling his share so he could start the process of re-doing his life. "I wanted to go back to school -- to learn to do something to help people. I wanted a career that would mean more than just making money. But the day the sale of my ad agency went through was the day I was diagnosed with a very fast-growing lymphoma. I was crushed." In the early eighties lymphoma hadn't been connected with HIV infection; eventually Michael learned that, in fact, he was HIV-positive.
He became stoic, then angry. He went around and talked to everyone who knew anything about lymphoma. "Everyone said the same thing -- that one particular lymphoma is a very aggressive cancer, and that the most aggressive treatment was my only hope, a very toxic two-year chemotherapy. My doctor didn't think I'd live through the treatment.&quot
Advertisement
Michael had been married when he was 18. His wife developed cancer in the 1960s. When she died, Michael swore that he'd never go through what she went through. "I felt that if I ever developed cancer I'd just let it take its course. No chemotherapy. But my own research came to only one conclusion -- that the most aggressive chemo is the best therapy, and I'd have to submit to it if I wanted any chance of survival."
Before starting chemo, Michael's therapist sent him to see a "Science of the Mind" minister/healer. "I told her my story, and she yelled at me, "Don't believe anything the doctors say...they're talking from their experience, not yours. Don't listen to them. Cooperate with them, but don't believe them. They don't know your strength."
"My short meeting with her changed my whole direction. My doctors considered me just an interesting case, and I knew it would be hard to keep my spirit up to fight the doctor's attitude."
Michael knew he'd have to be strong and prepared if he wanted to survive. "Before submitting to chemo, I locked myself away for the weekend and came up with my own plan for preservation, both mental and physical. I bought all my books on philosophy, including Carl and Stephanie Simonton's Getting Well Again. They were early pioneers in visualization work. Their theories were grounded in scientific fact, and they worked with terminal cancer patients and had a very high degree of success. Their idea is that one must breathe and feel the positive visualizations in one's body, and this really worked for me."
"All this is the cornerstone of how I've dealt with HIV, using a metaphysical and spiritual life raft created at he beginning. "At the same time a new lover came into Michael's life, and he became a powerful force for Michael's health and well-being.
"I started chemo despite my misgivings, and it was very difficult. I submitted to chemo for nine months. I lost all my hair, became very very thin, and had a catheter in my chest, a horrific situation." Even though he was doing positive meditation, he was still depressed, and could only hope that his spiritual work and strength would carry him through. "I developed a very serious lung infection after eight or nine months, and the doctors couldn't clear it up. They gave up hope. I was near death, and wasn't expected to make it through the night." In desperation, Michael's doctors decided to cut open his lungs, and found that the linings of his lungs were inflamed. This inflammation showed them the reason for the lung infection. They treated it, and Michael recovered.
"As I was getting better, I realized how much I wanted to live. I knew I wasn't done with this planet and decided that if I lived, I would live to my full potential. I made up my mind that I would never face death again feeling that I hadn't done all I could to reach this potential."
Finally, a woman who had gone through a bad bout of depression herself convinced him to start anti-depressant medication. It worked after the first week of medication. Michael could see light at the end of the tunnel; he is now a great fan of appropriately used non-addictive medications and has done research on former addicts use of these medications.
"I began to get my energy back, and started to plan what to do with the rest of my life. I decided to go back to school and get counseling credentials.&quot Michael wanted to work with people who had addiction problems. "I had a history of addictions so I became and addiction counselor. I developed programs, started halfway houses, and stayed in program development for several years. Then my lover Gill became ill. I nursed him for three years until he died in 1988.&quot During this time, Michael kept up his meditation and work, and continued to experiment with alternative healing programs.
Michael got his doctorate after Gill died. "I was already in private practice as a psychotherapist and involved in the research that resulted in my book Complete Recovery."
Since learning to use visualizations, Michael has learned faster and better ways, including "healing imagery." Healing imagery deals with reversing or neutralizing body defense reflexes that may not be working in our best interests in terms of health and happiness. This system is thousands of years old, and with it one can quickly tune into the brain's right hemisphere where anything is possible -- deeper insights, traumatic healing, body memories, intuition, creativity, etc. It's a quick and effective way to get out of our everyday logic and beyond.
"There are some valuable tools in healing that are absolutely necessary for us to be aware of . We must realize and accept our diagnosis. We must a have a fighting spirit and refuse to be helpless and hopeless. We must be willing to change our lifestyle as necessary, and we must be willing and able to create a sense of life purpose."
"After my near-death experience I saw life as a gift. Every day is an opportunity to see how much I can bring to life. I also saw what was important and what wasn't. I no longer had tolerance for the things that weren't meaningful. My life became much more purposeful, with no nonsense. It also became more fulfilled on many levels and more fun-filled."
"I think the most interesting thing about my story since my diagnosis is that I've done so much. I got two degrees, a new career, bought a new home, got a new wonderful lover , and wrote a book that feels important to me. I have a new life. HIV has never stopped my life force. I have to constantly consider my situation., but it has never stopped me. I work things out and ahead and do whatever I want. HIV, alone, is no reason to not have a full life, though, perhaps, it may be a good reason to have a richer one."