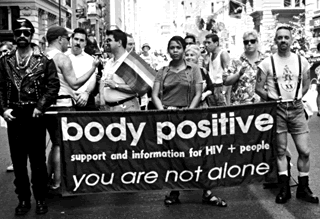 Body Positive staff, board members, volunteers and friends let HIV-positive Pride March participants and spectators know that "you are not alone."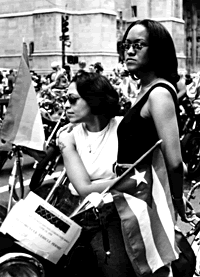 Two participants of Dykes on Bikes have a quiet moment together before the march begins.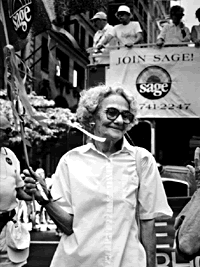 As this photo shows, pride comes in all ages. Senior Action in a Gay Environment (SAGE) provides services geared toward older New Yorkers.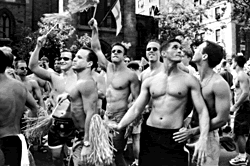 There aren't any raindrops in this picture, but it appears to be raining men. Gorgeous, well-toned men were definitely well represented at the March. Hey, guys! Where do you work out? Inquiring minds want to know.
Advertisement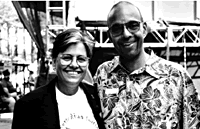 Councilpersons Margarita Lopez and Phil Reed served as Grand Marshalls for the March. Ms. Lopez represents the Second Council District in Manhattan (the Lower East Side, the East Village, Gramercy Park, Kips Bay, and parts of Murray Hill). Mr. Reed is a member of the City Council from the 8th District.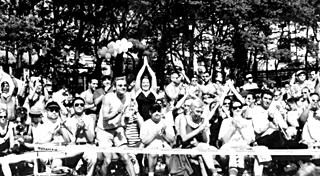 Quite the enthusiastic crowd, wouldn't you say? If this isn't support, then what is? From the shades being worn in this picture, it's evident that the sun and the spectators were shining.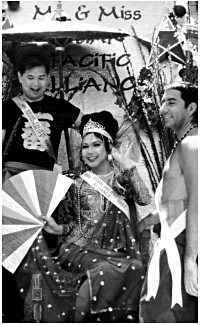 Miss Asian Pacific Islander gives a royal wave to the crowd while Mr. Asian Pacific Islander watches with glee. The third person in the photo looks peaceful. What a feeling.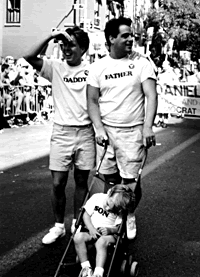 Looks like nap time for Son, while Daddy and Father are wide awake enjoying the March. Gays, lesbians, bisexuals, and transgenders are parents too, as this family photo shows.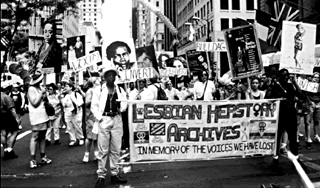 If lesbians don't record and archive their own herstory, who will? These marchers are proud of the women who came before them, and still serve as role models today.
Back to the August 1998 Issue of Body Positive Magazine.