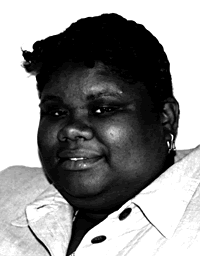 Ayisa Kennedy has a lot to celebrate this August. She just landed a new job, a primo apartment with a garden, and she is reaching the much apprehended quarter century mark, she turns 25. Ayisa tested HIV-positive six years ago, a few months after her nineteenth birthday. "It was election day. I had taken the test three months prior, but never bothered to pick up my results. I took the test because I was getting weird symptoms that kept coming and going, and when one of the many doctors I encountered at the emergency room suggested it, I agreed."
When asked how an adolescent finds a doctor when even adults in their 30's find it difficult, Ayisa admits that it took her over a year to find one. "I went to three different doctors before I found one with which I was satisfied. Most providers gave me the 'Oh, another fucked up kid who fucked up' attitude which I did not appreciate at all."
"The first one pushed me to get on AZT because, according to him, I was probably infected a long time ago, molested as a child and lying to him. The second one did not impress me, and the third doctor started off with the same song and dance, 'Well if you don't care about yourself ...' The fourth and final doctor treated me with respect, explained everything to me, and made me feel comfortable."
Ayisa attributes support groups like those she attended at PWAC NY and Body Positive with helping her make decisions about her health. "I was fortunate to find older people at groups who were positive and took a pro-active stand with their health." Unfortunately, she didn't find the same will to live among her peers. "Most of the infected adolescents that I encountered came straight off the streets where they had left behind histories of drug abuse, homelessness, prostitution and crime. HIV just added to their pessimism." A far cry from Ayisa's own upbringing.
Advertisement
Born in Brooklyn to Jamaican immigrants, Ayisa's life was pretty "normal" until her mother died six days after her tenth birthday while giving birth to her sister. Ayisa describes her mom as the quintessential mother. "She was my very best friend -- the girl scout leader, the light of my eyes. When she died, I had a very difficult time."
Ayisa's father remarried and had more children. These acts prompted Ayisa to act out. "I would pick fights with my half sister and argued with my stepmother because I felt that she wanted to take my mother's place." By the time she turned fifteen, Ayisa ran away from home. Eventually, she ended up living with all her relatives until she exhausted her welcome. She also lived in Florida for a year. "For a couple of years I worked and went to school while living with a girlfriend of mine. When I turned eighteen, I lived with my boyfriend who I had been dating for a couple of years. He was much older than I, and he was the one who infected me."
Ayisa doesn't seem to harbor any resentment towards her ex, who according to her, picked up his stuff and left her the next day after she disclosed. "I was going through a lot at the time I found out my status. I was unemployed, going through mid-terms at school, and my boyfriend and I were having problems. After he left me, my denial kept me from believing that he knew he was infected and didn't tell me, but I am now sure he did." Currently Ayisa isn't seeing anyone special, and when pressed to talk about her love life and the dating scene, she laughs, "When I was younger I never had any problems meeting and dating men, but back then I didn't expect much from my mate so I didn't get much. Now I expect so much more from myself and a potential partner that I am a lot more selective. Okay, picky. So it's harder to find a nice guy."
Finally, Ayisa adds that although her motto at times is "if you want to make God laugh make plans," she plans to continue her education, and in the next five years she sees herself completing graduate school and at a job she really enjoys. "Currently, I work at the Clinical Director's Network and I enjoy what I do immensely." Ayisa says that at times it is easier for her to plan because she is relatively healthy and isn't on any medications. "I am healthy. I am just overweight."
She laughs as she offers her final thought to young people who have just tested positive. "I think that when you find out you are positive as an adult, the tendency is to redirect your life. As an adolescent you are at your healthiest, you are still growing physically and exploring, but without goals to achieve, you can fall into a routine and do nothing. If you had goals before you found out your status follow them, and if you didn't, get some."
Back to the August 1998 Issue of Body Positive Magazine.