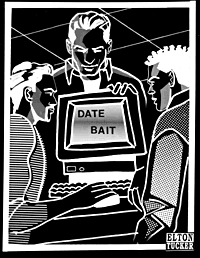 At first glance, New York City may seem like the perfect playground for the gay man playing the dating game, but it can actually be rough terrain. The bars are full of men, yes, but making that first move can be downright scary. And the guy who sounded so wonderful in the personal ad may not live up to expectations.
If you're HIV-positive, finding the right man to date can be even harder. How do you bring up the subject of your HIV status? When? How will he react?
Enter Date Bait, where the old-fashioned mixer meets modern technology to help men make what it calls social and romantic connections in an open and nonthreatening environment. There are general Date Bait get-togethers for all gay men, some for men in specific age groups, some for lesbians, and, since late 1997, sessions specifically for HIV-positive gay men.
The procedure is simple. you arrive at the Date Bait mixer, pay the $15 fee, and sign in. You'll be given a tag with your name and a three-digit ID number to wear, a clipboard and pencil, and a computer card that looks like a lottery ticket. No pre-registration is required, but it's a good idea to get there a bit early; space is limited to 80 participants, and it fills up fast.
Advertisement
You take your seat along with all the others, and a moderator explains the procedure. Each man, in turn, is given one minute to introduce himself and tell a little bit about who he is and what he's looking for in a date.
As you listen to the introductions, you jot down the ID numbers of the guys you think you might like to date. The chairs are arranged in a circular formation that allows everyone to see and hear what they need to in order to reach a decision.
After the introductions (this takes about an hour) comes the mingling part. For the next 45 minutes to an hour, you move around the room checking out (and being checked out by) potential dates. As you stop and chat with various men, you may add some numbers to your list, or you may take some off. The aim is to find out what you have in common, and the well-lit room avoids a meat-rack atmosphere.
Finally, its time to make your choices. You carefully fill in the little spaces on the computer card with the ID numbers of the men you are interested in, hand the card in, then relax and mingle some more while the high-tech stuff happens.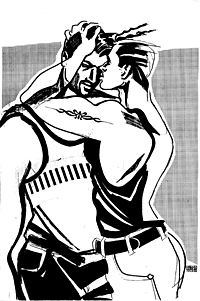 The Date Bait computer compares your card with those of all the men in whom you expressed interest. If your number comes up on one of their cards, you have a match! Each of you is informed of the others interest so you can get each others phone numbers and arrange your date.
"The minimum definition of date is a half-hour meeting one-on-one in a public place. So its not a one-night-stand type of thing," says Date Bait founder Rafael Risemberg.
Date Bait matches people only when the interest is mutual. You may get one match, you may get several, or you may not get any. If you choose someone who doesn't choose you (or vice versa), no match occurs. "Since the other person doesn't know that you chose him," says Risemberg, "there's no embarrassment, no rejection."
Risemberg founded Date Bait in 1996 primarily due to his own desire to get dates without having to deal with the bars and the personals. The idea was so popular that it has since become a small business, with several get-togethers held every month.
When Date Bait started, it sponsored only the all-inclusive (for HIV-positive and HIV-negative men) socials, and some HIV-positive men were uncomfortable about when and how to disclose their status. They approached Risemberg about arranging the same type of mixers specifically for them, reasoning that if everyone in the room is HIV-positive, disclosure is no longer an issue.
Risemberg was happy to oblige, and positives-only mixers are now a regular Date Bait feature. Five have been held so far, two more are scheduled (see below), and the reaction has been ... well ... positive. In fact, using the number of matches per mixer as the criterion, the HIV-positive sessions are even more successful than the all-inclusive ones. In the latter, about 60 percent of the participants are usually matched with at least one other person, no mean feat in itself. In the positives-only groups, however, the match rate regularly rises to 70 percent, and sometimes higher.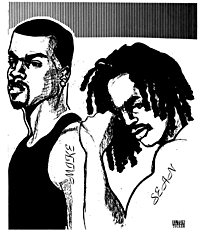 So who are these guys, and what are they looking for? They are all kinds of gay men with HIV. Attendance is very diverse and includes a significant ratio of people of color. And they're looking for the same variety of things that anyone else is looking for on a date. "People who go there tend to be relationship-oriented," says Risemberg. "We don't ask that they be. They could be there to make friends."
Date Bait has even started to receive national media. A television segment on the organization was aired on Up to the Minute, CBSs overnight news show, and was made available to local CBS affiliates for broadcast in their regular newscast.
Co-sponsored by Body Positive, Date Bait's next mixers for HIV-positive men are scheduled for Saturday, September 26, and Saturday, November 28. Both begin at 7:30 p.m., and will be held in the basement meeting place at A Different Light Bookstore, 151 West 19th Street. You can find out more about Dait Bait and its schedule of mixers by calling (212) 501-6443 or by visiting its web site at www.datebait.com.
Back to the August 1998 Issue of Body Positive Magazine.