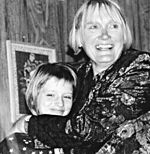 If there is a Place, on Top of the World,
I'd meet it Face to Face.
If there is a Time that I could Share,
I'd Share it with the Ones I love.
If there is a Bird, that is my Own,
Then let me have Wings to Fly Far, Far Away.
But coming Face to Face with the World
Is very hard.
If there is a Magic Place under the Sea,
Then let me Share what a Wonderful Person I can be.
So Fear little of Time there may yet to be,
But Enjoy the Wonderful Things to Come and See.
If you have a Child with a Sad, Sad Face,
A Hug and a Kiss will make it go Away;
So little needed to Brighten that Child's Day.
Advertisement
If there is a Child who doesn't feel Loved,
Come My Way . . . and I will give You a Hug!
Photo of Whitney Williams and Maria Mathes by Clyde Mueller, The Santa Fe New Mexican.
Back to the
August 1999
Issue of
Body Positive
Magazine