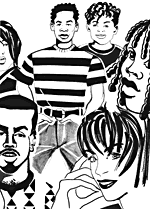 Of all life's passages, adolescence may very well be the most difficult.
The physical changes alone are overwhelming -- menstruation, inopportune erections, zits. Body image suddenly becomes important, and everyone wants to appear grown up and attractive. Girls make as much as they can of their developing breasts, while boys worry about measuring up.
Hormones are raging. Concerns about sexuality and sexual activity take center stage. The sex education taught in the schools may or may not agree with what kids hear at home or on the street. The messages sent by families, schools, and churches about what constitutes acceptable sexual behavior may be very different indeed from what kids are hearing from their peers, or from their own bodies. And it's so important not to appear uninformed or inexperienced.
The effect of peer pressure cannot be underestimated. At no time in life does it seem more important to fit in, to belong, not to be an outsider, not to be different. The clothes, the hair, the music -- all tell the world that this kid is a part of this group, in this generation. But it goes much deeper than that. It means conforming to the norms of peers behaviorally, whether those norms are making the basketball team or joining a gang, excelling academically or dropping out of school. It may mean using drugs. It may mean having sex.
Advertisement
Adolescence is, and should be, a time of limit testing and experimentation. Teens take chances, sometimes dangerous chances, as they earn the greater freedom and learn to accept the greater responsibilities that come with adulthood. The city youth may subway surf while the suburban teen does something equally reckless behind the wheel of an automobile. No matter where they live, young people experiment with sex, alcohol, and drugs.
There's a lot going on during the teenage years. It's a complicated, difficult, and vulnerable time of life. Additional stressors, such as family problems, poverty, and illness, just make the situation that much thornier. And there is no greater stressor than HIV.
Adolescence and HIV
For the most part, when people talk about HIV/AIDS and adolescents, they are referring to prevention efforts targeted to this age group. AIDS activists spend a lot of time and energy trying to reach teenagers with the message of how HIV is spread and how they can protect themselves. Self-appointed moral guardians condemn education efforts and block condom distribution and needle exchange programs. For the most part, these efforts and this controversy are aimed at the uninfected young.
But there is another, growing segment of the teenage population to whom HIV is an important fact of life. These are the children who were infected at birth or at a very young age, kids who have had HIV all their lives. Teenage and preteen long-term survivors are a relatively new part of the HIV scene, and AIDS healthcare and service providers are ill-equipped to meet the unique set of needs they present. The reason for this lack of preparedness is simple enough. Put bluntly, these kids weren't supposed to live this long.
Only a few years ago, the infant or young child with HIV had a life expectancy of only a few years. Gradually, with aggressive treatment (including that provided by mothers who ignored doctors' cautions against sharing their own medications with their children), early nutrition intervention, and other therapeutic approaches, these kids began living longer -- long enough, in fact, that they were still around when protease inhibitors came along.
So now we have this growing population of children aging into adolescence, with a shot at actually living to adulthood. But how do we help them navigate their way through the turbulent teens, carrying with them the added burden of this virus and all that it entails?
Disclosure
There has never been anything like unanimity on the subject of how much parents should tell HIV-infected children about their own illness. For the most part, social workers and others who deal with families lean toward openness, but some parents have chosen not to let their kids know the details of their illness. There can be many reasons for this reluctance -- fear that the child will tell other people, fear that the child will become depressed, guilt over having passed the virus on to the child, fear of being labeled.
Edward Handelsman is an Assistant Professor of Pediatrics at the Kings County Hospital SUNY Downstate Pediatric HIV Clinic and a member of the Board of Directors of the AIDS and Adolescents Network. His experience has been that many of the fears about disclosure are unfounded. "More often that not," he says, "the children don't become angry at their mothers. In some ways it forges a bond. In some ways they're sympathetic. So by and large, we try to afford children the knowledge they need before they reach adolescence. In general, we recommend disclosure between the ages of about 7 and 10, so that hopefully, before our kids reach adolescence, they are aware of their diagnosis. But it's a case-by-case basis. Some kids are judged as not being able to handle it. Other kids are seen as needing to know."
Often the attitude has been that the kids weren't going to live long enough for disclosure to become an issue. But Handelsman warns that kids aren't dumb. "By the time a child is 8 or 9 years old, he or she usually has a concept -- I'm taking medicine and my sister is not; I go to clinic once a month and my sister goes once a year; I've been hospitalized three times -- whatever it is, they know they're different. And they've seen the ads. There are billboards all over New York. You can't walk a block without seeing some ad for Combivir or Viracept.
"And they hear the names, see the names on the bottle, see the pills. We had a child of about 7, a few years ago, and she saw Magic Johnson on TV saying that he had HIV. They showed a picture of the pills that he was on, and she said, 'Oh, Mommy, I'm taking the same pills Magic Johnson is. That means I have HIV.'
"Then we had a 10-year-old we finally disclosed to a few months ago. We'd been suspecting that she'd known for about a year. After feeling the emotions of actually hearing it for the first time officially, she said, 'Yeah, I knew for about three years.' She said to me, 'When you used to speak to Mommy, I would stick my ear against the door. Once or twice you and Mommy left the room and I opened my chart and looked.'"
Responsibility, Rebellion, and Adherence
One of the functions of adolescence is the gradual assumption of adult responsibilities. This is true in school, it's true in the family, and it's true in the field of medical care. When that medical care involves HIV, the degree of responsibility and autonomy that the individual child is granted can be a life-or-death decision.
The transition begins in the doctor's office. Renee Cohall, Project Director of the Adolescent Initiative Project of the Northern Manhattan Women & Children HIV Project at the Joseph L. Mailman School of Public Health of Columbia University, describes the situation at the clinic sites with which her project is affiliated: "The majority of pediatric programs follow a family-centered approach. Some adolescents require an individual approach because of the teens' developmental needs. So there are programs that are used to working with adolescents in a family-centered way, and now are looking at the individual needs of teenagers -- the confidentiality issues, the privacy issues. Now, it's Mom shouldn't be in the room during the visit. The kids start needing their own attention. So you have to educate the family to that, that they need to give the teen space during medical visits because there might be some confidential issues that come up."
The issue becomes more touchy when it comes to adherence. The protease inhibitor regimens, with their rigid schedule of medications and meals, are difficult for adults. How much more difficult, then, for adolescents, with their shorter attention spans and their greater need to fit in with their peers' schedules and eating habits? The side effects produced by the drugs are often just the worst possible things for a teenager to handle -- skin rashes and odd deposits of body fat. Then there's the issue of rebellion. The kid has been taking medications all his or her life, obeying parents' and doctors' orders. Teenage limit-testing can very easily lead to a refusal to continue the meds.
It's something that Nurse Practitioner Jayme Radding, who runs the Youth Clinic at St. Vincent's Hospital, sees all the time. She cites a variety of factors that can keep children from staying on their medication regimens. Many of the perinatally infected, she says, are very tired of taking the meds and insist on taking a break, feeling that the therapy isn't working anyway. Also, kids respond to crises differently from adults -- and a crisis can be a breakup with a girlfriend or boyfriend, a family fight, or a problem in school or on the job. Teenagers in crisis may not only stop taking their medications, but stop taking care of themselves in other ways, no longer eating well or getting enough rest, having unprotected sex. Adherence is easier, she says, "when they've been prepared well and it's their decision, when they feel that they're ready." Her clinic sees its adolescent patients weekly, and follows up with frequent phone calls. "With adolescents," she says, "you can't just write a prescription."
Handelsman echoes the experience: "We have found in our clinic that at some point during preadolescence to adolescence the kids refused to take their medicines. There are the issues about wanting to be like all the other kids, wanting to be out during the day and not encumbered by all the medicines. Some of the side effects can produce rashes or hair growth or fat growth that adolescents may be particularly concerned about."
Danielle Greene, Project Director of Mailman's Northern Manhattan Women and Children HIV Project, says that adherence depends on a variety of factors. "With the children the clinics try to come up with formulations to make it easier to take the medications, making them into lollipops, mixing them with all kinds of things to hide the taste. But with adolescents, it becomes more complicated. Making it look like candy isn't going to make it any easier to take. We have 12 and 13-year-olds whose parents are still very much in charge of what they do and when they take the meds, and we have 12- and 13-year-olds whose caregivers have given them complete responsibility for taking the medications. And that may not be so appropriate at that developmental stage, for a 12-year-old to have to remember when it's time to take their medications."
According to Handelsman, the related issues of adherence and responsibility are crucial to HIV-positive children aging into adolescence. "As the kids hit 12 and 13, the parents start feeling, 'She should be responsible for her meds. She's old enough to remember herself.' And it's a normal part of growing up that a child is given more responsibility. However, what I say to parents is, 'Realize that this is a life-or- death issue. You don't give the responsibility of driving a car to a 12-year-old.' I don't like to sound too paternalistic in terms of not giving adolescents the credit that they're due, but a 12-year-old needs to be checked up on, needs to be watched. It's very politically correct and it sounds nice to say, 'Well, we don't want to force things on people,' but it's life and death."
And it's not easy on the parents. Patricia's 18-year-old son, Josh, has been HIV-positive since he was an infant, and she has had to face the hard decisions of when to trust her son's judgment. Ironically, it was Josh's other health problem, hemophilia, that made it possible for her to give her son responsibility for his HIV meds. Josh learned at a very young age to care for his hemophilia, even to the point of infusing himself in an emergency when his parents were not around. "Josh was socially immature for his age," says Patricia, "but very mature medically, and very responsible."
Kids First
At the Northern Manhattan Women and Children HIV Project, attempts are being made to tailor services to both the medical and the social and developmental needs of adolescents.
Another one of the clinics the project is affiliated with is creating "an adolescent space" by establishing an evening clinic and setting up a waiting room just for teenagers. "It's been very interesting," says Cohall "Years ago, I worked with adolescent programs and with pediatric programs, and the programs felt very strongly that the perinatally infected adolescents were very different from the behaviorally infected. In the last couple of years I've seen a real change. People are saying, 'They're teens first. It's okay to bring them together.'"
Indeed, these kids seem to be discovering something that some adult AIDS activists are in danger of forgetting that the important thing in HIV is not how a person became infected. "We're running a support group for teens, and it's a mixture of perinatally and behaviorally infected. These adolescents' needs sometimes override how they got infected. That isn't as important to the teens themselves, how they got it. How they're living with it is more the issue with the teens themselves."
Special Needs
The virus, of course, is only one factor -- albeit a huge one -- in any person's life, and that's true even when that person is a teenager. Many things, HIV-related and otherwise, combine together to make life harder or easier.
Although children with HIV may mature -- physically, developmentally, and socially -- later than other children, they do mature. Social, romantic, and sexual relationships become important, and all are colored by their HIV status.
For example, Patricia wanted to be sure that her son Josh was aware of the dangers of sexual transmission of HIV before he became sexually mature. He knew his diagnosis, but not its implications, and, when he was in fifth or sixth grade, she took him to an HIV training aimed primarily at high school students. On the way home, Josh was pensive, finally asking, "Mommy, does this mean I can't have babies?"
For other children, the stressors are different, sometimes more immediate and more severe. Many of them have lost their mothers to AIDS and are being raised by family members or are in the foster care system. Often they have experienced multiple losses. Many come from families with histories of drug abuse in the home.
The Incarnation Children's Center is a residential facility that houses emotionally disturbed HIV-positive children. According to Mindy Wacks, Incarnation's social worker, the two major needs for the preteens and teens she sees are appropriate residential placements and educational services.
Many, she says, are still living at Incarnation only because there is nowhere else to put them. "It's like the situation with the original boarder babies," she says. The parent died, so the children went into the foster care system, but these older children are harder to place permanently. And so they languish at Incarnation.
The other big failure, according to Wacks, is the failure of the education system to meet the needs of medically fragile teens, those who are able to go to school but need special help. The school they attend, for instance, must be aware of their condition in case of emergency and so that they can take their medications on schedule. Because of the lack of appropriate educational services, these kids end up getting home instruction, which really amounts to nothing more than having a tutor a few hours a week. Not only is this situation educationally inadequate, it denies these children much-needed socialization experience.
Sheila Ryan of the Special Needs Clinic of the New York Presbyterian Hospital points to a serious lack of mental health services for HIV-infected teens. The children she sees, she says, do not fit into most traditional special education programs, because of their particular learning problems and emotional and behavioral issues, and also because so many of them are physically small.
Space and the scope of this article do not permit an indepth analysis of the myriad issues that face the aging-in population of HIV-positive young people. It's clear, however, that their numbers will continue to grow, and with that the need for services that recognize their unique needs.
As Handelsman puts it, "Three years ago we didn't realize the scope of -- I don't want to say 'problem,' because it's good that they're living longer. We didn't realize the depth and importance of the issues. We were caught a bit unaware, and we want to prevent that from continuing. We want to be prepared and start working on it earlier."
Laura Engle is the editor of Body Positive magazine.
Illustration by Elton Tucker
Back to the
August 1999
Issue of
Body Positive
Magazine