"I'm dealing with my illness while maintaining my standing as a productive member of society."
My name is Steve, and I'm a 34-year-old HIV-positive gay man living in the Bronx and working in New York City. I've been very fortunate, in a sense, because I found out that I was sick after combination therapy came out -- although I soon learned that it's not all fun and games. I decided to get tested after leaving my lover of 5 years, who was abusive both to me and with alcohol/drugs. Sure enough, I turned up positive. Before reading on, I'd like you to keep in mind that although I experienced some pretty bad side effects from my medicines, not everyone will. Also, some of the more severe side effects were partially caused by more than minimal alcohol consumption in concert with the medicines. (I've since cut the drinking down to 1 or 2 drinks a month.)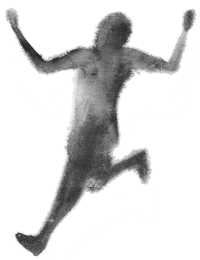 My first combination, started in March of 1999, consisted of Viracept, Videx, and Zerit. For starters, the Viracept gave me terrible diarrhea. Taking over the counter anti-diarrheals worked well enough, but gave me very painful stomach cramps. After a little over a year on this combination, I was experiencing severe neuropathy in my legs and feet, and started taking neurontin. (Actually, I started with Elavil, but that didn't help very much.) The neurontin helped a little bit. I also was having some lipodystrophy problems, and began taking serostim (HGH) and Juven. Around Easter of 2000 (Easter morning, in fact), I was hospitalized with severe pancreatitis. I was expected to die, and the surgeons at the hospital cut my abdomen open from the ribs down to my belly button. I wasted down to 146 pounds (I'm currently 173), and spent a few weeks at home, unable to go out or go to work. I survived that, although it took some time to get back on my feet and back to work.
Advertisement
During my recovery from pancreatitis, I stopped taking my medications, except for the neurontin. Around September of 2000 I began a new regimen, consisting of
Combivir
and
Viramune
. This combination was tolerated reasonably well for awhile, until I noticed that I couldn't even climb a set of stairs or walk to the subway without getting out of breath, and my co-workers were telling me that I looked very pale. It turns out that I had a pretty bad case of
anemia
. When I went to the hospital, the attending physician didn't leave my side for over an hour. That's a sure sign that something is definitely wrong, since anyone who has ever been in an emergency room knows that if you are not ignored most of the time then you are not in good shape. Three days and couple of pints of blood later, and I was off meds again, and healthy as a horse. I then stayed off meds until my
viral load
went over 75,000 and my T cells started dropping, then my doctor told me I really needed to consider a new regimen if I wanted to stay healthy.
This regimen, which I'm currently on, consists of Kaletra, Epivir, and Sustiva. The Sustiva makes me kind of high at night and gives me nightmares, but other than that, I'm tolerating this regimen very well. At the beginning of the summer 2001, I made the decision to go off the medicines for the summer again, for which I got a good scolding from my doctor. She warned me that since I'm on my third treatment plan and tolerating it pretty well, that my options are running out and that I can't afford to become resistant to anything, since so many meds have made me ill. Again, I waited until the end of the summer to restart, and have had no problems. My weight and energy are up, along with my T cells and my viral load is undetectable. Thanks to the Serostim, the gym and Juven, I'm not showing many signs of lipodystrophy.
I've had to make some lifestyle changes in order to maintain my health. I only drink occasionally now, and don't do heavy drugs. I've also quit smoking and try to get to the gym at least 3 times a week. I still smoke pot, but the benefits outweigh the problems in my case -- marijuana helps my appetite, and helps deal with the pain from the neuropathy, which has diminished greatly, but still bothers me from time to time.
Bottom line is that I'm alive today, thanks to my doctor, and the medicines I take. I also try to keep a positive outlook on life. The way I see it, without the meds I would have died by now, and even with them I almost died a couple of times (the pancreatitis and the anemia). So I've gotten three shots at life where most only get one, and that's certainly more than my share.
Except for brief periods of hospitalization, and the aforementioned recovery period, I've been fortunate enough to have a pretty good job working for a health plan in NYC. I'm in the union, and get decent sick and vacation time. Also, the people I work with are aware of my condition, and let me take it easy when I'm not feeling well. I also have what amounts to the best health coverage in the nation. No co-pays, no limits, and a great primary care physician in Dr. Belinda Velazquez. Dr. Velazquez is a big part of my care plan. She always chats with me when I'm in for a visit, and makes my care decisions with me, not just for me. She calls me back when I have her paged at ungodly hours, and makes time for me when I call her and want to be seen by her that day. She doesn't pull any punches, and while she respects my decisions regarding treatment, she has no qualms about letting me know her opinion in no uncertain terms. As she's a teaching resident in a midtown hospital in addition to her practice, I sometimes think she must never have a chance for a personal life.
I have an HIV-positive lover named Ruben, who helps out a lot too. He's on disability, and doesn't work, but he cooks for me because he knows I'm tired after work and takes care of me when I get sick. He understands when I'm not feeling well, and when I'm cranky, and when I do wind up in the hospital he brings me anything I ask for.
I've got excellent people at work who are not homophobic, and who take it easy on me when I'm sick. Due to the growth hormone and Juven, I've also got the best body that I've ever had, and I don't have to work as hard as other people at the gym for it. I've got access to the best medicines, four weeks vacation a year, and 18 sick days a year at work. I'm dealing with my illness while maintaining my standing as a productive member of society.
Now, it seems, just when I've started to get a handle on things, we have the terrorists and the war to deal with. I feel a little helpless. Being a "do-er," I feel the need to make a difference in this effort. I've only just realized that the best way I can help is by being one of New York's citizens who refuses to be cowed by the terrorists. By going to work in midtown Manhattan, going out and spending my share on the economy, and just not staying in. I'm helping to prove to the world that America will not yield to these horrible people. If, God forbid, something else terrible happens in the city, and I'm affected directly by it, I feel that at least I've done my part to keep the city going and keep the economy up.
We all have a part to play in this crisis, and each part is important. Where would we be if everyone were a CEO and there were no administrative assistants? So while I may not be fighting in the Middle East, I'm still doing my small part to help, and that makes me feel a little bit better about myself. For those of you who may feel as helpless as I've felt, remember this: comforting a person saddened by this tragedy, going out to a Broadway show, even buying some fall clothes or just getting out to the city are all necessary and helpful things that will help keep this great country running as smoothly as possible and help to show the world that America is not afraid.
-- By Steven McMahon
---
"I write to convey a message of hope in what can seem to be a hopeless situation."
They say that only the strong survive. I am here to say that this is not true, because I am not Hercules, but I have survived. During the time I was in communication with a potential editor in New York City about getting my work before the public, two planes exploded into the Twin Towers. This changed all our lives forever. My editor was only six blocks away from the devastation, but thankfully he is alright.
My article was to be about all the things I am and have been in my life. I have experienced mental illness, an abusive relationship that left me homeless, and a diagnosis of HIV.
On the third day after the attack I finally crawled out of the fetal position and put on a pot of coffee. This was a good sign. After all I had been through so much mierda in my life and survived, I knew I would survive this as well. It looks like a fight, but I have fought and won before.
This takes me back to a time when I was homeless. I was living in a park under a teepee-like structure. There was a man who looked after me since it was so obvious I had never been without a home before. We took turns sleeping while the other kept close guard. His name is Tyrone.
I would tell him of the mansion I used to live in and how my mate manipulated my money and me for his own gain. The story was not pretty, full of chemical and physical abuse, starvation, and sexual abuse. I really know how to pick them. All these traumatic situations helped cause me to cycle into mental illness.
Tyrone and I tried to get me admitted to the psychiatric ward six times to no avail. After a couple of weeks on the street I finally thought of my mother in Florida. If anyone could get me put away she could. Tyrone called my mother and they spoke for some time.
She caught the next flight to Birmingham. She had me locked down and secured before nightfall. She also put up so much hostility toward the psychiatric nurse who had turned me away six times, that the hospital fired the nurse.
Obviously sick and abused, they ran every kind of test one could think of including the HIV test. After a stay of seven days they had me on the proper psychiatric medicines and I came around quickly. I was discharged five days before my HIV tests came back.
My mother and I shared a suite in one of the old hotels we worked in several years before. She also put Tyrone up in a motel near us. A gesture of thanks for his protective presence in a time of true need.
After the five days passed, it would be nice to think I got a phone call concerning my HIV status. But instead the health department put a letter on the hotel door. The results were positive. The way they communicated my results to me was like adding salt to the walking wounded.
Things came together quickly with my mom at the helm. We got it together quickly, with me moving into transitional housing. This is temporary housing until one can get in the Shelter Plus housing. Shelter Plus housing in the South I know helps people who are or have been homeless, have HIV/AIDS, are mentally ill, or suffer with substance abuse problems. I guess they moved me to the front of the line because I fit into every category. Lucky me!
Of course I knew that health care for my illness was essential as soon as possible. I went to the charity hospital, which is directly tied into University Hospital, ranking high in the country for HIV/AIDS research and treatment. Charity because I have a very limited income.
After being diagnosed by a wonderful lady doctor, I was put on a cocktail consisting of Viracept, Zerit, and Videx in capsule form -- a study which I volunteered for, and enjoy good results with to this day. The added benefit is having free drugs for HIV as long as I patronize that hospital, since I joined a study.
Meanwhile the mundane trials of "just living" continued. I had received Shelter Plus housing where I paid one-quarter of the rent and the government paid the balance. I then took it upon myself to "dig up" resources. Fortunately, there are AIDS outreach programs in most large cities now that help with utilities, food, clothing and more including transportation, help toward medicine costs and housing.
I write to convey a message of hope in what can seem to be a hopeless situation. Through resourcefulness there is a way to not only survive, but also enjoy life at the same time.
-- By Lindsay Rosier