Photo: Tomás Rodriguez Gaspar
Of the many programs sponsored by Body Positive, Inc., Peer Education is one that performs a major, essential service: providing outreach to organizations and individuals, and raising awareness about the truths and myths of HIV. As I learned more about this invaluable program, I came to realize that it's more than merely a function; Peer Education is staffed by a group of exceptional people who've dealt with and risen above their personal issues, and bring love and caring into their work.
This is immediately apparent upon meeting Diana Marrero, Body Positive's Coordinator of Community Outreach and Education; she manages the program. Her office is a mayhem of activity: phone ringing, people milling in and out to seek her opinion, tap her knowledge or just have a chat. Diana is an energetic woman with a glowing charm who manages to make time for everyone. Obviously, she's used to having demands on her: aside from her career, she is married and the mother of three young children. When I first met her, I asked how she'd become involved in the field of outreach and counseling, both generally and specifically within the HIV community. "My brother died of AIDS," she said, explaining her targeted commitment. Diana formerly worked at the Brooklyn Plaza Medical Center, where she rose through a number of positions on her way to becoming a Peer Counselor at that organization. Although she enjoyed the work, her opportunities for growth were becoming limited, so Diana began to seek a new job. This process led her to Body Positive early this year, and she's glad she took the position. "The learning opportunities here are great," she said. "And furthermore, they're flexible about my schedule. That's very important for a woman with a family."
When Diana arrived, the Peer Education program was already up and running with nine counselors, all of whom were fairly new. They were mainly teaching prevention, contraction and contraception. She has since hired two more staff members, and plans to ultimately expand the group to eighteen. "I divided them into two sub-teams, so they could give each other closer support," she said, "and I got them as much training as I could. Cicatelli Associates is a great source; they offer a lot of relevant courses in health and human services. Also, the HIV Training Institute teaches many subjects that are essential for the Peer Educators. Body Positive is very supportive in training its employees."
Advertisement
Not only has Diana expanded the number of Peer Educators, she also has broadened the scope of topics that are taught. Currently, team members teach a program that takes place one day a week over the course of five weeks. The topics, one for each of the five days, are: HIV and AIDS in general, self esteem, hygiene, male and female anatomy, and domestic violence. Of course, each of these is taught with specific applications to HIV; Diana felt that there were many more issues to be discussed beyond the traditional "contraction and prevention." At the end of the five weeks, the Peer Educator is rotated to a new client. These series are often taught at rehab centers and correctional facilities, and a certificate is given to the student who attends the entire program. "In correctional facilities particularly, the certificate is a very good incentive for participants to complete," says Diana, explaining that inmates often take pride in this recognition of achievement.
Until recently, the Peer Educators have worked in pairs, to support each other and to learn from observing the process. But as the team matures on the job, this will change. Diana goes to client locations to give coaching and feedback to her group, and says, "Now that they're becoming experienced, they're almost ready to go out on their own." This will increase the productivity of the team in the number of clients they can reach; demand for this service is high.
In addition to rehab centers and correctional facilities, detox centers are a prime target of the Peer Educators, where they present a one day program on HIV. High schools, universities, outpatient centers and health fairs are also covered by the team. Diana Marrero says, "Anyone in need of education about HIV and the issues surrounding it are our potential clients."
In the Field
I was able to observe the work of Peer Education on two occasions. Each time, the outreach was to a different audience, and the presentations were targeted to meet that audience's specific needs. My first "live" encounter was at the New York City Department of Health's Mobile Unit, then stationed at 181st Street and St. Nicholas Avenue in Manhattan. Although the unit is staffed by city employees, it's the Body Positive Peer Educators who populate the table in front of the unit, encouraging passersby to take advantage of the free services provided. The Mobile Unit travels through Manhattan and the Bronx, changing location every six weeks. Where the unit goes, Body Positive follows: the Peer Educators actively engage people on the street, giving them literature and asking if they know about the work done inside the unit. When the Peer Educators get the attention of someone, they only have a few moments to capture the person's interest, or that individual will keep moving; thus, they don't have the luxury of being shy. I was amazed at the testing that's provided for free: HIV, tuberculosis, hepatitis B, syphilis. The unit spends the first three weeks at a location doing tests; in the next two weeks, the employees stop testing and turn exclusively to giving results and counseling. In the sixth week, the unit is "brought in" and re-stocked with materials and inspected for potential malfunctions (and repaired, if necessary); then, it moves on to the next location.
I spoke with Luz Hernandez, a Peer Educator at the Mobile Unit, and my first question was, what happens in bad weather? "We're always out there, regardless of the weather," she responded. "When it's raining, or really cold, we'll duck into the subway or a storefront for a few minutes, then get back to the table. Our work is to convince as many people as possible to go inside the unit and get tested, so we have to be out there all the time." I then asked Luz what Body Positive provided to those folks who opted not to step inside. "We give out educational pamphlets, condoms, dental dams. We answer questions, and encourage folks to get tested in the future. And we're bilingual, so we speak Spanish as well as English. In this neighborhood, and in many others throughout the city, that's very important."
Peer Educators from Body Positive cover the Mobile Health Unit Monday through Friday, 10am to 4pm. Luz was more than willing to share what she found satisfying about the long, sometimes challenging days. "It's a great thing we're doing here, both Body Positive and the City. There's never too much for people to learn. I'm in recovery and have been positive for 11 years, so I like to give out information; that's what will keep people alive and well."
My second observation of Peer Education in action was at Medical Arts, a detox center in Manhattan. A one-hour program on HIV was to be presented to patients who voluntarily attended. Sixto Rodriguez was the Peer Educator running the session, and we chatted a bit before it began. "I'm new with Body Positive; I've only been here five weeks, and enjoying the work a lot. Luckily, I haven't gotten any questions I can't answer yet, so I feel I'm doing well." The hour was to consist of a short film on HIV, then a question and answer session, including a demo of how to properly use a condom.
Sixteen attendees arrived, seven men and nine women. The movie started, narrated by Whoopi Goldberg, and though her delivery had its usual energy, a number of folks began to snooze -- it was, after all, 1pm and right after lunch. All was quiet during the film, but that changed in a flash as soon as it ended, when Sixto asked if there were questions. The man next to me boomed, "When did AIDS really start? Wasn't it a man-made virus?"
That woke everyone up. Within moments, opinions were flying around the room like jets. "AIDS has really been around since the 1940s." "Didn't the government target HIV for minorities and gays?" "Magic Johnson got cured, didn't he? He's having a baby."
While the questions were ringing out, Yolanda Diaz, Sixto's Team Leader, had entered the room. Initially, she took a seat quietly and listened, but after she heard the Magic Johnson comment, she took over. "Listen, nobody gets cured from HIV," she said with authority. "And regarding the baby: nobody really knows what went on with him and his wife, how she got pregnant. I mean, maybe he had his sperm washed. It's expensive, but you can do that these days."
"But the news said that there's no trace of the virus in Magic Johnson," a man stated.
"Your viral load can be undetectable, but that doesn't mean you're cured," Yolanda shot back. "Magic Johnson had one of the first cocktails, when it was only available abroad, so he's been on medication for a long time. Yes, celebrities and people with money had opportunities sooner than the rest of us, but there is no cure."
Yolanda moderated the discussion, calling on people so that everyone who wished to do so could state their point or ask their question. She has both a strong voice and presence, well-needed tools to keep things orderly. When everyone was finished, she summed up tidily. "The point is, use a condom. It will save you from HIV, and also from syphilis, hepatitis A and B, herpes, chlamydia -- lots of infections. And get tested; results are accurate 90 days after exposure, so especially if you've had unsafe sex, wait the time and get the test." A last question addressed the concept of "full-blown AIDS." Yolanda responded, "There's no such thing. Saying you have full-blown AIDS is like saying you're full-blown pregnant. You either have HIV or you don't." People were so involved in the discussion that Sixto never got the opportunity to give the condom demonstration.
As the group broke up, individuals were lined up to speak with Yolanda privately. Though she had another session to perform, she took the time to address each person, even if quickly. I was surprised at how much I'd learned in an hour: I hadn't known that sperm could be "washed" of HIV; I also hadn't known that, recently, blood samples from England dating to 1950 show the presence of HIV. All of this made me more aware of the importance of Peer Education.
Photo: Tomás Rodriguez Gaspar
Yolanda Diaz
Who are the other people that perform this work? I had the extraordinary opportunity of meeting most of the team, and of speaking one-on-one with three members. All have their unique stories, but there are some common threads that seem to be apparent.
The first person with whom I chatted was Yolanda Diaz, a woman who exudes warmth and happiness. All the authority and control she'd exhibited in session disappeared when I spoke with her individually; she had a ready smile on her face throughout our talk. As a Senior Team Leader, she oversees both sub-teams of Peer Educators. I asked what attracted her to this line of work, and she said, "I became HIV-positive in 1989. In 1994, I was in prison, and saw that there was no information being spread about HIV, especially among Latina women, mostly because of language difficulties. I knew I had to do something to help." When she was released, Yolanda went to work for United Bronx Parents. She learned basic clerical and business skills; after a period of time, she had built a strong resume and decided to go job hunting.
Yolanda arrived at Body Positive in 1997, and was hired as a Peer Educator. One of the things she enjoyed from the very beginning was the amount of training that was made available to her. She took advantage of the opportunities, started doing presentations, and fell in love with the work. That love is apparent when she discusses her job; she seemed so upbeat that I had to ask her what she did not enjoy about her work. "I'm HIV-positive, and taking medications. Sometimes it's just hard to get to work, because I don't feel well or am very tired. That's about it." My immediate thought was: most people's complaints about their jobs center around what happens while they're there; very few complain about when they can't be there. This is dedication.
Of course, it was easy to discover what Yolanda enjoys. "I love it when I see someone that I had in a training session. People will come up and say, 'I remember you from Body Positive.' It's a really great feeling, especially when I see a person from a detox center who seems to be doing okay." Also, she enjoys the social events sponsored by Body Positive, especially the boat rides. "They usually have two a year, but this year there are three," she said with her delightful smile. It's no surprise that this woman enjoys social events.
I asked her what message she'd like to convey to the readers of this article, and after a moment's thought, Yolanda said, "Keep reading this magazine. Learn everything you can."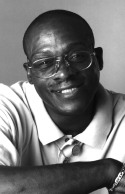 Photo: Tomás Rodriguez Gaspar
Harry Hendrickson
Next, I had the pleasure of meeting Harry Hendrickson, a tall, impressive man with a correspondingly deep, rich voice. Harry's path to Body Positive began when he was incarcerated; during that time he took training classes for the Department of Health and the Department of Corrections. In these courses, "the info I received about HIV was so moving, I decided this was where I wanted to give back," Harry said. "What I realized was that even if you're not infected, you're affected. Initially I was part of the problem; now, I want to be part of the solution."
When Harry was released, he took peer education training at the Center for Community Alternatives (CCA), and began working at parole sites, universities and high schools. Immediately, he warmed to the work. "I enjoy seeing the expression on peoples' faces when information touches home for them," he said, "and often they say, 'Thanks to you I see a way out of my dilemma.'" While at CCA, Harry encouraged inmates to attend "counseling" -- no mention of HIV is permitted -- in order to attract attendees without placing a stigma on them. But those who attend understand the true purpose of the session. Also, Harry helped inmates build relationships with doctors, so that their health could be regularly monitored.
After three years at CCA, Harry came to work at Body Positive, and he's been here for one year. He appreciates the cooperation of the administrative staff, and enjoys the closeness and cohesiveness of the Peer Educators. "We attend non-Body Positive functions together, and support each other," he commented.
Harry particularly enjoys his work with Project Hospitality, a Staten Island-based group for which he's been doing presentations over the last six months. Several times, his counseling has helped family members cope with a person being HIV positive, and people have come back to report their success to him. Two people whom he counseled from this group are now training to be peer educators themselves; and one client, who had to use a wheelchair, is now walking, healthy, and has found a job.
There's a special message that Harry wished to share. "Always be mindful that HIV-positive people are less dangerous to you than you are to them, because you have a healthy immune system that can fight off things theirs can't. Also, HIV is mostly transmitted by unprotected sex, injecting drugs or maternal transmission -- so even if you're not positive, read the materials because they kill the myths about HIV. Knowledge is power."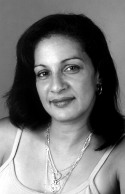 Photo: Tomás Rodriguez Gaspar
Mitzi Gonzalez
Finally, I had the opportunity to meet Mitzi J. Gonzalez, a charming and outgoing woman. Mitzi had been a sex worker and used drugs in the past; when she decided to make some healthy life changes, she took training on domestic violence, STDs, and HIV at an organization called Exponents Arrive. "They taught me to combine my own experiences with what I learned there to create my style of education," she said, favorably commenting on all she learned there. "There's no failure; everyone does and learns what they need, so there's no risk." Afterwards, Mitzi worked at: Hispanic AIDS Forum, helping sex workers with condoms, clothing and other necessities; VIP Community Services, where she did counseling on HIV and STDs; Project Return, educating on substance abuse; and Harlem Director's Group. She came to Body Positive in March of this year because, in her own words, "I wanted more varied experience. Also, Body Positive is a prestigious organization to work for, with their many programs and large outreach."
Yet again, Mitzi is a Peer Educator who loves her job. "My co-workers are awesome," she says, "very supportive and helpful. It's like a family: we call each other, relieve each other at work when it's necessary." One of the things she particularly enjoys is teaching survival skills, helping people with HIV to stay alive and in good health. But there is the dark side of the job. Mitzi says, "You sometimes go home stressed, you need to constantly juggle schedules, and you're going all over the city. But what's really hardest is seeing people you know really need help but who can't, either because they're unwilling or unable to seek it out."
Overall, Mitzi's outlook is admirably upbeat. "From where I started to now has been a great step for me," she says. "And if I did it, anyone else can. The best part is, I want to share it all: my experience, my strength, my hope."
It's easy to see the commonalities among Yolanda, Harry and Mitzi: they are all passionately involved in their work; they all feel a sense of community with their teams that extends beyond the job; and they all have experienced rather difficult periods in their lives. The stereotype of an ex-con, a drug user, a sex-worker is never positive: one thinks of people who are maladjusted, clinging to the fringes of society. Yet, properly applied, the human spirit has the capacity to not only overcome obstacles, but also to profit from them. In Buddhism, the term "poison into medicine" is used to teach the concept of making the best of anything. I believe that all three of these people, indeed, have embraced the philosophy of "poison into medicine."
If you know of any organization that could profit from the services provided by Body Positive's Peer Education program, Diana Marrero would be happy to hear from you. She can be reached on 212-566-7333, extension 17.
Ronald C. Russo, a freelance writer living in New York City, is a frequent contributor to Body Positive.