"The epidemic is far from over. You and I know that, but much of America does not . . . Perhaps our most important job over the next few months is to temper hope with realism and share the reality that AIDS is thriving and growing, both in the communities across this country and, indeed, throughout the world."
-- Sandy Thurman,
National AIDS Policy Director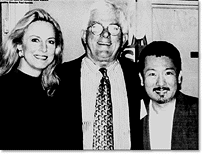 Sixteen years after the AIDS epidemic began, people still came. The United States Conference on AIDS, the largest AIDS meeting in the United States, brought 2,500 providers, people living with HIV, their loved ones, and physicians to Miami Beach. Over 1,000 agencies were represented. Sponsored by the National Minority AIDS Council, the three-and-a-half-day conference drew people from within the U.S. and abroad to discuss the challenges ahead of us. Several salient issues emerged: the impact of the epidemic on communities of color, the connection between substance abuse and AIDS, life with HIV in an era of new hope, the role of family and lovers as advocates for people living with the virus, and the need to see the AIDS pandemic from a global, rather than national, perspective.
Communities of Color
While several of the sessions focused on treatment information, the impact of HIV on communities of color was a predominant theme. "Minority communities represent the fastest-growing segment of the AIDS epidemic -- yet minority communities, poor communities, and women have also received a smaller share of the benefit from AIDS treatment, education, and prevention," noted Paul Kawata, NMAC's executive director. Several of the sessions addressed strategies for improving service delivery to communities of color. Currently, U.S. AIDS incidence rates are seven times higher among blacks than among whites, and Hispanics have HIV infection rates three times higher than whites. Women now account for 20% of newly reported AIDS cases.
Advertisement
Michael Rivera, of the Department of Health in New London, Connecticut, came to the conference "because it was a minority-based conference, put on by minorities," he said. "There was a much broader point of view than what I've seen in the past. This will bring some new fresh ideas to my work." Added Mark B. Little, Health Education Coordinator of the Institute for Community Research in Hartford, Connecticut, "I consider this as a new wave of interventions concerning behavior change, and want to learn new strategies about addressing specific behavior change around sex and drugs to prevent individuals from becoming infected. Since arriving I attended two specific institutes concerning African-Americans and Latinos in Urban Settings and HIV prevention, and Adolescents and Behavior Change. The two biggest issues concerning clients in Hartford are treatment and care."
Willy Hayes, a consultant and trainer for A.D.A.P.T. in New York City, works with the African-American and Latino communities in the Bronx, Brooklyn and Manhattan. He explained, "The problem that I encounter in my work is access to medications for African Americans and minorities in general in the New York City area. They are just not accessible and some doctors are playing God, thinking 'this person will not be able to maintain a regimen, so I'm not going to prescribe them (protease inhibitors), because it wouldn't help.' I don't think that's fair. Right now, the major issues that I see for my community are getting them access to medications, having them lose their mistrust of the government, and getting them enough prevention intervention information regarding behavior change." James Liar of N.O. AIDS/New Orleans, Louisiana Gay and Lesbian Health Educator, added, "One of the greatest challenges for the clients in New Orleans is finding the medications, especially in the African-American and Latino communities there. There is still the stigma in these communities and it's very hard for them to come out and say that they are positive."
Substance Abuse and HIV
Substance abuse and HIV played a large role in many of the conference workshops and seminars. Needle exchange programs are critical to the reduction of HIV transmission, particularly in the heterosexual community. Currently, more than half of the AIDS deaths among African-Americans are injection related. A workshop on HIV Prevention for Injecting Drug Users touched on state actions to improve access to sterile injection equipment and case studies from Maine, Minnesota, New Mexico and Rhode Island. Recent legislative developments concerning improved access and organizing grass roots efforts united the presentations from different geographic areas.
"Needle exchange is something that we desperately need in this country," stated Patsy Fleming, the former Director of the White House Office of National AIDS Policy under President Bill Clinton. "I think it's true that over half of the new infections are among people who use needles to inject drugs, but if you add to that their sexual partners and their children, you see that that is driving the HIV epidemic in this country. I believe the federal government should fund needle exchange programs."
"Treatment is very important," agrees Michael Rivera. "We have many clients suffering from addiction, in one form or another, and it's one of the major barriers to their health as HIV-positive people and a major barrier to their health as HIV-negative people who are at risk for becoming positive. I think treatment, especially culturally sensitive treatment that meets the clients needs at their own level, is what is especially needed."
Dr. David Ho, Time's Man of the Year and plenary speaker at the conference, said, "The participants in the U.S. Conference on AIDS play a role as important as any researcher in helping to stop the AIDS epidemic. Progress in medical research and treatment is only important if individuals get the care and information they need."
Living With HIV
People living with HIV represented a large percentage of total conference participants. Jim Konetsky, from God's Love We Deliver in New York City, lives with HIV. "I wanted to meet with other AIDS service organization (ASO) providers from around the country, and compare our programs and the way that we have addressed the needs in our individuals," he commented. "Being an employee of an ASO is part of who I am, but I am also a person who's been living with full-blown AIDS since 1991. It gives me a different perspective. The psychological and emotional impact of HIV/AIDS is something that I have experienced first hand, and it does give me some insight into what other people living with the virus are experiencing when they have to access services from providers such as the one that I'm employed by. I am openly self-identified as a person with AIDS. Once I share that with a caller who is very troubled, angry, or confused, it opens up communication. They are more willing to share information with someone they feel has at least a remote idea of what they're experiencing."
Voices From Around The World
Perhaps because of the upcoming International Conference in Geneva, the U.S. Conference on AIDS offered an international track for people interested in the global issues of HIV. Victor Barnes, Associate Director of International Prevention Activities at the Center for Disease Control, explains, "There are important lessons from communities, particularly resource-poor communities, in developing countries that can be brought to bear on similar communities in the United States, whether they be immigrant populations or just communities that are facing scarce resources. Those are all issues which work around the whole question of treatment and access to treatment, if you're talking about protease inhibitors and triple therapy."
"Particularly within the arena of HIV/AIDS prevention, we've learned lessons from the this country's experience. The way you get people to address HIV -- because of the nature of the disease, because it has to do with morality, perception of morality, sexuality, and people's behavior around sexuality -- is to create an effective intervention from the community. It has to come from the community. Our past development experience showed that we first needed to go into the community, identify community resources and individuals that were already mobilized, then assist them in mobilizing that response, and develop our interventions around those responses. That's been an important lesson that we've learned from the United States."
Barnes continued, "AIDS kills through opportunistic infections. There are many resources within indigenous communities which have very little to do with the pharmaceutical companies and everything to do with availability of traditional medicine and properties for treating opportunistic infections. Those need to be exploited and exported. I think those are really two important areas in which my new position can help to further linkages in integration of international and domestic experiences."
"The U.S., along with the rest of the global community, bears responsibility for the continued spread of the epidemic. Regardless of past actions, what has to happen now is that people need to recognize the global nature of the epidemic and respond to it in a global manner," Barnes concluded.
Patsy Fleming, the former Director of the White House Office of National AIDS Policy under President Clinton, also emphasized the need to look at the epidemic from a global perspective. "When I left the White House in February, I became a consultant and started seeking work that would bring me in contact with people from other countries," said Fleming. "I just started working with UNAIDS and the National Council for International Health to bridge gaps in both directions, between the United States and countries in the developing world. In other words, we're using skills from developing countries and bringing those skills back to the United States to help communities that may be similar in some ways. We're helping developing countries by getting them hooked up with community organizations in this country, so that we can transfer technology in their direction as well."
"There is an enormous difference between what is available here in the United States and what is available in many developing countries. The resource issue is very stark; however, I think there are things that can be done. UNAIDS is starting to do some of these things, negotiating with pharmaceutical companies, trying to work out an arrangement so that drugs can be made available in some way. I think there are some things that are being done here in the U.S. that can be exported, like buyer's clubs. They have been very effective here. If we could help people in an African country like Zimbabwe start buyer's clubs, that would get drugs directly from the companies that produce them," Fleming continued.
"We need to work much harder on developing a microbicide that women can use to protect themselves. Right now, there is nothing except a female condom that they can use, or a male condom that they can ask their partner to use. Frequently, when they ask their partner to use a condom, he will refuse; he will think that she's accusing him of being unfaithful or dirty. It would be much better if she were able to use something private to protect herself. We have a way to go before we have a microbicide, but I think we need to speed up the efforts. While we are working for a vaccine, we should be working for a microbicide. What we want is access, and anything that prohibits or inhibits access is not good," said Fleming.
As a person who knows the Washington political scene very well, Ms. Fleming is aware that certain changes need to happen on the national level as well as the international level. "What we need to do is have the social security administration look at the benefits program," added Fleming, "and find a way to allow people with chronic illnesses, in which there are periods of remission where they're feeling well enough to go back to work, to do so and still have access to their benefits when their incomes drop again. Also, I would like to see them able to maintain their Medicaid or Medicare, which covers their health issues."
The Media Hype
Ms. Fleming paused before adding, "New drugs are being developed all the time, but we don't have a cure. I've been very skeptical from the beginning. I've been very impressed with the amazing improvement in the feelings that a lot of people have who are on the triple therapy, but we don't know how long that will last, and there are a lot of people who do not respond well. So, we're a long way from the end of this epidemic, through either a vaccine or a cure. I just have to say that I want NIH and the drug companies and everyone else who's doing research to continue until we have both of those things."
"I feel the media coverage has been somewhat misleading," she continued. "It's very difficult to turn away when you see someone who has recovered and has gone back to work, having been very sick. That makes a wonderful story, and many people are talking about their own lives in these stories. It's very compelling. However, it's important to give as much emphasis to some of the reservations that we have about these drugs and some of the difficulties that people are finding when they're taking them. It's not been reported accurately."
"The media has done a disservice," added Rivera, "not only for clients but also for providers, who have to explain on a daily basis what the reality of the hope is. Many providers want to be as hopeful as the person receiving the care. It's a hard thing. You're torn between trying to maintain hope and at the same time trying to be real. It would be more fair if the media covered this issue with a much more comprehensive and realistic view of what's out there."
Sandy Thurman, Director of the White House Office of National AIDS Policy and one of the keynote speakers, warned that "the misperception that we have a cure is leading many into a false sense of security that threatens prevention efforts and fuels public and political indifference. The epidemic is far from over. You and I know that, but much of America does not. News reports about treatments that left no trace of this deadly virus have led many across this nation, including those in Washington, to believe that the fight against AIDS has been won. Perhaps our most important job over the next few months is to temper hope with realism and share the reality that AIDS is thriving and growing, both in the communities across this country and, indeed, around the world."
Mother's Voices
One of the largest, and most poignant, groups at the conference was Mother's Voices, a national organization dedicated to creating a public climate responsive to the urgency of the AIDS epidemic. A grassroots network of educated and empowered mothers, they raise their voices and mobilize their moral authority to promote public policies that advance AIDS education, prevention, research, treatment and, ultimately, a cure. I spoke with Sharon Wagner, with Mother's Voices in Houston, Texas. "As a mother who is infected with HIV, I thought that I could gain some knowledge that I could take back to my community," she stated. "Being from a rural area in Texas, AIDS is certainly not looked upon as a normal disease. The conference is going to allow me to educate further. AIDS is not over by any means. There is no cure. The protease inhibitors are providing longevity for people, and allowing them to live more productive lives, but there still needs to be a strong drive for more education and awareness about this disease."
Constance, also from Houston, learned about Mother's Voices through Sharon. "I had lost a son two years ago to AIDS, on August 6, 1995. After hearing about Mother's Voices, I wished that I could have known something about education and prevention, because had I known, maybe my son would still be alive. As a mother who's lost a child, I want to be out in the forefront, with other mothers, as a united front so that we can put an end to AIDS, because it is a disease that's preventable. I came to the conference not as a public speaker and not as an educator, but as a mother. Being a mother, I think we still have more influence than any professional on earth. I thought I would come and get a little professional training and take it back so that maybe I could help other mothers, so they won't run around with holes in their hearts."
This hole in our collective hearts is what fuels us to continue the fight. In support of people everywhere who are living with HIV and those who have died, we take the knowledge gained at conferences and head back home to implement what we've learned. Sandra Thurman reminded us of an Indian philosopher who wrote, "Faith is the bird that feels the light of day and sings while the dawn is still dark." She summarized the mood of conference participants when she added, "Today, paradoxically, at the dawn of new AIDS treatments, our faith is challenged as never before -- but we will indeed meet this challenge and move toward the light of a new day. A day without AIDS."
Back to the December 97 Issue of Body Positive Magazine.