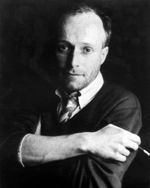 Longtime
Body Positive
friend, volunteer, and former Board member Timothy D. Greathouse died on October 18, 1998 of complications of AIDS. He was 48 years old.
An art dealer, artist, photographer, and graphic designer, Tim was the proprietor of Greathouse, one of the most prominent and long-lasting of the East Village art galleries. With an eclectic yet sophisticated program of contemporary art that included photography, sculpture, painting, and conceptual art, Greathouse showed the work of young, emerging artists, many of whom have gone on to critical acclaim. Among those whose early work he showed or to whom he gave their first one-person exhibitions are Kathe Burkhart, Ann Messner, Zoe Leonard, Peter Hujar, Jimmy de Sana, Hope Sandrow, Marcus Leatherdale, Stephen Hale, and Darrell Nettles.
Tim studied art at West Liberty State College in West Liberty, West Virginia, and maintained a studio at the Boston Center for the Arts before moving to New York in 1977. His photography was first exhibited in 1982 in a solo show called Work Prints, a documentary series of graffitied piers and the Lower East Side, at the Gracie Mansion Gallery. This was followed by Beyond the American Standard and other exhibitions. Who's Who in Lower Manhattan was a booklet in which Tim combined portraits and written descriptions of personalities in the then-booming '80s East Village art scene. His first gallery, Oggi Domani, specialized in photography, and Tim also made abstract drawings, gouaches, watercolors, and objects.
After he closed Greathouse in 1988, Tim worked for art consultant Ruth Kaufmann and as a graphic designer for Kino International, the Mad Dogs and Englishmen ad agency, the Marlborough Gallery, and various clients in the world of fine arts. He also regularly volunteered his work for AIDS-related not-for-profit organizations and The Dispossessed Project. He was the first Body Positive Board member to be elected to serve as the voice of the BP volunteers. He was also a group leader and designed the Positive Options handbook and invitations for many fundraising events.
Advertisement
Tim is survived by his life partner, Jay L. Katz of New York City; his mother, Elsie J. Greathouse of New Manchester, West Virginia; a brother, Mark Greathouse of Pittsburgh, Pennsylvania; and loving friends. He will be missed.
Back to the December 1998 Issue of Body Positive Magazine