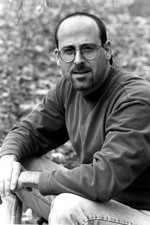 People who live in the suburbs like Long Island often have this false sense of security, that problems like AIDS are only in the cities or in poor communities." According to photographer Rick Miller, "They think that AIDS won't cross the line of trees and picket fences."
Picket fences have been no match for AIDS on Long Island. Nassau and Suffolk, the two counties that make up what we Long Island (Brooklyn and Queens are on that piece of land, but they are part of New York City), lead the United States in the number of suburban AIDS cases. At least 5,000 people are living with AIDS on Long Island and, 15,000 are HIV-positive.
Miller is trying to change the perception that Long Island is immune from the AIDS epidemic gripping New York City and the rest of the country. A 37-year-old photojournalist and Long Island native, Miller has developed Facing AIDS: Photographic Portraits of Long Island, a traveling photo and text exhibit of PWAs and their caregivers, family, and friends.
"The concept behind the exhibit is that AIDS is something that affects everyone," says Miller, a resident of the Long Island community of Plainview. "Two years ago, people on Long Island might be able to say that they don't know any PWAs. That time is disappearing.
Advertisement
"I had lived in Brooklyn for twelve years, and when I moved back to Long Island a few years ago, I was surprised and disturbed at how little attention people paid to AIDS."
Miller started photographing people living with AIDS in mid-1996. "I had no plans who I was going to be photographing. I just knew I wanted to include people who were affected on a daily basis -- I not only wanted PWAs, but caregivers, family, and friends."
Miller went to several AIDS organizations on Long Island for his subjects, from the East End AIDS Wellness Program in Sag Harbor to the PWA Coalition in Lindenhurst. "I spoke to doctors and nurses looking for subjects," he says. "I asked PWAs I'd photographed to refer me to other people."
What Miller has developed, in simple black and white, is a rich mosaic of people dealing with AIDS every day. "Without really trying, I found a cross-section of Long Island -- men and women, older and younger people, those with money and no money, as well as a racial balance."
The first version of his exhibit was held in December 1996 at the Nassau Medical Center. "I had about eighteen or twenty portraits," he says. "It wasn't your typical place for an exhibit, but it was seen by a lot of people."
Miller had his subjects choose the locations for their own photographs and then had each write a personal statement. The result is a series of profiles of strength and the celebration of life. "I insisted that people choose where they were going to be photographed," says Miller. "In the case of Matt Grady, we spoke a lot about John, his late partner. Matt suggested we go to his partner's grave." Grady is immortalized in a moving, contemplative moment, his hand on John's headstone. His statement is simple: "Although many people are gone, they will never be forgotten."
"It is really important that people write their own statements, and I used very direct portraits that tell more about the people in them," says Miller. He says that some photographers' work tells more about themselves than about their subjects.
Bill Van Assen, a long-time volunteer in the AIDS crisis, looks at the camera with his arms crossed and a thoughtful expression on his face. He says that the Larry Kramer play The Normal Heart pushed him to get involved in 1985. "I am still doing the work the best I can," his statement reads. "Silence does equal death. Ignorance does equal fear. We continue to grieve but we will win the fight."
One of the youngest subjects is 17-year-old Jennifer Murphy. Murphy lost both her parent to AIDS in the early 1990s. In a statement full of wisdom, she writes of her experience. She tells of hiding her parents' disease and about the fear and ignorance she had encountered. But her beauty and determination come through.
Facing AIDS has been to nine locations in the two years since it opened. Miller has shown it at galleries, medical centers and colleges. "A lot of places are not equipped to show this exhibit because of its size," he says. Miller plans to continue showing the exhibit around Long Island, with a large group show on AIDS art slated for December 1999.
The exhibit has continued to evolve. "I now have about 50 portraits," says Miller. The past two years have taken Miller from Hempstead to Southampton in pursuit of his subjects. "I got a call last week from a PWA who had heard me give a lecture in February," he says, noting that he plans to photograph the man.
Despite the fact that the AIDS epidemic is finishing its eighteenth year, open discussion of the disease on Long Island is still difficult. "There are severe restrictions on what can be discussed about AIDS in the schools," says Miller. He tells of a 12-year-old boy dying of AIDS who made a video describing his condition for his peers. The boy's school went to extremes to block his mother from showing the video. "What a wasted opportunity to educate these children," says Miller. "There are a lot of kids being orphaned by AIDS on Long Island."
Miller has never looked for support from local politicians for his exhibit. "I don't think it would be safe for a Long Island politician to support this exhibit. Al D'Amato is very representative of Long Island. This area is very conservative." [Editor's note: On November 3, 1998, the voters of New York State -- although not those of Long Island -- ended Alfonse D'Amato's eighteen-year tenure as one of the most conservative members of the United States Senate.]
Miller's long-term hopes for the exhibit include a book, and he is sending around a small portfolio of the photos and text to various publishers. "I've always felt that Long Island is representative of American suburban life, yet it leads the nation in suburban AIDS cases. I hope that some enlightened publisher might see this as representative of the country.
"I really did not know what to anticipate from this project when I started it," says Miller. "What I found was an emotional, compassionate side to the people dealing with the disease on a daily basis."
Facing AIDS: Photographic Portraits of Long Island is scheduled for two exhibitions that coincide with World AIDS Day, December 1. From November 21 through December 6 it will be at the Heckscher Museum of Art in Huntington, and from December 1 through December 27 it can be seen at the North Shore University Hospital in Manhasset.

Dylan Foley is a freelance writer and photographer and a frequent contributor to Body Positive.
Back to the December 1998 Issue of Body Positive Magazine