This fall Chuck Kletecka celebrated his 45th birthday.
It was a day he never expected to see.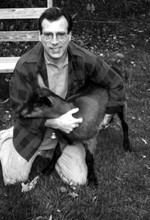 Chuck is what we used to call a long-term survivor. By the mid-'80s, he had already seen some of his friends become sick and had started doing volunteer work at the fledgling Gay Men's Health Crisis. These were the days when the term "AIDS" was new -- replacing the already obsolete "GRID," or Gay-Related Immune Disorder -- "ARC" (AIDS-Related Complex) had yet to be coined, and no one differentiated between HIV infection and full-blown AIDS.
HIV testing was not yet widely available when a research virologist from Beth Israel Medical Center came to GMHC and asked for volunteers to have their blood tested. Chuck came forward. He had done his share of playing in the '70s and early '80s. He knew he was at risk.
Chuck was at work when the doctor called with the test results: "Bad news. You have AIDS." It was a Friday afternoon, and Chuck and his partner Robert had been getting ready for a weekend house-hunting trip to the Catskills. The doctor advised against it. "If I were you, I wouldn't leave the city," he said. "I've seen this kind of bloodwork, and you could wind up in the hospital before the weekend's out."
Advertisement
This was also the era before pre- and post-test counseling.
Chuck's first feelings were of shock and disbelief. Like most people at that time, he had no concept of HIV versus AIDS. Like most people at that time, he heard his diagnosis as a death sentence. "I had the clear understanding that my life had changed. The person I had been was gone. I had a profound sense of 'Now it's different.' Now I knew that what was going around had come around to me."
Chuck was no longer at risk. The virus had found him.
The way Chuck dealt with the diagnosis that day, and the way he has dealt with HIV and eventually AIDS ever since, has been to find ways to go on with day-to-day life, to accommodate the realities of his illness without letting that illness gain control.
The first of those realities was sharing the news with Robert. Chuck went through the motions the rest of that day, then went home to tell his partner about his diagnosis. And here he found what he needed. "He told me that there was no change, that we were together and we'd stay together. He told me, 'Don't worry.'" Chuck and Robert had been together only about a year then; they're still together, still committed, today.
Chuck describes his relief when, later, Robert tested negative. "I was happy that one of us would survive. It was comforting to know that Robert wouldn't have to go through what I would have to. And it was comforting to know that he would be there to take care of me, that he would stick with me." Robert had been through catastrophic illness in his family when he was growing up, and he knew the score. "He wasn't afraid," says Chuck, "and he showed his love."
Although Chuck educated himself about HIV and AIDS, what was known then wasn't all that much. "Those first few years I was waiting for the other shoe to drop," he says. "Any little cold, I was sure this was the beginning of the end." His T-cells weren't too bad back then, about 1,100, but gradually started to slip in what he calls "a slow free-fall." He made some lifestyle changes, leaving his stressful job and working part-time.
But the other shoe didn't drop. So Chuck returned to full-time work in 1987, as a medical social worker. He continued to educate himself about his illness, using the resources that were available to him through his work to keep up with the latest medical knowledge. He describes his HIV at this time as "like a radio with the news on. The volume's usually down. Every now and then I'd get a cold and it would ratchet up. But mostly it became background noise."
Then in 1989 came the medical turning point -- AZT. When he heard about AZT, he had the medical contacts and the resources, and he'd been fortunate with his insurance and his doctors. He said, "Let's try it."
Chuck credits AZT and the other meds he's taken over the last decade with the fact that he's alive and relatively healthy today. Still, there's a price. Hardly drug naïve, he's not a prime candidate for a protease inhibitor success. He's been on three different cocktails now. While he tolerated the new drugs pretty well at first, they weren't doing much for his T-cells and nothing at all for his viral load. And a few months ago he had a severe, and very frightening, reaction to his latest drugs, with his fever soaring to over 105°. He's off PIs now, while his doctors figure out what to do next.
What Chuck credits for his survival more than any drug, however, is what he calls "connectedness," what some might call "social conscience" or "spirituality."
"It's important not to let things take their course," he says, "to be part of the larger fight." He has acted on his beliefs, both before and after his diagnosis. When he first came out, he joined Dignity, the group of gay Roman Catholics fighting to reconcile their sexuality with their religion's doctrines. He was a volunteer at GMHC even before his diagnosis, and for several years delivered pet food to PWAs and took pets and owners to veterinary visits for POWARS (Pet Owners With AIDS Resource Service). At his Brooklyn church, he not only sang in the choir but was the moving force behind a food pantry and a regular dinner for PWAs.
Meanwhile, Chuck has gotten on with the non-HIV parts of his life. Since the diagnosis, Chuck and Robert have bought three houses: They owned a townhouse in Brooklyn and a vacation home in the Catskills until late 1994. With the funding for Chuck's job ending and his T-cells dropping, at his doctor's prodding, he retired on disability. He and Robert sold the houses and moved to Vermont, where they now live with two dogs, three goats, some chickens and turkeys, two lovebirds, a bunch of tropical fish, and, most recently, an occasional foster child.
Chuck has maintained his connectedness, however, even up in the mountains. He serves on the Boards of Directors of both Vermont PWAC and the Vermont HIV/AIDS Care Consortium and helps organize safer sex workshops and retreats for PWAs. Raised Roman Catholic and educated at parochial schools, Chuck remains profoundly religious, and today is a vestry member and active congregant at his Episcopal church. "AIDS is real," he says, "but it's not everything. I'm not going to not do things."
And the future? "My future is always just over the horizon," he says. "I can't see anything. It's like a fog. For some, the ones who've been successful on protease inhibitors, the fog is lifting. But not for me."
But that's not pessimism. Chuck admits to a fantasy: It is sometime in the future, and a cure has been found. Chuck has survived into old age and is being interviewed by a high school student. Or AIDS has taken his life, but his nephews point with pride to their Uncle Chuck as having been part of that struggle, that history. "Part of me gets off on being part of something big," he says.
Chuck is relatively content with his life. "I look at life as key moments that tie together, little pieces. That's all I need -- connectedness."

Laura Engle is the editor of Body Positive.
Back to the December 1998 Issue of Body Positive Magazine