How a PWA from the big city opted for the simpler life of a country gentleman and found that he had to adapt to more than clean air and birdsong.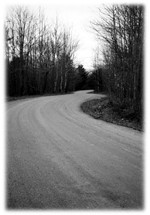 Shortly after I moved to Vermont in 1994, I was giving an HIV prevention talk in a small middle school when one of the kids remarked that until that day she'd never seen a "real person" with AIDS.
It was not the first time I had heard that. Some of the new friends my partner and I were making, both gay and straight, were telling me the same thing. It felt so odd. I had just come from New York City, where I could rattle off a whole list of close friends who were in the same boat I'd been in for nearly a decade. Yet here -- thirteen years into the epidemic -- I was the first HIV-positive person these people had met. I quickly learned that there weren't many of us around these green hills, and that somehow I'd have to work harder to find anything like the support systems I had taken for granted in New York.
The Face of Rural AIDS
Who has HIV in Vermont? Well, we really don't know. The State Health Department tracks only AIDS diagnoses, not HIV infection, and only for people who are first diagnosed in Vermont. Many people, like myself, who had been initially diagnosed in other states aren't counted. Officially, the number of identified cases is about 350 or so. The actual number of HIV-positive individuals in Vermont varies depending on whom you ask, from 500 to as many as 1,500. But whoever's doing the counting, our numbers are clearly small compared with states like New York and Massachusetts.
Advertisement
Vermont is a surprisingly rural state, given its relative proximity to urban centers like New York and Boston. Our total population is just over 650,000, which gives us a population density more like that of Idaho than what you'd expect in a New England state. In many of our small towns, people still know everyone else's name ... and keep track of everyone else's business as well. If you were born here, your neighbors know where your family's bodies are buried, both literally and figuratively. So, if you want to maintain your anonymity as someone who is HIV-positive, where you park you car while attending a support group becomes something you need to think about.
While Vermont is generally a tolerant place (we've passed lesbian/gay antidiscrimination laws and have legalized adoption by lesbian/gay parents), popular attitudes about HIV are still shaped by lack of exposure to "real people" living with the virus. I haven't found people to be hysterical up here -- nobody's house has been burned down -- but they're not all that knowledgeable either. I find myself doing a lot of impromptu AIDS 101 when I disclose my status to someone new for the first time. But overall, the people I've met have been accepting and open to examining their preconceived notions about HIV.
The face of HIV here reflects the general lack of diversity in the general population. Our numbers are still overwhelmingly gay white men. That's changing, but at a much slower rate than in urban areas. Some of these changes reflect national trends, with a disproportionate increase among women and in communities of color.
Gay men from rural areas like Vermont have traditionally gravitated to more accepting urban areas such as New York or Boston (or on the other coast, San Francisco and LA). When these men are diagnosed with HIV (or, more likely, AIDS), many of them return home. There are all sorts of reasons.
Some are returning to Vermont because of social and family ties in the state. To others, Vermont is seen as a safe place to start over. This is especially true for folks looking for an environment that will discourage drug use because their drug of choice is hard to come by. Within my support group, this is jokingly referred to as "rural rehab." Of course, it's not entirely effective. If you try hard enough, you can usually find drugs, even in the smallest towns. And there is a price to pay in the form of social isolation.
The simple fact is that people with HIV are here too, in the mountains of Vermont and in small towns throughout the country, and our numbers are growing.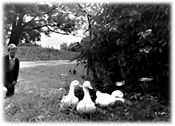 Far from the Madding Crowd
Isolation is perhaps the biggest issue facing those of us living with HIV in rural areas. Even with the advent of effective drug therapies and the prospect (for some) of returning to some semblance of a normal life, there are still too few safe places to be open about our HIV. Our relatively low numbers and the geographic distances between us make it very difficult to form the social ties that occur almost automatically in an urban setting. Just getting from one place to another is a constant problem for the many people, with and without HIV, who cannot afford the expense of buying and maintaining a car. And even when transportation is available, getting to a support group may mean an hour drive each way.
Lacking viable numbers of clients in any one area, AIDS service organizations tend to have clients spread out over many counties. Outside of one or two small urban centers where walk-in services might work, more often than not services must go where the people live, in rural towns. A caseworker can spend most of the day driving to complete only a few home visits. Justifying the cost of providing rural services is becoming more difficult as funding sources talk about moving to a fee-for-service model. That model might be cost-effective in an urban setting, where the potential client base is many thousands in a small geographic area, but not in a rural state like Vermont, where the per-person cost of services is always going to be higher.
Services and Funding, Country Style
So, inevitably, much of the country's funding policy is tailored for an urban setting. Out here in the country, we find ourselves constantly having to modify programs and funding requirements that just don't work outside the densely populated cities. This has given rise to a lot of creativity and an emphasis on community building as a means of reaching the folks in the communities most affected by HIV. Prevention outreach in Vermont typically happens in the context of small gatherings in people's homes, or in small groups at community mental health and drug rehab sites, or, more typically, one-on-one.
One solution to our low density is to organize events that bring people either regionally or statewide together for weekend gatherings. Over the course of the year we hold several structured weekend retreats -- for families, "magnetic" (one positive, one negative) couples, and women -- and an annual four-day retreat for everyone. These events have become important community-building events, as well as a chance to share information and resources.
Finding ways to reach out to special-needs populations is more of a challenge. While the number of women living with HIV continues to grow, their relatively smaller numbers and geographic spread around the state make it difficult to form viable groups for support and services. One of Vermont's ASOs conducts a weekly support group for women around the state by telephone, since it would be impossible for the women to travel the distances necessary to meet in person. Here too, most support services are provided on the road by caseworkers or family respite workers in women's homes. When a woman must make a two-hour trip just to see her doctor, just arranging for childcare can be a very important service.
Crafting services that are responsive to the needs of people of color is also difficult when providers and funders don't adequately take into consideration the extent to which their services are geared for the majority of the HIV population, the gay white men. In a rural state like Vermont, where a one-size-fits-all approach tends to be the norm and there isn't another ASO down the block, people of color are more likely to fall through the cracks of an already sparse service delivery system.
The Country Doctor
Perhaps the biggest concern is finding competent medical care. Forget the Hollywood image of the wise old GP who still makes house calls and accepts his payment in potatoes. Even if he existed, he wouldn't be much good for people with HIV.
As our medication regimens become increasingly complex, having an HIV specialist monitoring our care becomes all the more important. Vermont has one HIV speciality clinic, in Burlington, and some part-time coverage in three satellite sites. That's for the whole state. Depending upon where they live, some Vermonters go for medical care to Dartmouth in New Hampshire or Albany in New York. Some even travel to Boston and New York City for HIV care and use local providers only for routine care. Wherever they seek it, Vermonters with HIV must travel, often great distances, for specialized medical care. And even when they get there, their choices of providers are limited to the one or two specialists on staff.
Unlike in urban areas, where it is possible to do some shopping around, the choices here are very limited. The treatment options tend to be rather conservative and not exactly cutting edge. For example, we had to fight for months to get our doctors to consider testosterone replacement therapy, while many of my friends in New York were able to obtain it with no problem. Access to experimental protocols is limited as well, unless you have the resources to travel down to Boston or New York.
Why Bother?
Given the issues faced daily by those of us living with HIV in rural areas, you may wonder why we choose to live here. Sometimes I wonder myself. But then I remember that HIV was a pain to live with even in New York City, with all the services and choices surrounding me. Obviously those of us who choose to live in rural areas are getting something out of it. We are living here because we like the lifestyle, even though it may make coping with the challenges of HIV a bit more difficult.
Some of us are here for the serenity and the beauty that surround us every day. Some of us are here because it offers a haven from addictive habits that our bodies and minds can no longer afford to endure. Some of us are here to be with family, to reclaim our history, and to make it part of our today. We live here because it is our home, and our lives are more -- much more -- than just HIV.
Vermont PWAC can be reached at (802) 229-5754 or toll-free at (800) 698-8792.
Chuck Kletecka serves on the Boards of Directors of Vermont PWAC and the Vermont HIV/AIDS Care Consortium. He is profiled in this month's "Powers of Example".
Back to the December 1998 Issue of Body Positive Magazine