HIV/AIDS Is a Challenge Anywhere, but Often a Very Different Challenge in Rural Areas than in the City

The counties of Northeastern New York include some of the least populated, most impoverished and geographically challenging terrain in New York State. This region includes 17 counties: Albany, Rensselaer, Schenectady, Saratoga, Greene, Columbia, Delaware, Otsego, Schoharie, Fulton, Montgomery, Clinton, Essex, Franklin, Hamilton, Warren, and Washington. Although there are rural parts of each county in the region, 13 counties outside of the Capital Region (Albany, Rensselaer, Schenectady, and Saratoga) are considered almost exclusively rural. The area is difficult to negotiate as it includes many square miles encompassing the Adirondack Mountains to the north and the Catskills to the south. Poverty rates run high, ranging from 10 to 17% in each county.
Hard-to-reach migrant and seasonal workers come into several of the counties for summer farming and fall apple picking. Part of the St. Regis/Mohawk Indian Reservation is located in Franklin County. The counties are not ethnically diverse; people of color comprise from two to five percent of the population. The one exception is in Franklin County where the 2,500 Native Americans residing on the St. Regis-Mohawk Reservation bring the percentage of people of color in that county to approximately 10% county-wide. On the other side, the 1990 census found that Hamilton County had only 32 people (out of 5,279 residents) who were not white. These 13 counties also house approximately 25% of the State's inmate population, who are primarily people of color from urban areas.
The New York State Department of Health Bureau of HIV/AIDS Epidemiology reports that between September 1992 and June 2000, the number of AIDS cases in the 13 rural counties of Northeastern New York increased by 197%. In several individual counties, AIDS cases have increased 300 to 400% since 1992. A total of 517 cases of AIDS have been diagnosed in community residents in the 13 counties. When inmate cases of AIDS are added in counties with correctional facilities, the number of AIDS cases increases from two to 15 times.
Advertisement
The Challenge of Rural HIV/AIDS
AIDS is often seen as an urban disease, one that affects those living in large cities and major metropolitan areas. While it is true that large percentages of people diagnosed with AIDS live in and around large cities, no one can deny that HIV/AIDS is impacting rural communities throughout the United States.
Whether it's someone returning home after diagnosis to be closer to family and friends, someone relocating to a rural area to leave behind the stress of a big city, or someone infected with HIV who has lived in the same small town his or her entire life, HIV/AIDS continues to challenge rural communities. The issues of people living with HIV/AIDS in rural communities across the country must be addressed.
Though, no doubt, many issues affecting people living with HIV/AIDS in rural areas are universal to the epidemic no matter where it manifests itself, some issues are fairly specific to rural areas, including geographic isolation, discrimination, and the lack of appropriate services and care. These will be discussed below, with specific reference to Northeastern New York.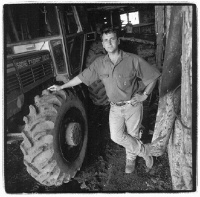 Michael, 40, retired dairy farmer (retired by AIDS)
Social Isolation and Confidentiality
"When I first found out I was positive, I couldn't tell anyone. I remember going to Albany to get tested so no one I knew would find out." This quote is typical of many HIV-positive people from rural communities in Upstate New York. The fear and stigma associated with HIV/AIDS continues and often leads to people remaining in the closet about their HIV status.
"Isolation is a big problem living in a rural community. I often feel like I have no one I can talk to," says Michael, a 40 year-old man who has been diagnosed with HIV since 1993. "I find that sometimes other people who are infected and live in my community don't want to be seen talking to me in public since I am out about my status. They are afraid that others will automatically label them as HIV-positive. In a small town, when one person knows, everyone knows."
Feeling isolated and lonely can exacerbate the feelings of depression associated with an HIV or AIDS diagnosis. In rural communities there are few, if any, support systems for people with HIV. Sometimes, small groups of people "find" each other and develop their own social networks. However, some people choose to remain hidden because they fear a negative reaction from others if they come out about their status.
Even if a support group is established, it is difficult for people to attend consistently because they may have to travel 50 to 75 miles over mountains, sometimes in severe weather, to get there. Winter can be harsh in upstate New York, making driving treacherous and keeping HIV-positive persons from going out and risking exposure to common winter ailments that could be devastating to immune-compromised individuals.
Confidentiality, or rather, the fear that their personal information will not be kept confidential, can also be a real concern. In some cases, people with HIV refuse to access services because they don't want anyone to know their status. Even though medical and other service providers are bound by New York State confidentiality laws, fear still exists that personal business will be spread throughout the town. HIV-positive individuals are sometimes reticent to apply for benefits and assistance for which they may be eligible because the caseworker, nurse, or clerk may be their neighbor, relative or the spouse of someone with whom they work. HIV-infected parents may be especially concerned that their status remain confidential for fear that their children may not be well received within the school setting or by their peers.
Stigma and Discrimination
The stigma surrounding AIDS and people who are HIV-positive creates a vicious cycle. Stigma and lack of education about HIV/AIDS seem to be common issues in rural areas. This can lead to discrimination in health care, housing, and other services. "There have been people who refuse to treat me because of my HIV status," states Michael. "Another big issue for some medical providers is not wanting their other patients to know that they provide services to people who are HIV-positive; they are afraid of what the other patients will think."
Kate VanVorst, case manager for the AIDS Council of Northeastern New York, often sees the discrimination in trying to get housing for people with HIV. "In a small community or rural area a lot of landlords own blocks of apartment buildings. If a landlord finds out a person is HIV-positive and doesn't rent to them, it really limits the number of options people have for getting housing."
Michael says he has been fortunate. Other than one situation where someone wouldn't treat him, he hasn't had to deal with discrimination. "I've been out about my status for about six years. People respected me before I disclosed and they continue to respect me now. I think it's because I was involved in my community all along. I was a member of the local Board of Education and now I am president of the Board."
Patty, an AIDS Council client recalls a recent visit to a urologist. "When I walked into his office, he put on latex gloves. His nurse spoke up and said 'you don't need those, all you are doing is taking a temperature.' He responded, 'I want them on.' I felt like I was poison. People don't understand the disease where I live; they still think they are going to catch it, like a cold."
Not only do people with HIV deal with discrimination when trying to access services, a stigma also exists in rural areas when it comes to providing prevention education. School districts aren't always open to the idea of bringing in HIV educators and/or people living with the disease to educate students. Oftentimes, educators must stick to the basics of the disease and can't discuss condoms and their use. True, some districts have welcomed educators and make HIV education a priority in their schools. However, schools that aren't supportive far outnumber the number of schools that are open to bringing in educators and people living with AIDS to discuss the disease and what it's like to be infected.
Teacher education has also been identified as a problem when trying to break down the stigma that exists. "In some cases, teachers need basic education and are uncomfortable teaching the topics. It isn't necessarily an issue they have been trained to teach." says Jeff Sisson, an educator for the AIDS Council of Northeastern New York in Plattsburgh. "There is also the attitude of 'we don't need that type of information; that's not a problem here.' What has been successful is making individual connections with teachers and principals and establishing trust. Letting them know that I won't talk about subjects they aren't ready for and showing them the types of materials I'm going to give out really helps. I have had a lot of success in some schools in the North Country. Once they see me and realize it's 'safe' to have me come into the school, I usually get called back and then word spreads to other schools."
Another challenge in educating schools and communities is the lack of local HIV-positive people who are willing to talk about their disease in public. When communities don't see people who look like them talking about being HIV-positive, it assists in continuing the misconception that AIDS is not a problem in rural areas. "It is one of the most effective ways of reaching people, young people in particular, and there aren't that many of us who are willing to be 'out' in the community and talk about it," states Michael, who has been speaking in public for over 5 years. He adds, "putting a face on the disease really helps in a small community. Once people see you are their neighbor, that you are just like them, a lot of the fear and stigma subsides."
Multiple Barriers to Services
Transportation
Transportation and travel distance are two topics often cited as the major barriers to receiving services in rural communities. There are specific programs for people with HIV, such as Ryan White Title II-funded transportation. However, programs are limited by a lack of transportation options and large travel distances. Getting to a single doctor's appointment can be an exhausting proposition. "People can get rides, but they can spend a half a day getting to and from appointments. I have a client who lives an hour and a half from the regional AIDS Treatment Center. For an 11:00 a.m. appointment, the person needs to leave their house by 9:30 a.m. and then may not get home until 3:00 or 4:00 p.m.," says Ms. VanVorst.
Rural areas also don't have the variety of transportation options that exist in cities and urban areas. Many rural communities have no bus or taxi services, leaving people with HIV to rely on their own cars, family, and friends with cars, their case managers or Ryan White-funded transportation programs. Ryan White transportation is often the only option for people living in rural areas. While this program allows for rides to medical services and other types of HIV-related care, people with HIV often have difficulty finding transportation for things not covered by Ryan White- or Medicaid-transport; these include activities of daily living such as trips to the grocery store, bank, or laundromat or for appointments for their children and collaterals. In addition, options for transportation for emergency services or unscheduled visits to doctors are few. Prearranged services such as Ryan White- and Medicaid-funded programs need a certain number of days advance notice to arrange for transportation, leaving someone with an emergency situation or last minute appointment with few choices.
This year, the rising cost of gasoline has also added another barrier for people in rural areas who have their own cars. The cost of gasoline is often 10 to 15 cents higher in rural areas. People with cars may be unable to use them frequently because of related costs. Paying for the costs associated with maintaining a vehicle, including car payments, insurance, gas, and repairs, can be prohibitive for someone on disability. Those with limited financial resources may need to choose between paying for groceries and paying for car insurance and gas. Lack of affordable and accessible transportation compounds feelings of isolation and can severely limit consumers choices for housing, medical care, employment and educational opportunities.
Lack of Services
There are few medical specialists in rural areas. Therefore, access to appropriate health care practitioners can be a real problem for many rural residents. It is a particular problem for someone with a disease such as HIV, which requires practitioners to manage multiple symptoms and treatment options. Many people living in rural communities see a general practitioner who may have only cursory experience dealing with people who are HIV-infected. Providing health care for HIV positive people is extremely complicated and health outcomes are usually much better when a person sees an HIV specialist. Medical providers treating persons with HIV must be educated about complex medication regimens, side effects, efficacy of drug therapies, drug interactions, and a myriad of other issues, much of which they may not become familiar with through their local medical community.
Besides HIV specialists, people with HIV/AIDS in rural communities may have difficulty finding a local general practitioner (GP) or primary care physician (PCP) who understands HIV infection and will provide routine care. There are times when a person with HIV does not need to see his or her "HIV doctor" and can receive care from a GP or PCP. However, finding a doctor who is willing to provide this care can be difficult.
"A few years ago, I went to my local hospital because I wasn't feeling well. I told them I was HIV-positive and they wouldn't treat me. They dismissed me and told me they weren't equipped to handle someone with AIDS. I was transferred to the regional AIDS Treatment Center. It turned out I was dehydrated," recounts Peter, a 40-something transplant from New York City. "I still have to go to New York City for my KS treatment." Peter confirms that it is difficult to find medical providers who are sensitive and open to dealing with HIV.
Also, some rural hospitals don't participate in the AIDS Drug Assistance Program (ADAP), severely limiting health care options, especially for those with no other health insurance. There are very few doctors who accept Medicaid due to the paperwork involved and low reimbursement rates. Finding specialists such as podiatrists, obstetrician/gynecologists, and dentists is extremely challenging. This is not only an issue for people with HIV, but for anyone with Medicaid who lives in a rural area. "Some doctors don't understand the ADAP system and don't have all the information they need to become enrolled as a provider," says Diana Aguglia, Regional Director for the AIDS Council's Plattsburgh office. "Case managers need to educate doctors about how to get involved in ADAP, let them know that it's not that much work and that enrolling won't negatively impact their practice or bottom line."
In addition to the lack of HIV health care services and medical specialists, rural areas generally have a shortage of ancillary services such as substance abuse treatment, mental health services, support groups, legal assistance and domestic violence and other emergency intervention services. Most emergency squads are volunteer run and, while they do a good job with what they have, do not have sufficient personnel and funds to purchase equipment and must frequently travel long distances to get to a person in need. Clea Sarnquist, Northeastern New York Ryan White HIV Care Network Coordinator, confirms the lack of services and adds that there are few, if any, dental services for people who are HIV-positive living in a rural area. Finding providers who understand multiple diagnoses and the complicated treatment regimens associated with HIV can be nearly impossible in rural communities.
Wishing to maintain confidentiality can be a barrier to using the programs and services that do exist. For example, someone getting a cab ride from a Ryan White-funded transportation program may fear that the cab driver would know his or her HIV status. Trips to the local pharmacy can also cause anxiety. What if the pharmacist or pharmacist's assistant is a neighbor or knows a family member and can identify the disease associated with the prescription they are getting filled?
Special Populations
In spite of how small rural areas may feel at times, there are individuals that the community knows are there but may not choose to see. Rural areas of Northeastern New York are not ethnically diverse. The pockets of diversity that do exist maintain a low profile in rural communities. Mexicans and Jamaicans with special visas come as migrant workers for the vegetable-growing and apple-picking season. Because of their transient nature and short stay, their numbers are difficult to count and they are hard to reach to assess need for HIV-related testing and services. Likewise, Native Americans living on reservations tend to be isolated and are often not recognized as a population with specific HIV prevention and care needs. And the overwhelming majority of inmates residing in correctional facilities in Northeastern New York are people of color from urban areas of the state who tend to be at high risk for HIV, as many are in prison for drug related offenses. Few people of color are available to work in correctional facilities and few staff speak Spanish, creating cultural and communication challenges between staff and inmates.
Strategies for Serving Rural Communities
Networking
While there are many challenges to providing services to people living in rural communities, there are strategies for service providers to enhance services. Forming community networks and collaborative groups, increasing the visibility of HIV/AIDS issues, and working with funders to increase funding for needed services are all important strategies that can increase and enhance services for HIV-positive people in rural communities.
Community networks that combine all types of service providers working together to identify issues and problem-solve can be extremely effective in breaking down barriers and reducing fear and stigma. Many service providers, such as those in mental health and alcohol and substance abuse treatment, don't know that they do indeed provide services to HIV-positive people. If a client is not out about his or her HIV status, providers often assume that person is HIV-negative. This is especially true in rural communities since HIV/AIDS isn't recognized as an issue for a small community. Coalitions and collaborative groups can work together not only to identify problem areas but also address the barriers that exist in rural communities to develop systems that work for their particular geographic regions.
Community Ownership
Although many of the issues previously discussed are universal, small communities know what is a priority for their areas and can take ownership of a problem when the group identifies it and takes it on as their own. Consumer involvement is essential in these collaborative groups so service providers can truly understand issues specific to people living with HIV. One strategy that has been particularly effective in certain communities in upstate New York is identifying and working with community members who are supportive of the issues and partnering with these people. Using respected individuals within the community to deliver messages about HIV/AIDS is often more successful than an educator from outside the area coming in to the community.
Three years ago, the AIDS Council and a small group of committed volunteers from the Glens Falls region near Lake George worked together to enhance education and outreach opportunities for the Warren, Washington, and Saratoga County area. The AIDS Council trained six members of the community to be HIV educators and worked with the group to reach out to religious organizations, community service groups such as Kiwanis and Rotary clubs, and area parent-teacher associations to provide basic HIV education. Although slow going at first, the group has delivered HIV/AIDS education to a number of different groups. The model, loosely based on existing peer-education programs, is based on the theory that people are more accepting and open to hearing messages that are delivered by people who share common backgrounds and/or experiences.
Nancy Fisher, Education Coordinator at the AIDS Council and program coordinator for this initiative, acknowledges that this group has been able to gain entry into populations that traditional educators have not. "This group has been particularly successful in reaching out to the faith leaders in their community. Many pastors are much more open to someone they know and trust coming in to speak and provide this information. The group also shows the community that they believe in this issue, 'it's important to me, and it's OK to talk about it.'"
Advocacy
Service providers and people living with HIV can also work with funders to advocate for increased funding for rural areas. In many cases, the funding follows the numbers and rural communities often don't meet the criteria for certain types of grant funding because these areas don't have the numbers of people with AIDS that larger cities such as New York and Buffalo have. Besides advocating for additional funding, providers and consumers can also advocate for increased flexibility in how available funds are use so the specialized needs of rural communities are met. This effort can include advocating that funding be flexible enough to allow for creative solutions to problems. Funding is often based on service delivery models that have proved successful in urban settings. Therefore, funding needs to be based on models that are relevant to rural settings.
Sarnquist adds that case managers need to encourage pharmacies, dentists and other specialists to accept ADAP and Medicaid. This would go a long way towards increasing the number of available options for people with HIV and helping to eliminate the barriers of transportation and travel distance to services. Sarnquist also acknowledges that reimbursement rates for medical services are fairly low and many small, rural hospitals and dental clinics cannot afford to accept Medicaid. Therefore, advocacy to increase reimbursement rates is essential.
According to Sarnquist, there is some good news for rural communities. A recent amendment to Ryan White funding expands funding for dental services to include community based dental providers. Prior to this amendment, only dental schools and academic dental programs were fundable through Ryan White. In addition, there is the possibility that new money will be made available in rural and underserved communities for Early Intervention Services through the Ryan White Title III Program.
There are advantages to living in a small, rural community. The pace is slower than in urban cities and a less stressful life can enhance the immune system and contribute to a longer, healthier life. Peter lived in New York City for years before deciding to move to Upstate New York shortly after his initial diagnosis. Although he acknowledges that the lack of services is frustrating, he makes it a point to say that he lives in a rural community because he chooses to. So do many of the clients who contributed to this article and who receive services from the AIDS Council. According to Peter, "the peace, tranquility, and beauty I have on a daily basis are better for my health than the ability to walk to the Regional AIDS Treatment Center."
Julie Harris is director of education at the AIDS Council of Northeastern New York.
AIDS Council of Northeastern New York
The AIDS Council of Northeastern New York is a not-for-profit community service provider that operates with support from both private and public funding sources. The AIDS Council has a three-fold mission:
Providing assistance, advocacy, and referrals for persons living with HIV and AIDS, along with their families and loved ones.
Offering community education, training, and outreach programs to prevent new cases of HIV infection while also reducing the risk and fear of AIDS throughout our service area.
Serving as public advocates for needed services, thereby providing a voice for those who might not otherwise be heard and contributing to the overall health and well-being of our home communities.
Client Services
The AIDS Council of Northeastern New York's Client Services Department offers a wide range of services designed to enhance stability, longevity, and quality of life for persons living with HIV and AIDS, as well as their families and loved ones.

Services include case management to address both individual and family needs such as housing, financial, medical, and legal matters. The AIDS Council offers a variety of supportive services including HIV related mental health counseling, substance abuse assessment and referrals, support groups, social and recreational events, referrals to other social service and health care agencies, transportation, and emergency financial assistance.



Prison Services
Inmates are offered a wide variety of services including transitional planning, peer education, support groups, and HIV counseling and testing. The AIDS Council also provides training for staff in correctional institutions to help them respond to the special needs of inmates living with HIV or AIDS.



Education, Outreach, and Training Services
The AIDS Council provides a broad range of education, training, and outreach services that assist people in identifying the behaviors that put them at risk for HIV infection and provide the skills necessary to prevent HIV transmission.

Community education programs are offered in schools, colleges, and human service agencies. Programs include outreach targeting the gay, lesbian, bisexual, and transgender community via Project HOPE as well as outreach to underserved and hard-to-reach communities. Professional training is offered to the staff of community-based organizations, health care providers, teachers and school administrators, substance abuse treatment facilities, and other interested organizations.



Contact Information
Visit on the web at http://www.aidscouncil.org
AIDS Information Hotline
(518) 445-2437
1-800-201-AIDS
Albany South End Office
88 Fourth Avenue
Albany, New York 12202
(518) 434-4686
Toll free: (800) 660-6886
Project HOPE: (518) 436-3416
Albany Madison Avenue Office
879 Madison Avenue
Albany, New York 12208
(518) 438-4150
Four County Office
434 Franklin Street
Schenectady, New York 12305
(518) 346-9272
Glens Falls Office
498 Glen Street
Glens Falls, New York 12801
(518)743-0703
Hudson Office
Fairview Plaza
160 Fairview Avenue
Hudson, New York 12534
(518) 828-3624
Plattsburgh Regional Office
30 Broad Street
Plattsburgh, New York 12901
(518) 563-2437
Toll free: (800) 340-2437
Troy Office
313 Tenth Street
Troy, New York 12180
(518) 272-2308