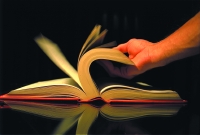 The AIDS Awareness Library is a series of eight short, non-fiction books (averaging 1000 words each) written for children between the ages of 5 and 10. Individually, these books are entitled:

What Is AIDS?
What You Can Do About AIDS?
Where Did AIDS Come From?
Kids with AIDS
Living in a World with AIDS
Heroes Against AIDS
Myths and Facts About AIDS
When Someone You Know Has AIDS

The AIDS Awareness Library
Kids' Books About AIDS
Anna Forbes
New York: The Rosen Publishing Group's PowerKids Press, 1996
The books can be read aloud to little kids or read alone by a child with fourth grade reading skills. They are illustrated with photographs of adults and children engaged in everyday activities and contain straightforward information that responds to the questions children have about HIV/AIDS. Although sexual and drug-related HIV transmission are mentioned, the books handle these topics in an age-appropriate way and without graphic detail. They focus instead on basic information about the scope of the pandemic, how kids can protect themselves from blood exposure and concrete suggestions for what children can do in response to HIV/AIDS.
Each of the eight books is written to stand alone. Although some information is repeated from book to book, each book is distinctive in its approach and content. Reading the whole set, therefore, provides children with a fairly comprehensive overview of the subject without overwhelming them with more information than they are likely to want. Each book provides phonetic spelling and glossary definitions of unfamiliar words. My primary goal in writing these books was to dispel fear, correct misinformation, and encourage children to think about HIV/AIDS intelligently and compassionately
Advertisement
I started thinking about the need for kids' books about HIV/AIDS in 1987, after being invited to address fourth, fifth, and sixth graders on the subject at a small Quaker school near Philadelphia. I had been immersed in AIDS work since 1984 and talked quite openly and frequently about it with my stepson Ron, then age 11. He spent time with some of our friends with AIDS and heard a fair amount about the lives and suffering of those who were my colleagues and clients. From talking with Ron and his friends, I thought I knew a bit about how kids felt about AIDS.
Imagine my surprise, then, when I asked these young students how a person could get AIDS and one boy quickly answered, "You get AIDS by eating a bologna sandwich!"
Fortunately, not all the students were equally misinformed. The next respondent, a very young girl, told me that people got it from "sexual intercourse" -- a term she pronounced carefully and correctly. We proceeded from there to discuss how HIV is, and is not, transmitted.
Not surprisingly, the students were far more interested in the behaviors occurring in their own lives than in those beyond their experience. Parental fears to the contrary, I have never heard a child raise the topic of anal intercourse. In my experience, kids in the 5 to 10 age group generally aren't much interested in talking about sexual transmission although they do sometimes ask if you can get HIV from kissing . Dirty band-aids, on the other hand, are a hot topic as is the question of whether tissues ("snot and boogers") can carry HIV.
Long after the speaking engagement was over, I kept thinking about the "bologna sandwich" answer. How frightening it must be, I thought, to believe you could get something as terrible as AIDS from something as benign as a sandwich. It was a vivid example of what happens in children's imaginations when grown-ups don't talk openly with them about the things that the grown-ups, themselves, fear.
Adrienne Rich wrote that, "Whatever is unnamed . . . undepicted in images . . . misnamed as something else will become not merely unspoken, but unspeakable." This has certainly been the case with AIDS in most of the straight community in the last two decades. In many households, then and now, children learn about AIDS obliquely by overhearing grown-up conversation. It is a topic discussed in euphemisms and with meaningful looks. Loud and clear, kids hear the fear, sorrow, or disgust it engenders in adult voices. They note an adult's hesitance, embarrassment or evasiveness when they ask questions about it -- reactions that teach them not to ask again. Thus, what is unspoken becomes unspeakable except, perhaps, as a vicious taunt. "AIDS faggot" yelled across the school yard was the main context in which a lot of kids talked about AIDS in the 1980s and '90s, and still is in some places today.
I wrote these books to help break the cultural silence that usually surrounds HIV/AIDS when children are present. I wrote them because kids not only need information, they also need guidance in knowing what they can and should do with that information. All of us, adults and children, tend to feel less fearful when we know what we can do in a situation that will make a difference. Thus, the books invite kids to imagine how they can participate in responding to AIDS, responses that can be as simple as running an errand for a neighbor with AIDS or being friends with a peer who has HIV. Fitting newly learned facts about AIDS into the context of possible community action helps demystify the subject in a child's mind and renders the information more accessible.
I received invaluable assistance in writing these books from the children in my life who kindly read drafts and told me what made sense and what didn't. The input from my editor and other adults was also very useful (and deeply appreciated) but ultimately it was the kids who taught me how to explain things in a way that worked. These books are both the shortest and the most difficult prose I have ever written.
Finally, and perhaps most importantly, I tried to make the books convey hope. Between 1959 and 1964, when I was in the 5 to 10 age group, I was terrified of nuclear war. I overheard my parents talking about it, knew vaguely about the Bay of Pigs crisis and remember feeling as though my world might be blown to bits at any moment.
I heard that kind of fear in the voice of the boy who said you could get AIDS from a bologna sandwich. It's that fear I tried to dispel -- with facts, with everyday scenarios about people living with the HIV/AIDS and those who help them, and with the hope that comes from knowing that lots of people are fighting AIDS in lots of different ways. Children feel hopeful when they know that adults are taking action to fix the problem.
Although these books were written immediately before the availability of HAART, it is my hope that they still work in the current era. They clearly distinguish between living with HIV and having AIDS and describe AIDS as something that happens when a person's body starts to get tired from fighting against the virus for a long time. They also emphasize the ways in which people with HIV/AIDS can take care of themselves and protect their health.
I would be very interested to hear from readers regarding your opinion of these books and how children in your life respond to them. If they stimulate honest conversation between children and adults, they will have served their purpose. They can't answer all the questions children have about HIV/AIDS. My hope, instead, is that they serve as an ice-breaker -- giving kids permission to ask questions and adults a safe framework within which to discuss the topic honestly, in kid-friendly language and without embarrassment or fear.
-- Anna Forbes
Intro for Kids
The AIDS Awareness Library is a set of eight books about HIV and AIDS. You might know that AIDS is a disease that can kill people. It is a new disease in the world and scientists are still trying to find a way to cure it. These books tell you a lot about AIDS, HIV (the germ that causes AIDS), and where it came from. They also tell you about what people are doing to fight against AIDS and what we can do to help.
You might want to read these books if you like science or if you know someone who has HIV or AIDS. Or you might want to read them if you care about people who get sick and want to know more about how to help them.
The woman who wrote these books has worked with lots of people who have HIV and AIDS. She learned how to talk to kids about AIDS by talking to her son and other kids about it.
Brief Descriptions of Each Book
What Is AIDS?
This book explains very simply what AIDS is and how HIV is transmitted. In age-appropriate terms, it emphasizes that HIV is not passed by casual contact and that people can protect themselves from HIV infection.
Where Did AIDS Come From?
This book introduces the concept that HIV developed as the result of viral mutation and spread into a global pandemic. Although noting that no cure or vaccine yet exists, it goes on to state that people can be tested for HIV and can live for a long time with HIV infection if good care is available.
Myths and Facts About AIDS
This book identifies and debunks common myths about AIDS. Casual transmission fears, demonization of people with HIV/AIDS, and fatalism are among the attitudes addressed here.
When Someone You Know Has AIDS
This book explores feelings kids may experience, and appropriate responses, when an HIV-positive person close to them is working to stay healthy, becomes sick, is hospitalized or dies. It emphasizes that people can live for many years with HIV and that spending time with friends or family members living with HIV/AIDS, whatever their health status, is a valuable thing to do.
Kids with AIDS
This book profiles children infected with, and affected by, HIV and AIDS. It seeks to help unaffected kids see how to best help and support other children who are dealing with HIV/AIDS in their lives.
What You Can Do About AIDS
Feelings of powerlessness are reduced when kids understand that there is a role for them in the fight against AIDS. Learning the facts, helping people with HIV/AIDS and speaking up against stigmatization are among the strategies recommended in this book.
Living in a World with AIDS
This book explains that kids can practice "AIDS safety" to avoid HIV infection. In non-graphic language, it addresses the areas of HIV risk that can arise in familiar situations -- such as accidental cuts on the playground -- and how to handle them.
Heroes Against AIDS
This book highlights famous and everyday people involved in the fight against AIDS and seeks to expand the definition of "heroes" beyond celebrities, clinicians, and researchers. Among those profiled are a fundraiser, an activist, a counselor, an epidemiologist, and a volunteer buddy.
Readers are encouraged to write in to Body Positive with any questions, comments, or observations they may have about any of these books. Responses from the author will be published in a future issue of the magazine.