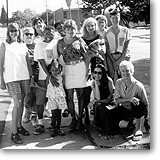 "We're kinda like the Bad Girl's Club. We're smart, we work hard, and we try to instill in these women the fact that we had to learn this stuff, and they can learn this stuff too. It is important for their survival to learn it."
That's how Nancy MacNeil, editor of Women Alive's newsletter and one of the founders, described the simple purpose of the organization. At least it sounds pretty simple until you realize that what Nancy is talking about is understanding the complicated and confounding world of AIDS treatments. The primary focus of Women Alive, a membership coalition created in 1991 by and for women with HIV/AIDS, is providing treatment information, education and advocacy for women with HIV. Jusfina Thompson, the outreach educator, said, "We have one common goal in life. We want to get the best treatment for ourselves, for our children, for everybody. We all want a very safe environment and that's what we have."
Thompson declared, "All the women at Women Alive stick together. Our backgrounds, our color; it doesn't matter." The ethnic breakdown of Women Alive seems to reflect this. It's about 40 percent African American, 35 percent Latina and and the rest are white. According to Mary Lucey, Board Vice President and another co-founder, "They are very reflective of the epidemic in L.A." Many of the women who drop in at Women Alive are lesbian and/or recently incarcerated. Hence the name "The Bad Girls Club." In commenting on their membership, Lucey offered, "I think it's a nonjudgmental environment. They don't have to hide the fact that they're a convict. In fact, we've had people come in the door, and you can tell who just got out of the joint. You can always tell. They say, 'Okay, where's the paperwork?' I say, 'You don't need that here. Sit down on the couch and have a cup of coffee.'" Thompson recalled, "I went briefly to a large L.A. AIDS service provider but I didn't know that I was supposed to keep the fact that I had just been released from prison a secret. The reception I got there was not great. I can go to Women Alive and feel completely comfortable."
Accent on Treatment
Advertisement
Supporting HIV-positive women is as important as using any means necessary to provide treatment information and education, so they have a national treatment information hotline which provides peer counseling for women. They also run peer-led support groups for women at their work site -- a small two bedroom house in mid-city Los Angeles. They have published what they call the first comprehensive HIV treatment guide for women. It's titled,
Knowledge, Action, Health -- A Woman's Guide to HIV Treatment
. They are opening a telephone chat line for infected and affected women and will be on the Internet. They are dedicated to providing access to their services by any means necessary.
According to Lucey, Women Alive is hard core on helping women to access and understand treatments, and creating a supportive environment for positive women to develop that understanding is crucial to their agenda. Thompson shares her impression of Women Alive. "It's a small place. It's a house. It's comfortable. You can talk to anyone there. Infected women need to band together. I don't think our fight is going to get any easier. I just think that we will be able to handle it better together."
Though it sounds old hat, Women Alive's focus on women is rather revolutionary. Perhaps the rationale behind the book Men are from Mars and Women are from Venus was wrong. It might be more realistic to say that men think they are from Earth and women are aliens from another planet. This might explain why there are so many problematic assumptions about human beings that have been created by men. Even though human beings come in two models -- male and female -- dealing with these two life forms has resulted in numerous prejudices and misconceptions.
Unfortunately, these prejudices and misconceptions have a profound impact on many areas of science including AIDS research and treatment for women. In 1994, the National Institutes of Health revealed evidence of gender-based differences in treatment for women. Getting the medical profession to recognize opportunistic infections unique to women (like cervical cancer) has been a ridiculously uphill battle. The history of AIDS treatments has been par for the course: develop and test the treatment with men and then give it to women. Gay Men's Health Crisis (GMHC) devoted their July/August Treatment Issues newsletter to a discussion of women's issues as they relate to HIV. (Editor's Note: To order a copy of this issue, contact GMHC by mail at: GMHC, Treatment Issues, 119 West 24th Street, NY, NY 10011, or by fax at (212) 367-1528.)
When asked about the inadequate investigation and diagnosis of HIV/AIDS in women, Lucey's theory was quite simple. "l don't think that it's stupidity based. It's simply non-interest in looking at women." She then added, "But I think that people are beginning to catch on that maybe genders are being treated differently." Lucey is not alone in her assessment. Many women and community advocates agree that the obstacles to the investigation and treatment of HlV in women are more social than scientific. At the National Conference on Women and HIV (May 4-7, 1997; Pasadena, California), speakers cited specific reasons accounting for gender differences concerning treatment, including patient and providers attitudes, adherence concerns, limited knowledge of HIV treatments, and other problems associated with medical personnel. Lucey also felt that although access to treatments for women is getting better, the medical research community's past and current track record can only be described as one that has resulted in genocide.
Nancy MacNeil concurred. "Little by little, I would say things are improving. However we still have a long way to go. Everybody always says that it's all about access to health care, information, and treatment. We believe this is only part of the problem. The other part is that women are not being researched. Women are not being included in clinical trials before drug approval." According to Dr. Alexandra Levine from the University of Southern Califomia, "Women represent about 18 percent of the epidemic in the US and comprise only 12 percent of study participants in clinical trials." Despite the reported overall decrease in the number of AIDS cases, the number of women and people of color with AIDS continues to rise. MacNeil continued, "But there seems to be some interest in the research community in gender analysis. "Well," she laughed, "We know one person."
Women Alive's treatment newsletter, Women Alive--Involvement is Power, is one of only two woman-focused treatment newsletters in the country. It began as the women's issues section (about three pages) in the newsletter for Being Alive, the People with AIDS Coalition of Los Angeles. It became an independent quarterly publication with a treatment information focus. MacNeil said, "That was our primary reason for publishing the newsletter -- to get treatment information relevant to women's lives to them in formats that they could understand and process." The newsletter, and its Spanish language sister publication Ecos Femeninos, have a combined circulation of about 18,000 and are free to all those who can't afford it. Flipping through back issues of both newsletters, one finds explanations of various medical conditions, discussions about current treatments, personal testimonials, and political commentary. There is also a kid's talk column, where children living with AIDS discuss their experiences. But more than anything else, there are discussions about treatments. Even the personal testimonials discuss treatment issues like compliance and adherence. This hardcore treatment focus was a conscious decision made by the editorial staff.
MacNeil elaborated, "In the beginning, it was difficult because most of the articles we received were personal stories. As more and more women become educated about treatments and voice their concerns and experiences about them, the newsletter evolves to include these factors." Also, there is an old-school activist flavor to the newsletter as positive women talk about their battles against the various old boy networks (medical, scientific, governmental, etc.). It's not often in the context of AIDS that you hear the word "genocide" being used anymore.
Another aspect of Women Alive's old-time activist flavor is how they run their site. "It's the true definition of a drop-in center. When you come to the door of Women Alive, you're not going to fill out a bunch of paperwork. Nobody is going to pop out at you with a clipboard and say, 'Here, fill out these 20 pages of intake forms because we need you for the numbers.' We don't do that at all," says Lucey. She explains that their funding, predominantly from private foundations, affords them this freedom. A budget of less than $200,000 finances a hotline, support groups, and a newsletter. I noticed that there were no medication ads in the newsletters and asked Mary Lucey about it. "That's one of the reasons why we're broke but we're not going to sell out. We've explored this area a lot and our newsletter suffers financially because of it but I think our membership gets the truth. You can't criticize Crixivan when you're running their ads."
Lucey continued, "We're like a well-hidden secret because we pump the work out of here and only have two-and-a-half staff people. The people who hear about Women Alive think we're a staff of fifteen." Trained volunteers staff the hotline. They also receive a stipend. "Volunteering is a luxury and not all people have that luxury, so we pay them a small stipend that won't jeopardize their benefits, and we keep a full hygiene bank so they never have to buy shampoos, cream rinses, soap, detergent and stuff like that from their checks."
One of the things I found to be unique about Women Alive is their focus on women as women, not as mothers. So often we hear the term "women and children" as if women don't exist by themselves or that women have sole responsibility for children. Many women aren't mothers and many women don't want be. According to Thompson, "Women are supported as women." Onsite we have a room for kids, but our programs aren't geared toward children. They're geared toward women, whether you have kids or not. If you have kids, we'll assist you in accomodating your needs, but our program is for women," Lucey emphasizes.
The struggle for sensitive and appropriate HIV-related research for women remains a struggle. "It's going to be a big challenge," Thompson predicted. "It's a constant struggle, a constant fight to demand better treatment, studies for women, access to studies, and to not be directed by physicians to take drugs that haven't been tried on females yet." But she believes the struggle is worth it. "You end up learning to take better care of yourself and you learn to be a fighter. You learn that you and your health must come first. Women Alive has kept me very strong, healthy, and alive. We have always been for women and that's what we will always be about.
For information on how to order any of the Women Alive publications mentioned in this article, write to: Women Alive, 1566 S. Burnside Avenue, Los Angeles, CA 90019, or fax them at: (213) 965-9886. The telephone number for their Peer Support and Treatment Information Hotline is 1-800- 554-4876.
Back to the February 1998 Issue of Body Positive Magazine.