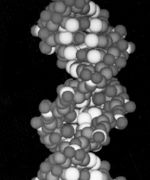 Reports on a variety of dietary, pharmacologic, and biotechnological studies presented at several recent medical meetings provided information of immediate value for improving the health and/or extending the life of persons with HIV. Here are some of the highlights:
Based on results from a clinical trial presented at the 1998 Canadian AIDS Conference, the U.S. Food and Drug Administration has approved the use of famciclovir (Famvir®, SmithKline Beecham) for the treatment of recurrent herpes simplex virus (HSV) infections (genital herpes and cold sores) in HIV-infected individuals. These findings were confirmed by a comparable study reported at the 36th Annual Meeting of the Infectious Diseases Society of America (IDSA).
"An effective antiviral treatment that can be used safely in HIV patients is good news, because herpes infections are very common among people with HIV and outbreaks are often more frequent and severe," said Dr. Barbara Romanowski, Clinical Professor in the Division of Medical Microbiology and Immunology at the University of Alberta in Edmonton, Alberta. "In addition, since HIV may be spread through open herpes lesions, a safe and effective treatment for herpes is an important tool for physicians treating people with herpes."
This new indication was based on results from a double-blind, multicenter study in which 293 HIV-infected patients with recurrent genital herpes or cold sores were treated within 48 hours of lesion onset with either famciclovir 500 mg twice daily or a high dose of acyclovir 400 mg five times a day, for seven days. Complete healing of all lesions was the same (seven days) in both treatment groups. Furthermore, the primary measure of effectiveness -- prevention of new lesion formation -- was comparable in famciclovir-treated persons and those taking acyclovir. The key here is that, while both antiherpetic agents are effective in preventing new lesion formation, the fact that famciclovir needs to be taken only twice daily is significant. People with HIV are typically taking large amounts of medications that require frequent dosing, so compliance is a common problem. When even one or two pills on a more frequent regimen are missed, the overall effectiveness of the treatment becomes compromised.
Advertisement
In the study presented at the IDSA meeting, members of the Famciclovir Genital HSV in HIV Study Group confirmed the value of famciclovir for the suppression of recurrent HSV infection in patients with HIV. Sixty-five HIV-infected patients, 38 of whom had AIDS or AIDS-defining illnesses and all of whom had recurrent genital herpes, completed an open-label study. Each patient received famciclovir 500 mg daily for four months. Following healing of any lesions present at screening, 91 percent remained free from clinically diagnosed recurrences throughout the four-month study period and 97 percent remained free from viral culture proven recurrences.
Growth Factor Increases Platelet Production
The effectiveness of blood platelet production in patients with HIV improved ten times following treatment with a growth factor that delays the death of bone marrow platelet-producing cells called megakaryocytes, according to Dr. Laurence A. Harker of the Emory University School of Medicine in Atlanta, Georgia, speaking at the 1998 American Society of Hematology meeting.
Blood platelet concentrations fall to less than 20 percent of normal at some point in approximately one-third of all HIV-infected persons. As the marrow megakaryocytes are responsible for platelet production, this fall in production is directly related to infection of these platelet-producing cells by HIV, leading to cell death.
In an attempt to correct this situation, a clinical study was designed to assess the value of the growth factor pegylated recombinant human megakaryocyte growth and development factor (PEG-rHuMGDF, Amgen) for the normalization of platelet production in HIV-infected persons. Five HIV-infected patients with low platelet counts were compared with healthy volunteers with normal platelet counts. For the first month, the HIV-infected patients received either placebo or the growth factor. Those persons who were initially given placebo were then given the growth factor after the first month, and all patients received it for four months.
In every treated individual, PEG-rHuMGDF twice weekly increased the platelet count tenfold within fourteen days. These platelet counts were maintained in the normal range throughout the sixteen weeks of active treatment and returned to low values only after the therapy was discontinued.
Vitamin E Supplementation Reduces Risk of Heart Disease
Taking vitamin E supplements, at least 400 IU daily, can help lower the risk of heart problems such as heart attacks, recurrent chest pain, and the need for heart surgery, according to Dr. Eric Rimm, Associate Professor of Epidemiology and Nutrition at the Harvard School of Public Health in Boston. Speaking at the 71st Scientific Sessions of the American Heart Association, Dr. Rimm said that this is particularly true in people at high risk, such as those with underlying heart disease (coronary artery disease, hypertension, high cholesterol levels, and the like) or persons who are in physically or immunologically weakened conditions.
While a lot of unscientific information has been put forward by proponents of increased vitamin supplementation to enhance physical well-being, little hard data exist to prove that such an increase is of real value. In the case of vitamin E supplementation, however, there is strong scientific evidence of positive benefit, not only for those who are sick but even in healthy persons with good diets.
In three large studies, each including more than 20,000 persons, individuals taking only 100 units of vitamin E daily cut their risk of coronary heart disease almost in half (37 percent to 43 percent). Furthermore, in a fourth study, carried out in 2,000 persons with underlying heart disease (coronary artery disease), vitamin E supplementation of 400 IU or 800 IU daily for one and a half years resulted in a much improved survival rate compared to study participants who did not take vitamin E supplementation.

A former infectious disease specialist with the World Health Organization, Lawrence Prescott, Ph.D. is a freelance medical writer and a frequent contributor to Body Positive.
Back to the February 1999 Issue of Body Positive Magazine