"In my daydream College for Bards ... every student would be required to look after a domestic animal and cultivate a garden plot."
-- W.H. Auden, "The Poet & the City", The Dyer's Hand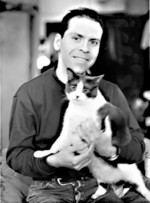 A few years before I tested HIV-positive or began writing poetry, my first cat brought me face to face with two principles I now try to practice daily.
Principle one: Keep it simple; just as I feed the cat, give the cat water to drink, pet the cat, and observe the cat at sleep and play, I must feed myself, drink plenty of liquids, engage in recreational human contact (heavy petting or no), and, of course, I must get rest.
Advertisement
Principle two: Take it easy; keeping it simple isn't always simple.
My first cat and I, for instance, didn't always get along.
Prince
I adopted my first cat at a good time in my life. I had a job I liked. I had finally found an apartment in Manhattan I could afford and, at that, could afford to live in by myself. Moving in, I heard barks and meows coming from behind neighbors' doors, and to me that meant "to hell with the building rules!" I would soon be a pet owner too.
Why a cat? My family, after all, had always had a dog and always adopted a new dog when something unfortunate happened to the last dog.
The answer's easy. In Texas my family lived in a San Antonio barrio where houses had yards. Manhattan is apartment buildings and cement. Dog owners make time to walk their dogs and/or dog owners budget for a dog walker. I chose to do neither and took up the offer of a coworker, Tommy. Tommy had recently married, and between his and hers had more pets than she and her new husband could handle. I took the white, calico-spotted cat Tommy's husband had named Prince.
Prince was an older cat, an older cat of considerable ... girth. And the day after my very first grocery-shopping trip in my new neighborhood, girthsome Prince and his appetite opened a cold rift between himself and his new owner.
I rushed home that day brimming with domestic pride. I had a kitchen all my own. I was going to begin saving money by eating at home. I unlocked the apartment door to find (i) the refrigerator pawed open; (ii) groceries scattered across the floor; and (iii) at least for an hour or so, no sign of the new cat. Prince was hiding, and for good reason. He had opened every item that wasn't claw- or fang-proof. He had eaten a large precooked turkey breast!
I pretended to like Prince. I did my best to feed him his wet food at the same time every day, my best always to leave dry food in his dry-food bowl. Prince, nevertheless, woke me every morning without fail, by meowing, by circling my head, or, yes, by sucking on one of my fingers. As soon as my bare feet touched the floor, he ran to his bowl, meowed and circled, meowed and circled.
Bonding
So, life with my first cat didn't get off to a good start, but I kept performing the simple actions of taking care of him. And it was those actions in and of themselves that eventually began to bring us together. Ultimately, portentously, it was health problems that really bonded us.
Prince had asthma. Tommy had warned me that he would have attacks occasionally and assured me that they would be mild. And they were. One day, though, an attack just kept going, and Prince, seated on his hind legs, kept very still, his mouth open, his eyes squinting as he gasped for air. I hauled him up in my arms -- a neighbor had borrowed my carrier -- and hurried him to a veterinarian's office a few blocks away. Prince, as the episode turned out, was fine, but I think it was that hurried walk that finally closed the distance between us.
It was summer. Summer means shedding. Prince was nervous because we were out of doors and he was suffering an asthma attack. Nervousness means more shedding. Passersby on First Avenue saw us through a cloud of hair, and they made remarks: "Hey, man, that's a hefty cat." "Honey," a man with a Spanish accent said to the woman on his arm, "look at that big cat." I held Prince close. I wanted to shout, "Everybody leave my fat cat alone!"
Another time hepatitis A hit me hard enough to keep me home for a month. After the initial flulike symptoms passed, all I had to do was rest in bed until my bloodwork came back to the doctor's liking. There were books to read, TV shows to watch. Friends stopped by with care packages or just to visit after they got off work and/or on the weekends.
Still, boredom set in. But Prince would lie on my chest a lot, his yellow eyes staring past me, wandering or looking into my eyes, which were jaundiced but clearing.
Loss
Prince died at about the age of 12. The vet said it was probably a case of a cat's curiosity getting the better of him. Prince had been exposed to a toxin, probably something he put his mouth to (a poisoned rodent, a household cleaning product ...). He had been seriously ill for a week. My friend Brandon, who was staying with me at the time, shook me awake that morning. "Steven, Prince is convulsing on the bathroom floor."
I petted Prince and petted him until he stopped convulsing, until he let go and his eyes went dead.
Six years before, my cousin Rosemarie had been in the hospital room at the moment our grandmother died. At the funeral, Rosemarie had hugged me and said, "Oh, Stevie, I wish you had been there. It was beautiful."
A cat is not a person, but Prince's death left me with some sense of what Rosemarie meant. "I wish you had been there. It was beautiful."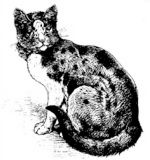 Nestle and Mickey
Now it's 1999. I've known I'm HIV-positive for almost three years and have two cats to remind me I must keep my life essentially as simple as before I tested positive: Eat. Drink. Engage in human contact. Play. Rest.
It's 1999. I've been writing for about five years and now have Auden's daydream to rationalize the fact that I look after animals. I look after domestic animals because I write poetry, not because I'm single! Also, having two cats instead of one makes up for my lack of "a garden plot."
Mickey and Nestle also carry on Prince's role of reminding me that keeping it simple isn't always simple.
Recently, for instance, I laid out my cocktail tablets and my various vitamins on the dresser and left the bedroom to fill a glass with water. I was feeling good that morning. I could see the much-needed weight I'd been gaining thanks to work I'd been doing with the help of a nutritionist (i.e., eating, eating, eating, and drinking nutrition supplements ad nauseam). A recent body-composition analysis had shown that I had the right amounts of H2O in and around my cells, proof that I'd been drinking enough water. Between work, poetry workshops and readings, and spending time with friends, I have an active life. My T-cell count is about 500 strong and my viral load is undetectable. Simple actions leading to a good and simple life, no?
No. When I returned to the bedroom, Nestle was seated on the dresser smacking her lips. There was a red sticky substance on her tongue and down the fur on the outside of her little throat. She had bitten into and eaten a beta-carotene gel capsule.
I called an animal hospital emergency room just in case my doctor-prescribed dose of the vitamin is toxic to a small cat. The vet on the line said, "She may throw up, and she may have better vision for a while. Otherwise, she'll be okay." Later that day my friend Laura said, "It's a good thing she didn't swallow one of your really toxic meds. That could have led to big problems." Laura was referring, of course, to thirteen toxic tablets I must remember to take every day, at the right times, with the right foods -- tablets that cause diarrhea and raise my cholesterol levels so that I must calculate the fat in my diet at the same time I try to gain weight. All of which is simple some days, not so simple on others.
I was at a party the other night and mentioned to another guest that I was writing this article on pets and the HIV-positive. He said the things I find people often say about pets: Pets provide companionship. Pets teach us patience. Pets help people stay in the moment because animals don't experience time as people do -- no ghosts from the past to haunt a cat's head, no worries about tomorrow to plague a dog's noggin. Companionship? Yes. Patience? Yes. Oh, yes. The night that Nestle doesn't sleep under my arm is rare and leaves me wondering where in my long, dark railroad apartment she is. Mickey's a bit more taciturn in the affection department, which makes those times he's all over me that much more special.
Both cats are almost always in the same room I am. I'd say they're good companions. But does Nestle always have to be on my chest? Or on my lap? Leaping up on my shoulders and walking across them? And why does it seem Mickey only wants to play when I'm tired? Sometimes I feel I need "my space," but I realize I'm away from home more than eight hours a day and do my best to be patient and give them their loving and their fun.
As for the idea that pets remain carefree and serene by living in the moment, I'm not convinced. There are those quiet moments when they seem content to slink those curvilinear bodies of theirs into a hard-edged shaft of sunlight and doze or groom. Each morning they take a favorite sill and watch the light change. On the other hand, when Mickey wakes me with his meowing, I don't think he's in the moment at all. No, I think all his thoughts and hopes are on his wet-food bowl and how it will soon be filled with a canful of Max Cat Lite.
Keeping It Simple
Writing this, it occurs to me I can use Mickey's behavior as a model for my own. Ask for what you want and need, I can tell myself. Take actions toward what you want and what you need. Have hope and think that you will get them. (Just don't be as obnoxious as Mickey.) Most mornings I just think, "Patience, I must practice patience." Patience with Mickey. Patience with myself for being impatient with him. Patience with the pharmacist. Patience with the waiting room assistant who's overwhelmed. Patience with my mother who doesn't know I'm positive but worries anyway.
There are less concrete examples of how my pets help me cope with the simple and not-so simple aspects of living with HIV. Now, it may more than often be my imagination, but other times I'm sure that friends or acquaintances aren't simply asking, "How are you, Steven?" They're asking, "How are you?" You know, in that really sincere tone of voice, their heads cocked a little, their eyes probing yours.
Sometimes I appreciate the concerned "How are you?" Other times, I wish they'd just come out with it and ask, "How's your health?" which, depending in the situation, would not necessarily upset me. The question does always remind me, however, of that fact that I flit about, for the most part, unfettered by -- I'm HIV-positive.
With cats, it's different. To them, I'm no different from before. And if they haven't seen me for a while, they have no questions. They just give me that look, the one that says they're hungry for food or affection, the one, when I turn on the lights, that says they're sleepy. Another less concrete example of how my pets help me involves the difficult subject of judgment. Most of my friends are insightful and understand that if people are at a time in their lives when, for whatever reason, they don't care enough about themselves, then they might not take safer-sex precautions every time. But there have been one or two who expressed dismay at and disappointment in me -- dismay at, disappointment in the fact that I became infected this late in the nightmare, feelings that bordered on judgment.
I understand those feelings and don't want to exaggerate. No one's disowned me. But one of the nice things about cats is that, as far as humans know, they have no concept of judgment. They accept me for who I am at any particular point in time.
And they were there when "it" happened, crouched, probably, under the living room couch, or under the desk, away from the yowling bedsprings, the cries, the carryings-on in the distant bedroom.
For the record, and out of fatherly pride, Nestle recalls that "first cat" in that she is white with calico spots, though she weighs in at a good deal less than Prince. She is quite comfortable with herself and the world and throws herself at anyone who walks in the door.
Mickey recalls Prince in size and appetite. He's shy around strangers and he likes to chase and retrieve Q-tips, but only if I wet the ends first. The gray fur that surrounds Mick's eyes, but not his white maw, is so symmetrical that once a drunk trick sat down on the couch, looked the cat right in the eye, and slurred "Batman kitty" just before he collapsed onto the very spot where Mickey had just been sitting.

Photo by Fredda Tone
Steven Cordova is an HIV-positive poet whose work has appeared in Borderlands, Barrow Street, The Journal, Art & Understanding, and Body Positive.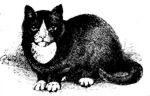 Help For Pet Owners
Years ago many physicians were telling their patients, "I don't care what kind of animal it is ... get rid of it!" Well, times are changing.
Those words were left behind on the Internet as POWARS -- Pet Owners With AIDS Resource Service -- closed its doors. For many years POWARS helped New Yorkers with HIV/AIDS continue to care for their best friends by walking dogs, changing litter boxes, supplying and delivering pet food, and helping with visits to the vet.
If changing times mean that POWARS is no more, they have also brought an increased awareness of the importance of companion animals in the lives of people who are ill. In many areas of the country there are organizations that provide services similar to those once provided by POWARS. You can find out if there is a group near you through the San Francisco chapter of Pets Are Wonderful Support, on the Internet at www.pawssf.org/chapters.html or by postal mail at PAWS San Francisco, 2189 Market Street, San Francisco, CA 94114.
The Internet has several helpful web pages regarding pets and the HIV-positive. Some of the best are:
www.thebody.com/cdc/pets.html;
www.thebody.com/powars/oppinfs.html;
www.thebody.com/powars/petguide.html;
www.qsanfrancisco.com/qsf/9803/pet.html;
www.hollinet.com/~shelter/medicine.html;
www.pawssf.org/safepet.html; and
www.pawssf.org/gorarticle.html.
If you don't have access to the Internet, here are some salient points culled from the various sites:
"Studies have shown that owning a pet can be rewarding. Pets can help a sick person feel psychologically and even physically better." Opportunistic Infections and Your Pets: A Guide for People with HIV Infection, Centers for Disease Control and Prevention, December 1997.
Feed your pet only commercial pet food.
Do not let pets drink from toilet bowls or rummage through garbage.
Do not let pets hunt or eat other animals' stool.
Do not handle animals that have diarrhea. If diarrhea lasts more than one or two days, have a friend or relative or neighbor take your pet to a vet; the vet should check specifically for cryptosporidiosis, Salmonellosis, and campylobacteriosis.
Do not get a pet younger than six months old.
Do not get pets from unlicensed breeders or shelters or from breeders or shelters where you observe unsanitary conditions.
Wear gloves and wash your hands immediately after changing a cat litter box or cleaning an aquarium or any other animal cage.
If you are scratched or bitten, wash the wound immediately.
Do not handle reptiles; many are carriers of Salmonella.
Do not handle exotic pets (monkeys, ferrets, raccoons, lions, bats, and skunks).
Back to the February 1999 Issue of Body Positive Magazine