I've lost all patience with the attitude that AIDS activists are self-indulgent children.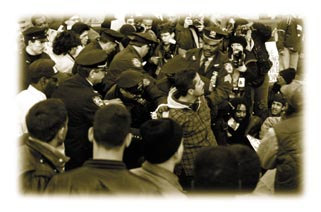 Sound familiar?
I've lost all patience with the attitude that AIDS activists are self-indulgent children venting their spleen just to get on television. How quickly we forget what AIDS was like before activism.
The very existence of AIDS service organizations and funding streams like the Ryan White CARE Act is owed to activists, many now dead, who worked, protested, yes, and were arrested founding the institutions many of us take for granted. Because much of this history is literally dying, it is easy to believe that AIDS activists are just a bunch of whiners who have nothing better to do with their time than to try to get on television.
Advertisement
I remember when American Airlines decided that people with HIV should not fly, for fear of spreading HIV to fellow passengers. Activists intervened, and now we think nothing of people with HIV getting on planes.
I remember when hospitals protected patients from those with HIV by only admitting PWAs when they had a vacant single room. Result? PWAs were "parked" on gurneys throughout the hospital corridors, with pieces of paper taped to the wall identifying "Bed 5" or "Bed 10." Whatever care, meals or treatments they got, they got in the hallway. Many died in the hallway -- and I'm not talking about people with health insurance and Medicaid.
I remember in 1988 when HIV services were rarely offered in drug treatment. HIV-positive people, some literally dying, had to fend for themselves. I personally know of PWAs with neuropathy so advanced they were unable to walk, who were told "get out of bed for meals or you don't eat." I watched them crawl down staircases to meals, dragging their bodies down the handrails. Activists publicized what was happening, and federal law now requires drug treatment centers to offer HIV services on-site.
I remember the price of AZT being brought down from something like $10,000 a year because of protests by AIDS activists.
I remember Clinton's first run for President. He was silent on AIDS until activists showed up at his rallies with signs that said "What about AIDS?"
I remember when HIV-negative Haitian boat people fleeing their country because of political persecution were admitted to this country. HIV-positive refugees were kept in an American concentration camp at Guantanamo Bay, Cuba under brutal conditions until AIDS activists forced the government (by filing suit in federal court) to admit them.
I remember when the definition of AIDS did not include having less than 200 T-cells, recurrent bacterial pneumonia, TB in the lungs or cervical cancer. At that time qualification for SSI/SSD was tied to the definition of AIDS. Result? Most women and people of color who applied did not meet the medical criteria, because they didn't get the same illnesses as gay men. AIDS activists caused the definition of AIDS to be expanded in 1993.
I remember when New York State said it was legal to deny people health insurance because they were HIV-positive. AIDS activists spearheaded the campaign to change the law. Now anyone with the money to buy an individual policy must be sold the policy, at the same price as someone who is HIV-negative.
AIDS activists' most recent campaign is insisting that people in the developing world should be allowed to manufacture the drugs themselves (generic forms of HIV drugs can be made at a much lower price). Many countries can't afford any of the drugs to fight HIV, or even Bactrim to prevent PCP. In some parts of Africa the infection rate is approaching a third of adults. Literally millions of children are being orphaned, when if their parents were given the proper care and medication they could raise them to adulthood.
I went to the International AIDS Conference in Vancouver in 1996, when it was announced that protease inhibitors could make a dramatic difference. I sat with PWAs developing countries and watched as they realized these drugs could keep them alive for years. And that they, their families and their countries could never afford them.
I work a lot with people on Medicaid who would never be able to pay cash for their care. I know that because of the accident of their birth they will have the opportunity to live longer than someone born in Africa or Asia.
We, who live in the developed world, who have access to drugs, doctors and care, what is our responsibility to those living with HIV in Africa, South America?
Have we written letters to Congress? Have we gone to our Senator's or Congressperson's office to talk to them about why they MUST push for money for drugs and approval of generic AIDS drugs for the developing world? How many of us have even TALKED to another person about this, let alone gone to a protest or picket?
And how much time do you have in a day? Mine are well-filled with the local work that needs to be done. So I'm glad that there are AIDS activists who can take on this issue and hold politicians accountable for the crisis in Africa and Asia and increasingly Latin America.
Just because we didn't get arrested ourselves does not mean that we haven't benefited from the sacrifices of those who did. Writer Maya Angelou talks about the obligation we all have to our fellow beings. She calls service "the rent we owe for the privilege of being here."
Think about what you, personally can do this week or next -- make a call, write a letter, or send a check. Take a step to keep the pressure on for AIDS drugs for the developing world.
Have you done enough?
Karin Timour, M.A., M.Ed. is a free-lance trainer and writer in New York City. She has written for Being Alive, POZ, the PWA Newsline and Positives for Positives.