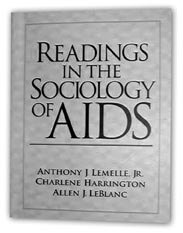 Readings in the Sociology of AIDS
Edited by Anthony J. Lemelle, Jr., Charlene Harrington and Allen J. LeBlanc
Upper Saddle River, New Jersey: Prentice Hall, 2000, Paper 322 pp. $29.40
HIV/AIDS is very close to many of us. In fact, many of us are infected. Many of our friends and relatives have had to fight the disease. Some have lost the battle. The loss comes in many forms. For example, for some of my friends, physical decline before protease inhibitors or highly active antiretroviral treatment (HAART) resulted in their youthful deaths. For other friends, it was the pressure of stigma that trapped them in a prison of shame. They refused to own their disease and they simultaneously hid their real selves. With some, the memorial services and funerals were held in the closet -- where family members never came to terms with the class, race and sexual lives of their children, largely because of the shame imposed upon all of us by social moral entrepreneurs.
This is why I proposed editing Readings in the Sociology of AIDS. Notwithstanding the symbolic violence of right-wing advocacy that hurled one negative stereotype after another at HIV-positive persons, I was distraught by the extent to which others and I had internalized the negative stereotypes. And, I was defeated by the way progressive folk that I had known for many years would feel comfortable making the most cruel statements and "jokes" about those that they knew or suspected to be HIV-positive. It was then that I knew we needed more education on the subject and that this education would have to be a broad survey of the knowledge that had been gathered that could be stated in terms that average folk could understand.
Readings in the Sociology of AIDS is a collection of 29 articles organized in 11 chapters with chapter introductions and a book introduction by Karolynn Siegel who is a leading researcher at the Columbia School of Public Health. The articles cover the history and presence of HIV/AIDS; how people with HIV/AIDS organize their identity and life; how they are cared for as a part of both informal and formal occupations and organizations; and how money is spent on groups and individuals who are affected, as well as the larger public expenditures on the pandemic. Both leading and lesser-known researchers wrote the articles. Anyone interested in knowledge about the pandemic, whether they are professionals, students or teachers will have an interest in this book. It has a broad appeal and is written in highly readable prose.
Excerpts
Only a little more than a decade ago, AIDS was still considered a medical mystery or conundrum. Yet since the first fateful cases were identified in 1981, we have isolated the virus that causes AIDS, developed a test to determine if one is infected, gained an understanding of the natural history of the disease, identified the modes of transmission of infection and developed a variety of antiretroviral treatments that appear to be able to slow or arrest the progressions of the disease, at least for a period of time, while hopefully more effective regimens are developed.

--Karolynn Siegel




The purpose of studying the sociology of HIV/AIDS is to identify the social groups at risk for the disease, identify the behaviors or social conditions that increase risk of the disease, rule out behaviors or social conditions that do not contribute to increased incidence, and guide the development of effective public health measures and preventative strategies.

--Anthony Lemelle




Adopting the notion of the abstract individual from liberal political and economic theory, it considers individuals "free" to "choose" health behaviors. It treats people as consumers who make free choices in the marketplace of products and behaviors, and it generally ignores the role of industry, agribusiness, and government in structuring the array of risk factors that individuals are supposed to avoid.

-- Elizabeth Fee and Nancy Krieger





Advertisement
The HIV/AIDS pandemic has not been brought under control in any community or nation, and its impact continues to worsen. The program-based strategy developed since the mid-1980s was an important phase in placing AIDS on national and global agendas. It has now reached a critical stage where complacency and loss of direction threaten to obfuscate the dual opportunity to curb effectively the course of the pandemic, and to mitigate its impact and stimulate the emergence of a modern concept of health and society.

-- Jonathan Mann, et al.
In November 1994, I attended an American Public Health Association meeting and had lunch with Charlene Harrington. She encouraged me to speak with some editors to see if they would be interested in publishing a reader on the subject. I had worked with Charlene that previous year at the University of California, San Francisco. During that time, I also developed a course titled "The Sociology of AIDS" and first taught it at Purdue University in 1995. Charlene had been teaching a graduate seminar on the subject for several years before then. During our year together in San Francisco, we often talked about the inclination of researchers and scholars working in HIV to stress behavioral models in their work. This was especially noticeable at the Center for AIDS Prevention Studies (CAPS) in San Francisco. Much of the research coming from there painstakingly counted how many people someone had had sex with, what positions they assumed, whether condoms were used, whether "fisting behavior" was involved, and a whole group of questions like these that pinpointed the sexual behaviors of people who were "at risk."
In the process of doing this work, we suspected that there was something to be learned about stigma and HIV/AIDS. Stigma has to do with marking a person or a group. The mark serves the purpose of identifying them as an outcast. This then devalues the person or group and because they are assaulted in so many ways in daily living, they often come to accept the devaluation as legitimate.
This is what happened with AIDS. There are three parts to the stigma that magazine writers, ministers, newspapers, police officers, politicians, public health workers, teachers, and television personalities became responsible for manufacturing: they attacked HIV-positive bodies, moral commitments, and communities they belong to. The bodies were described as unclean and initially some suggested quarantine policies for the infected.
Homosexuality and intravenous drug use became a kind of stereotype that many associated with moral degeneracy. They often communicated that AIDS was the fault of the infected because of their lack of morality. The third prong was the symbolic attack to mortify the HIV-positive that identified them as members of specific communities, particularly gay comunities and communities of color. Thus, moralists often talked about the origins of AIDS being in Africa or Haiti and spreading through the sexual behavior of gay males.
Readings in the Sociology of AIDS starts by placing AIDS in a historical framework. It highlights how people come together and make words that will communicate values associated with their shared sense of AIDS. We find that this shared understanding is a power relationship where some groups have more privilege than others. We also find in the opening chapter that nations have more privilege than others in terms of the spread of the disease. The viewpoints of the powerful and their typical responses to the pandemic are cross-examined.
In the next section of the book, we present a survey of the important knowledge about how HIV- positive persons change their identities based upon their seroconversion. We next present information on differences among HIV-positive identities at different stages in the life course. We present three sections that are important to the issue of caregiving. In the first, we collect three articles on the day-to-day work of caregiving and the processes of loss, grief and recovery. Later we present articles on the formal organization of medical care, health professions and occupations response to HIV/AIDS. There are three chapters included with articles that address different classes of people who have unequal access to goods and resources in society. This is later discussed in terms of the economics and public policy of HIV/AIDS prevention.
Because there are so many related illnesses that are also related to bodily fluid transmission and venereal processes, stigma will remain one of the most important consequences of the inability of people to get treatment for their medical conditions. Beaten down by the social practices of name-calling, shunning, withholding psychological and physical healthcare, and harassing individuals through political acts like contact tracing and HIV/AIDS registries will push more and more citizens into the closet of hiding their statuses. In addition, these social practices will increase their level of guilt and contribute to complicating other health issues that develop in their life. For example, those youth who are stigmatized by homosexuality only have a few pathways to dating in an anal-sadistic and homophobic society like ours. While some efforts have been made to change this sociology in cities like New York City, in most places in the United States the marking and devaluation of the young homosexual is rigorous. Think for a minute about the HIV positive-gay youth who is pressured by stigma to sneak into a local bathhouse, section of a park or other territory that has been claimed for gay dating that results in the transmission of gonorrhea. What does he do? How much emotional distress goes into his planning a course of action? What public health relief is available to him in places like Des Moines, Indianapolis, or Kansas City?
Readings in the Sociology of AIDS was written and assembled to contribute to a national conversation of the continued social cruelties and insensitivities that are an indispensable part of our history, specifically our history of sexually transmitted diseases. We believe that an important part of this conversation should take place among high school, college and professional school students. That is one reason we published our book with a leading trade book publisher of academic materials. We are certainly interested in producing leaders in the field who are aware of the social science and in encouraging them to organize churches, campuses and community centers around curricula for sensitizing citizens regarding the social complexities of HIV/AIDS. We believe without confronting cruelty and stigma, little progress will be made in bringing into being a more diverse social space where individuals can find equality and justice with healthier life courses and longer life spans.