Jack is a person living with AIDS in Brooklyn. He was diagnosed with wasting syndrome, and his doctor prescribed testosterone injections. When going to visit his sister in Buffalo, however, he was in such a rush to get to the airport on time that he inadvertently left his hypodermic syringes on the bed. He was due for a testosterone injection and he didn't have a spare prescription for syringes.
Marsha, an injection drug user who lives in Albany, NY, knew the risks. She knew that almost half of all AIDS cases in New York State (NYS) to date are due to sharing needles or sexual contact with those who share needles. So she made sure she got accurate information about reducing her risk for HIV. There were no syringe exchange programs near her home, so she conscientiously tried to clean her works and not share them. Preventing HIV and other infectious diseases was a priority for her, but would have been a lot easier if she could legally buy clean syringes.
In the past, NYS law said that syringes could only be bought with a prescription. Now, with a change in the New York State Public Health Law in 2000 by the NYS Legislature, both Marsha and Jack can legally obtain and possess clean hypodermic needles and syringes without a prescription. The program that allows them, and anyone in NYS age 18 and over, to do so is called the Expanded Syringe Access Demonstration Program or ESAP.
What Is ESAP?
Advertisement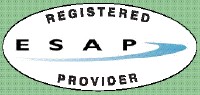 Look for this symbol in pharmacies.
Developed with extensive input from consumers, under ESAP, NYS licensed pharmacies, health care facilities and certain health care practitioners, may register with the NYS Department of Health to sell or furnish up to 10 hypodermic needles or syringes to individuals 18 years of age or older. This means that people 18 years of age or older can legally obtain and possess hypodermic needles and syringes without a prescription. While pharmacies may not currently advertise the fact that needles and syringes are available without a prescription, nor can they be openly displayed, the distinctive ESAP logo can be displayed to inform customers that the pharmacy participates. Almost all of the major pharmacy chains and many independent pharmacies participate in ESAP.
When the hypodermic needles and syringes are sold or furnished, a free safety insert is included explaining:
How to properly use the needles and syringes;
The risk of blood-borne diseases and how to prevent them;
How to properly dispose of used needles and syringes;
The dangers of injection drug use;
How to access drug treatment;
The toll-free telephone number regarding HIV/AIDS; and
Information about safe disposal.
Anyone who uses hypodermic needles or syringes can access ESAP. For example, if you're a person living with rheumatoid arthritis and your prescription has run out, ESAP is available for you. Some people living with multiple sclerosis need a weekly intramuscular injection; people with migraines may take Botox injections; and women trying to get pregnant may take infertility injections. All of these people are potentially at risk for HIV and hepatitis if they share needles. These individuals may also put others at risk if they can't properly dispose of their used needles. ESAP allows them to more easily obtain clean needles and to safely dispose of used ones.
Safe Disposal of Syringes
The ESAP safety insert includes education to consumers and to providers on how to safely dispose of needles and syringes, either in their household waste or by taking them to their local hospital, nursing home or approved syringe exchange program.
The NYS Department of Health has been taking steps to address the importance of safe disposal of used syringes. The advent of ESAP focused attention on the need for convenient disposal options for communities all over the state. In some cases pharmacies will accept used syringes and other household "sharps" for safe disposal, but right now, most won't. Hospitals and nursing homes in NYS, however, are required to accept used "sharps" from individuals in their communities.
Safe disposal of used syringes is important for HIV prevention because research has shown that even small amounts of blood left on or in syringes remains infectious for a long time. Safe disposal programs reduce sharing of syringes, reduce the number of used syringes in the community and reduce risk of exposure/needle stick injuries. Improperly disposed syringes and other "sharps" are hazardous when not disposed of correctly.
Some communities allow used syringes to be disposed of in household trash. You should check with the local health, sanitation, public works department or trash collector before throwing syringes out with the trash. Syringes and "sharps" should never be placed with recyclables. Throwing used syringes away improperly could put sanitation workers and those involved in recycling at risk for needle sticks. Syringes in household trash could also be found and re-used by other people, including children. These are the reasons that the NYSDOH has been working hard to develop more convenient, user-friendly alternatives for safe disposal.
Some Additional Questions
How is ESAP being received in the community?
Allan Clear, Executive Director of the Harm Reduction Coalition commented "I have nothing but praise for the efforts and tenacity that the AIDS Institute has applied to actualizing ESAP. They've worked statewide with AIDS service organizations and pharmacists to come up with ways to promote ESAP and foster partnerships between providers and vendors, always sensitive to the issues surrounding disposal and access of syringes."
How do we know if ESAP works?
An independent evaluation was required to be submitted to the Governor and Legislature before January 15, 2003. The evaluation must cover such issues as whether ESAP has helped to prevent needle sharing, substance use, needle sticks and crime, and will address pharmacy practice, syringe disposal and education on safe use and disposal.
How do individuals know where to get clean needles and dispose of used ones?
The NYS Department of Health publishes a directory of over 2,500 registered ESAP providers and over 900 sharps disposal sites in communities across New York State. Not only can community residents find out where they can get needles without a prescription and where and when they can dispose of needles, but participating ESAP pharmacies can provide the information to their clients. Also, some pharmacies participating in ESAP display the ESAP logo. Information about ESAP-registered pharmacies is also posted on the NYSDOH Web site.
ESAP may help prevent HIV, but does it address injection drug use?
Contact with a health care professional about drug use may be a first step for entrance into substance use treatment. ESAP services are provided by pharmacies, health care facilities and practitioners, offering several ways that IDUs can obtain clean syringes and enter into medical and mental health care.
Is ESAP hard to access?
Consumers are surprised at the ease with which ESAP can be accessed. As one individual commented, "I needed syringes. I knew of a chain pharmacy that was registered with ESAP. I asked the cab driver to wait while I ran in. To me, it was a very positive experience. The pharmacist didn't hesitate, question or look surprised when I asked for syringes. He was respectful of my privacy in front of other customers. And he was quick and efficient. Even the cab driver was surprised at how fast I was."
How can I help get the word out about ESAP?
If you have friends who use syringes, tell them about ESAP! You can also tell your doctor about ESAP and encourage him or her to enroll to accept used sharps for disposal. If you are receiving case management services, make sure your case manager knows about ESAP. Tell him or her where to get information about ESAP.
When you see the ESAP logo displayed, thank the pharmacy for enrolling. They'll appreciate the feedback! If you use ESAP, find out if there is an ESAP demonstration project in your area and get involved in it.
If you, or someone you know, has questions or if you want to learn more about ESAP, contact the NYS Department of Health, AIDS Institute at (212) 268-6987 or by email at ESAP@health.state.ny.us. You can also access information about ESAP at the New York State Department of Health Web site. Here, you'll find the Directory of ESAP Providers as well as information about how to order ESAP brochures and posters.
Wendy J. Shotsky is the Director of the Prevention Planning Unit, Jay G. Cooper is a Health Program Administrator, and Susan J. Klein is Director of the Division of HIV Prevention, New York State Department of Health AIDS Institute.