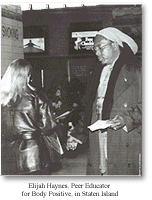 You have to be very mobile to try to do the work on Staten Island," says Norman Candelario, PTI Education Coordinator of the Staten Island AIDS Task Force. Van Macaluso, Substance Abuse Coordinator at Project Hospitality, agrees. "Staten Island is considered to be a small community," states Van, "but it is very spread out. The word just doesn't get out that there is help, the way it might in Manhattan." Adds Diane Arneth, Executive Director of the S.I. AIDS Task Force, "Very often, AIDS services are not as coordinated as we would like them to be. People are crisscrossing all over the island to get a number of different services, which would probably be better delivered at one site."
But necessity is the mother of invention. Ralph Vogel, Director of Education at the Staten Island AIDS Task Force, explains the history of delivering AIDS services on the island. "In the first two years when we started the Task Force," says Ralph, "it was very difficult. People at first didn't want to have anything to do with you, but over the last eight or nine years, there's been really significant trust building between the Task Force and other agencies. When we started, there was one support group and one doctor, and most other service organizations didn't address the issue."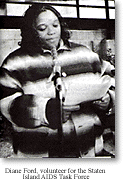 "Staten Island is a good kind of community to make things happen," he continues. "People here are used to coming together and trying to tackle issues. You can't snap your fingers and make them happen, but you can work at it and you'll get good community support."
Community Support has come from a variety of places, both the predictable and unexpected. Diane has been fighting for people with AIDS for many years; as a result, she has seen support and opposition for various prevention efforts throughout the years. She says, "One of the most pleasant surprises in terms of support was Staten Island Borough President Guy Molinari. When he came into office, there was no AIDS-designated center here. He called together the two hospital systems, myself, and Bruce Agins and Ira Feldman from the AIDS Institute. As a result of that meeting, both St. Vincent's and Bayley Seton Hospital became AIDS-designated centers."
Advertisement
In addition to those two hospitals, the Staten Island AIDS Task Force, Project Build, the Staten Island University Hospital, and Sub-Sahara AIDS Rescue are all providing AIDS services. But by far the most compelling source of support is the people there who are living with HIV.
Staten Islanders Living with HIV
China, a soft spoken woman with a strong message, is living with AIDS. She says, "I was diagnosed March 16, 1994 as being HIV-positive. People need to be more out in the open about this virus. They need to come out and let it be known that they're HIV-positive. We need more treatment education here on S.I., more prevention and education, and we definitely need a needle exchange."
Yvette, a young African American woman living with HIV, agrees. "A lot of people on S.I. are not educated enough about HIV," she says. "If they knew more, they would understand that we need needle exchange on this island."
Terrence learned that he was HIV-positive in September of 1992. "One of the biggest obstacles here on Staten Island is being accepted as a human being, not a leper," he informs. "No human being wants to suffer such rejection." His advice to people who are just learning that they are HIV-positive? "Educate yourself about HIV and know the difference between HIV and AIDS. The more knowledge you have, the better off you will be in handling your diagnosis." Elijah Haynes states, "I am a recovering drug addict living with HIV. When I found out that I was HIV-positive, I came across a longtime friend who suggested that I seek out a program called Project Hospitality Positive Living. I've been there for close to three years, learning to live with the stress of being HIV-positive."
The Services
Ralph Vogel has worked at the Task Force for the last eight years, first as the Director of Volunteer Programs, and for the last three years as the Director of Education. He says, "Staten Island is a big small town. As an island, it's isolated. It really helps our work that people know each other."
One example of a recent accomplishment on Staten Island is its Peer Education program. "We're preparing now for a training that will begin in January," states Vogel. "We're trying to recruit people with a history of substance abuse who've been clean for six months, who are interested in becoming peer educators. Applicants will go through a whole series of trainings throughout the winter on outreach skills, risk reduction workshops and one-on-one counseling. Now is the time to request an application, fill it out, and attend one of the volunteer orientations. There's also a small stipend involved."
The Peer Training Institute, a collaborative effort between agencies throughout New York City, is underway in Staten Island. Since September 1996, Candelario has been working as the PTI Education Coordinator for the S.I. AIDS Task Force. The project works in the Arthurkill Correctional Facility, where the Task Force trains 15 peer educators each cycle. A core curriculum and population-specific curriculum are offered. Candelario explains, "As part of their internship, inmates do HIV-educational presentations to other inmates, one-on-one drop-in counseling sessions, and advanced HIV risk reduction. I hope that when they come out of prison they can use our program as a stepping stone into the HIV/AIDS field. They can do peer education on the outside, prove themselves, and find a full-time position."
One of the main components of the Task Force's treatment education grant is to educate current staff throughout Staten Island who work with people with AIDS to help their clients with their treatment programs. Four or five resource libraries will be established, where PWAs can drop in. Internet sites will also be established so that staff, service providers, and consumers can access information on their own. These ongoing resources ensure that products which are beneficial to the community will remain in place, even after the grant ends.
In March of 1996, Body Positive launched an HIV prevention program in Staten Island. Named in memory of Rosendo Cintron, former Coordinator of Education at Body Positive, the New York City Department of Health Rosendo Cintron Outreach program offers a variety of services that includes street outreach, with referrals to treatment and HIV services, risk reduction support groups, and community forums. It also includes educational workshops like Positive Options, the certificate program for people who are interested in working in the field of HIV/AIDS.
Robert Spann, Peer Team Leader for Body Positive in Staten Island, notes, "One of the challenges that I've encountered doing street outreach in Staten Island is the need for bleach kits for intravenous drug users." Elijah Haynes also works as a Peer Educator for Body Positive in Staten Island. He comments, "Most of the immediate issues for people I speak to in street outreach are housing, food pantries, and detoxification services. The key to living with this virus is knowledge, because the more information you get, the better you're able to choose the options that are available to you."
Van Maculoso, Program Coordinator for the Substance Abuse Program at Project Hospitality, has worked with many HIV-positive clients over the last five years. She informs, "The program that we run here is geared towards abstinence. We treat people on all levels, and we meet the clients where they're at. We have a number of clients that come in who still use. A needle exchange program would be beneficial because there are so many people who continue to use. If we look at it from the point of stopping the spread of the virus, then needle exchange would be beneficial."
Van adds, "The most important thing about our services is that we do have the substance abuse treatment program, which is a harm reduction model. We have clients that are maintaining abstinence and we have other clients that are not, but who are still working on their issues and are welcome in our program. This program is unique because it deals with both diseases: HIV and substance abuse. It's a very special program in that way. We offer everything from health maintenance to relapse prevention, stress reduction, acupuncture, and socialization. It covers a lot of bases."
Condom Availability
Similar difficulties face the issue of condom availability. Wendy Hoeffler, Coordinator of the S.I. HIV Care Network, explains the history of condom availability in New York City public high schools. "I was involved with the condom availability program in 1991 at Curtis High School, where my son was a student," she states. "At the time it was the first and only program of its kind on the island."
She continues, "Six years later, it's still the same struggle. AIDS education is not going on in the schools. Each high school was supposed to form a team of parents, staff, and students. I ended up becoming Team Leader. We met weekly for a couple of months. The purpose of the meeting was to figure out how to implement the program. We ended up spending so much time debating whether or not we wanted to do this. It was a big lesson to me, because I realized that I was being too passive -- the purpose of the team was to figure out how to implement the program, not to debate whether or not it should be implemented. The same debate goes on concerning needle exchange."
Needle Exchange
"The purpose of the Advisory Committee now is to decide what is the best way to implement the needle exchange program, not to endlessly discuss whether or not we think it's a good idea," Wendy continues. "Both needle exchange and condom availability are harm reduction approaches."
"There is a common misconception that, if you give an adolescent a condom, it will increase their sexual activity. It's been proven that a person is not going to become sexually active if they're given a condom. If they are sexually active, they are going to continue to be sexually active, whether or not they're given condoms. The same misconception exists with needle exchange."
"If we want condoms to be made available to young people, we are labeled immoral because we're somehow condoning sexuality. It is a very objective stance. We know these kids are sexually active and we want to prevent them from getting or transmitting HIV. People are very moralistic about drug users, but our stance is the same. We recognize that people are using drugs and we're not judging them one way or another. We just want to prevent them from getting HIV. You spend hours and hours talking about this, trying to get the word out, educating people, speaking to groups of people. But sometimes it's as if you never said anything."
That is precisely what happened with the defeat of needle exchange at the Community Board 2 meeting. Says Wendy, "We'd been talking about this forever, saying how we wanted a mobile unit on the north shore, where the most drug activity went on. Suddenly they're saying that we're going to site it in Ocean Breeze, which is in the middle of the island. We never said that."
Diane Arneth adds, "There are two main concerns that people here have about needle exchange. One is their belief that any siting of a program like this is going to bring in a large number of drug addicts into that particular neighborhood; in turn, these addicts would increase crime and discard needles in their neighborhood. The second issue is that the program gives the wrong message and will increase drug use among people who are not drug users. Many people have stated concerns about this program increasing drug use among people who are using drugs."
Concludes Wendy, "It's frustrating -- it's the same battle over and over."
Given the vehement community opposition to needle exchange, what then is the strategy for moving the agenda forward? "We'll continue trying to educate people," says Wendy. "Several of us were on Robert Busan's show on community TV last night. He's the Director of Project Build, which provides services for people living with HIV. We have been making appointments to speak to elected officials, so that they don't take a stand based on political pressure without knowing the facts about why needle exchange makes sense as a public health measure to stop an infectious disease. We're also going to consult with the police department for advice about where to site the program. We want to work on getting law enforcement support and support from other groups, such as the clergy."
Politics
Staten Island is the only Republican stronghold in New York City. Predictably, the conservative majority on the island has been vocal in their opposition to these new programs. Diane opines, "It's very important to hear the viewpoints of people who are in opposition to the needle exchange program. It helps you to frame your arguments by addressing some of the issues that they have. It helps you prepare yourself to educate people, because then some of the issues that you may not have even thought about come to the forefront, and you can look at them and decide how you're going to address them when they come up. Most of the politicians on S.I. have made their views very clear, so I don't expect any radical changes in people's opinions. But I'll still meet with the newly elected officials to speak to them about the issue of needle exchange. I hope that they will be persuaded to change their opinions by the statistics and the reality."
"The biggest obstacle is dealing with peoples' beliefs and attitudes toward people who are infected with HIV," she adds. "There is a lot of anti-gay sentiment on Staten Island, both overt and covert. There's also a very negative attitude against drug users that's sometimes even more vehement than I've seen in other areas. It plays a big role in the way that people respond."
Progress and Setbacks
Support for those who are HIV-positive has increased due to a fundraiser called Staten Island Cares. The event has 600 participants; it's become acceptable to give money to people and programs that deal with AIDS. But that's not to say the stigma surrounding HIV has disappeared. "What bothers me is that the stigma is as great as it ever was," says Diane. "People on the island are unwilling to talk about losing a child to AIDS, even if it's been a year or two. Borough President Molinari has spoken publicly about the fact that his niece died of AIDS. Not many people in the public eye on Staten Island have spoken about family members, although we know they exist." Wendy concludes, "The stigma is still very great. That indicates there's not been much of an advance in public acceptance and support."
Back to the January 98 Issue of Body Positive Magazine.