The new State Children's Health Insurance Program (SCHIP) offers states up to $24 billion to cover needy children -- whether or not they've been declared disabled by Social Security. Most states are expected to do this by raising Medicaid income eligibility levels, but if they desire, they're also allowed to develop separate health coverage programs for newly-eligible children. States can set the new countable income levels at up to 200% of the poverty level, which varies by family size. For example, in 1997, 100% of the poverty level for a family of one person is an income of $658 monthly. Before gross total income is compared to Medicaid levels, states disregard (i.e., do not count) work and child care expenses. Allowable family asset levels are $1,000 in savings, a modest vehicle ($1,500 value), and a lived-in home -- but many states have even more liberal rules.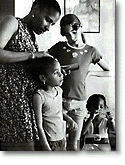 Congress also allowed states to keep children on Medicaid for at least a year without a new application, even if their family incomes rise enough to make them otherwise ineligible. States can also "presume" eligibility for children as a way of quickly giving the Medicaid cards with which to secure medical care before having to go through the red tape of a full dress Medicaid application at the welfare office.
Also, a little-known provision allows states that choose to buy private health insurance for newly eligible children (rather than simply raising Medicaid income levels) to do so by purchasing whole family health insurance policies. Since some poor and working-class children needing health coverage reside with HIV-positive parents who may also need health insurance (but who've not yet been declare disabled by Social Security), this provision could bring coverage to many HIV-positive parents.
Medicaid Managed Care
While the law does give states the right to mandatory enrollment of Medicaid patients in managed care organizations -- something they were already doing with waivers from the Administration -- it denies states the right to enroll persons who are on both Medicare and Medicaid. These are most often persons whose Social Security Disability Insurance (SSDI) benefits are so low that they are on Supplemental Security Income (SSI) too. But the Administration does retain its power to issue waivers to allow this. (Since enrolling persons who are on both Medicare and Medicaid in Medicaid-sponsored managed care programs involves a complex administrative process, most states already exempt such persons from mandatory sign-up.) In addition, states are barred from mandatory enrollment of disabled, foster care or institutionalized children without a special waiver from Washington.
Advertisement
Disabled Children And Aliens Dropped From SSI
The provisions of last year's welfare reform bill (signed August 22, 1996) denied SSI and Medicaid to most legal aliens and dropped many children from those programs by tightening up the medical definition of disability. Now, aged and disabled legal aliens on SSI and Medicaid as of August 22, 1996 can remain on the rolls, and those legally in the country before that date can receive SSI and Medicaid if they later become otherwise eligible.
Most legal aliens admitted after August 22, 1996 are ineligible for SSI and Medicaid until and unless they become citizens or meet narrow exceptions. Children dropped from SSI under the stricter disability rules will remain off SSI, but they'll be able to use the old, more liberal pre-welfare reform rules to apply to welfare offices for Medicaid.
Illegal aliens, as before, remain ineligible for SSI, welfare, food stamps, or Medicaid (except for emergency room care, if they're otherwise eligible).
Legal aliens are eligible if they meet the following criteria: they're refugees or asylum-seekers within five years of their legal admission dates, or they've paid at least 40 quarters of Social Security "FICA" taxes, or they're active-duty service members or honorably-discharged veterans. If these criteria are met they can receive SSI, welfare, food stamps, and Medicaid, no matter when they are legally admitted, if they're otherwise eligible.
Many More on Medicare To Get Bigger SSDI checks from SLIMB
The current Specified Low Income Medicare Beneficiary (SLIMB) program pays the $43.80 Medicare Part B premium for Medicare patients whose total income (including SSDI before the Medicare deduction) is less than $809 monthly, if they have modest assets ($2,000 savings, a car and home of any value). Once the state starts paying the premium, the $43.80 is no longer deducted from the Medicare recipient's SSDI check, and the check therefore goes up by $43.80!
Under current law the $809 figure represents 120% of the one-person $658 poverty level, or $789 after the $20 allowed income disregards, and $65 and half the remainder of any earned income. (Thus, for PWAs not working, the effective income cut-off is $809; for those who've already returned to work and gave up their SSDI to do so, the income cut-off is $1,663 monthly.)
The new law raises the SLIMB income level to 135%, instead of just 120% of poverty level. In 1997 dollar value, this means the countable SLIMB income level will be $888.30 as of next spring. With the $20 disregard, then, the SLIMB level will be $908.30 for non-working PWAs on SSDI. But for those who've already gone off SSDI to return to work, the $20, $65, and half-the remainder income disregards will raise the SLIMB level up to $1,861 (Next spring, the SLIMB income levels will be even higher due to the cost-of-living increase to be factored in over the winter.)
Son of Slimb: 80¢ More In SSDI Checks, But Rising to $13+
The new law sets up still another Medicare premium-payment assistance program. It's not yet officially named, but we'll call it "Son of SLIMB." It calls for partial payment of future Medicare premiums for those with income between 135% (the new SLIMB level) and 175% ($1151.50 in 1997 dollars) of the poverty level. This program will have the same income-disregarding rules as SLIMB itself, so that non-working Medicare recipients will have an effective income cut-off of $1171.50, but those who've given up SSDI to return to work can earn up to $2,388.
At first, this program won't be worth the trouble it'll take to apply, since it is designed to pay the portion of Medicare Part B caused by home health care costs -- worth only about 80¢ monthly in 1998. But by 2004, these costs will mount rapidly, and those eligible for Son of SLIMB then could get over $13 back.
Exchanging Medicare Cards For Private Insurance With Drugs: "Medicare+Choice"
It seems too good to be true, but a provision added to the budget bill by right-wing Republicans hoping to undermine Medicare and replace it with the "market" mechanisms of private health insurance might well bring major medical health insurance -- including the all-important drug coverage lacking in Medicare itself -- to PWAs with incomes too high for Medicaid. These patients have had to rely on the AIDS Drug Assistance Program (ADAP), private health insurance (if they were lucky enough to secure and afford it), or the usually-unreliable Medicaid "spend down" program -- or simply do without.
This situation happens because the average SSDI check is about $750, but Medicaid levels are set at $484 monthly or less in most states. (Even generous states like New York and California have Medicaid income levels far below $750.)
Private health insurance companies can offer to enroll Medicare patients in their plans in exchange for the money Medicare would have spent on them (and, in some cases, a small extra charge too). These plans would be structured similar to major medical insurance plans that employers have with services like Blue Cross and Blue Shield. (They'd be what are technically called "fee-for-service" or preferred provider organizations [PPOs].) Like almost all employer plans, they'd likely have an uncapped drug benefit.
Why would insurance companies want to "sell" their private health plans to Medicare patients at the same price (or a little more) as Medicare itself costs? The answer is that they know how to make big profits doing so, as they've shown with the Medicare HMOs which are widely marketed to Medicare patients across the country already. Insurance companies that contract with Medicare to offer their patients HMOs typically offer lower copayments and deductibles than Medicare itself -- even while they give patients "extras" like limited (e.g., up to $1,000 a year) drug coverage.
They make their money in the way they market their plans: Advertisements generally run in weekly newspapers serving affluent, white retirees, a faction known to have better-than average health and very low health-related expenses. Few advertisements and little outreach are extended to inner-city, rural, or poor retirees. They cost too much. But Medicare rules do require that these HMOs take, without pre-existing condition limits, all Medicare patients; poor ones, disabled ones under age 65, and even really high-cost patients like PWAs.
Few PWAs currently choose to enroll in Medicare HMOs, because they often lack the infectious disease specialists necessary to properly treat HIV. And the attraction of a $1,000 yearly drug benefit -- while it does lure relatively healthy 65-year-olds looking for a good deal -- isn't much of an incentive for patients who need $20,000 or more a year in drug coverage. Actually, Medicare HMOs, together with ADAP, may well be a wise option for PWAs since there are adequately-experienced physicians in the HMO, and the HMO will save them copayment money and give them a small, additional drug coverage to supplement ADAP for products ADAP may not cover. Moreover, some Florida HMOs have uncapped drugs.
Basically, the insurance companies that own the HMOs and now offer coverage to Medicare patients aren't worried about PWAs or even high-cost disabled Medicare patients in general: The disabled represent less than 10% of the Medicare caseload, and PWAs are far less than 1/20th of that. In addition, nearly half of disabled Medicare patients are chronically mentally ill persons -- often living on the streets and resisting treatment until forced into institutions -- and their tragic lack of ongoing care translates into low health expenses.
Now that the insurance companies have convinced the Republicans, and they have forced the President to allow the substitution of private health insurance (fee-for-service or PPO plans) for regular Medicare, the same considerations will apply. PWAs and other disabled persons with high drug and other ancillary costs can expect to shortly get the option of enrolling in these private insurance alternatives without meaningful pre-existing condition exclusions.
Most likley, these plans willl offer drug coverage similar to major employer health insurance. Since high-cost disabled persons are such a low percentage of the Medicare patient population -- and those with the wherewithal to carefully plan are an even tinier percentage -- insurance companies aren't likely to be deterred by fears of losing money on the very sick. (They've already learned that this isn't anything to worry about from their experience in running Medicare HMOs.)
Buying Medicaid Coverage If You're "Too Rich" For It
The most promising feature of the budget bill is a provision offering states the option of offering "buy-in" Medicaid coverage to aged and disabled persons whose countable earned incomes
*
are above normal Medicaid levels, but below 250% of the poverty level ($1645 monthly for one person in 1997). States would have broad leeway in setting premiums for this kind of "buy-in" Medicaid, although the federal law does specify that premiums be established on a sliding scale based on income.
Those who've given up SSDI to return to work could earn up to $1,645 monthly and still buy Medicaid coverage! The important decisions on whether to offer this very revolutionary extension of Medicaid coverage will be made by state Medicaid agencies, governors, and legislatures.

* This provision is only available to working disabled persons.
Back to the January 98 Issue of Body Positive Magazine.