Ignoring opposition from women living with HIV, their healthcare providers, and HIV/AIDS advocates, in February 1997 New York State began mandatory HIV testing of all newborns born within its borders. The recurring problems that women in New York have experienced since then make visible some of the most troubling aspects of recent trends in HIV/AIDS policies.
Instead of taking steps to ensure that women receive HIV prevention education, HIV counseling, and readily available voluntary testing, current public policy measures focus on politically expedient programs touted as ways to reduce the incidence of pediatric AIDS. Worse yet, programs such as New York's are coercive and displace prevention efforts for women.
The story of Rosa, a 27-year-old Dominican from New York City, demonstrates how far New York's program is from the success that its proponents would have us believe: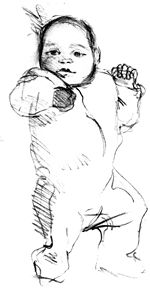 Rosa is the mother of a young autistic daughter and the guardian of her younger brother and sister. After weeks of burning pain, Rosa went to a nearby public hospital, where she learned that she had gynecological problems and urinary tract infections ... and that she was three weeks pregnant.
Advertisement
For the next eight and a half months, Rosa received regular prenatal care and treatment for the problems that had taken her to the hospital and that continued throughout her
pregnancy
. No one mentioned HIV or suggested that she be tested.
She attended classes where she learned about the benefits of breastfeeding to the baby's nutrition and to the mother-child bonding process. No one told her that HIV is transmitted through breastmilk and that women should be tested before breastfeeding. Rosa gave birth to her second daughter in the spring of 1997 and immediately began breastfeeding.
Rosa learned that she was HIV-positive almost six weeks later.
A phone call summoned her to the mental health division of the hospital. There, during a meeting that lasted less than fifteen minutes, she learned that her daughter had been tested under New York State's mandatory newborn HIV testing program and that her results were positive.
No one had informed Rosa ahead of time that her daughter would be tested. No one informed Rosa now what the results of the test meant. It was only later, through her own research efforts, that Rosa learned that the temporary presence of the mother's viral antibodies in a newborn's blood means that all infants of HIV-positive women will test HIV-positive at birth. It was only later that she learned that only 15 to 25 percent of these newborns will themselves be infected by the virus. It was only later that she learned that screening newborns for HIV antibodies reveals the HIV status of the mother, not that of the infant.
Rosa immediately told her boyfriend about the test results. A few weeks later, however, a visiting nurse who came to the apartment when Rosa was not at home implied to the boyfriend that Rosa had known her status before her daughter's birth but hadn't told him. When Rosa got home, her boyfriend beat her up, forcing her and her children to leave her apartment and stay in a shelter for several days.
"I definitely would have tested prenatally if anyone had asked," says Rosa. "If I had known earlier, I would have planned. I probably would have taken AZT because I would have wanted to increase the chances that my child would not have the virus. I would never have breastfed."
Although Rosa is grateful that her daughter's most recent confirmatory tests have been negative, she still worries that her daughter is sickly and plans to have her tested again. "I actually breastfed my baby! If something happens, can you imagine that guilt?"
Statistics, Trends ... and Politics
By now, the statistics are familiar: More women, particularly women of color, are living with HIV/AIDS than ever before. Although about one in five women in the United States is Latina or African-American, four out of five of all new AIDS cases and more than three out of four of cumulative total AIDS cases reported through December 1997 are among Latinas and African-American women. In New York City -- the "epicenter" of the AIDS epidemic -- by late 1995 the number of reported new AIDS cases among women had surpassed that of men who have sex with men.
Significantly, reported pediatric AIDS cases dropped nationwide by 43 percent between 1992 and 1996, with 473 new cases of pediatric AIDS reported in the United States during 1997. The Centers for Disease Control and Prevention attributes the decrease to early voluntary testing and treatment by pregnant women. Nevertheless, a flurry of recent policies are aimed at reducing pediatric AIDS cases post-natally, rather than by addressing the rising rates among women regardless of whether they are of childbearing age.
"There's big hype now about women, and we get more exposure and information," says Juanita Chesnut, a New York City advocate who has been living with HIV for over ten years. But Ms. Chesnut is disturbed and angry by a backlash that blames women for their own and their children's infection, when many have yet to receive adequate HIV prevention education. "Now they're trying to make us the bad guy, saying we're irresponsible. But we are not irresponsible. Ten years ago I was saying, 'Come into my community and take the stigma off HIV and start educating women. Give them information about prevention. Give us clinics in the neighborhood where people can get healthcare. It's not about mandatory anything.' I'm saying the same thing now."
Ms. Chesnut's pleas have not been heeded -- and not just in New York. This past legislative session, several other states, including Delaware, South Carolina, and Indiana, considered mandating HIV testing of pregnant women or newborns. The 1996 Ryan White Comprehensive AIDS Resources Emergency (CARE) Act Amendments set up a decision-making process that could make millions of dollars in federal AIDS funding dependent on states implementing mandatory newborn HIV testing. In the coming weeks, Secretary of Health and Human Services Donna Shalala will make a critical determination that could either nullify the Ryan White CARE Act language or increase the likelihood of mandatory newborn HIV testing becoming national policy.
"It is basic and easy," says Soraya Elcock, who is Community Co-Chair of the New York City Prevention Planning Group and member of Voices of Women of Color Against HIV/AIDS: "To reduce or stop transmission of HIV, you have to get women prevention information before they get pregnant -- provide skills, tools, condoms; really counsel; do appropriate testing -- and only then will you stop HIV transmission to babies. But people want quick, sexy legislation, and mandatory testing is an easy sell. You test the babies, you count them, and you think it's done. Real prevention is harder to measure. You don't see results for years -- and it's more expensive."
Success Story?
Proponents of mandatory HIV testing in New York have been vocal in touting the program's success. Queens Assemblymember Nettie Mayersohn, who in 1993 put her crusade for partner notification legislation on hold to devote all her energy to mandatory newborn HIV testing, has claimed that "... New York's newborn program has been remarkably successful; we are identifying 100 percent of the infants and getting 94.5 percent of them into treatment."
Rosa is enraged by such representations of herself as a success story. "I am not a success," she says flatly. "Numbers don't make success."
What the statistics fail to make clear is that the New York State Department of Health defines a baby as "in care" once it has confirmed the baby's HIV status through follow-up testing. The Department of Health does not track follow-up care for mothers.
Fighting Back
Rosa and six other women and their children have filed a class action lawsuit against the State of New York because of the extensive problems with the mandatory HIV testing program. The other plaintiffs' stories are remarkably similar to Rosa's. None of the plaintiffs who learned that they were HIV-positive through testing of their newborns had been offered prenatal HIV counseling or voluntary HIV testing. Only one was informed that her baby would be tested (and the information she received was inaccurate). Perhaps most problematic, the women had to wait up to six weeks before receiving their infants' HIV-positive test results. The long delay made treatment to reduce the likelihood of HIV transmission impossible; for the women who were encouraged to breastfeed, it even increased the likelihood of HIV transmission to their babies.
In affidavits, all expressed their shock and anger, not just because they had been tested without their knowledge or consent but because they had not received information that in some cases might have helped prevent their children from becoming HIV-positive. Like Rosa, all the women who tested HIV-positive said that they would have tested if they had known the importance of prenatal testing and had been offered voluntary testing. All would have taken medication to reduce the chances of passing the virus on to their children. None of the women would have breastfed.
"I'm not in this for money or any other gain," says Rosa. "I'm doing the lawsuit so that when another woman comes in with the same symptoms, they will offer her a test so she can make choices that affect her life, so that what happened to me will not happen to others. The system was not ready for a lot of things that were mandated. There are more [HIV-positive] women out there, but they don't know. They go about blindly, especially Latinas, since we're taught not to question a person of authority. But I say to you, question everything, even if you're undocumented. You can live healthier if you have options."
How Did It Happen?
Ironically, it was precisely that argument -- that women should know that their infants had been tested for HIV -- that sparked the debate around mandatory newborn HIV testing. Beginning in 1988, the CDC, working with state health departments, anonymously tested the blood of newborns to track HIV rates, not among infants, but among childbearing women.
"This information was extremely useful for advocates. There would be maybe a handful of reported AIDS cases among women in a certain region, but then hundreds testing positive through the survey," recalls Theresa McGovern, Executive Director of the HIV Law Project. "We used data from the survey to show that women were not being offered voluntary HIV testing, were being undercounted and underserved. It was critical to our efforts to expand the AIDS definition so that women and people of color could obtain Social Security benefits that they were being denied."
Nevertheless, critics of the survey likened it to the infamous Tuskegee experiments in which 400 African-American men with syphilis were observed for four decades, but not treated even after penicillin was discovered to be effective against the disease. Proponents of mandatory newborn HIV testing called for "unblinding" the survey. At first glance, that position could seem like the ethical response: Women would be informed that their infants would be tested for HIV, and they would receive the results of the tests. But "unblinding" the survey meant that women's babies, and thus the women themselves, would be tested without their consent -- a mandatory HIV testing program. In response to the media furor, in 1995 the CDC suspended funding for the survey.
"That type of rhetoric [comparing the survey to Tuskegee] for our community is dangerous," says Anita Parker, M.S.W., an African-American social worker with the Minority Task Force on AIDS who has been working with HIV-positive women and children since 1983. "Every mother has a right to be counseled and told if she or her baby will be tested, and she must give consent. The blind testing didn't do this." But as Ms. Parker notes, "unblinding" the survey -- in other words, implementing mandatory HIV testing of women and newborns -- does not resolve the ethical issues raised by the blinded survey. "For so long, my people have been told what we had to do and what will be done to us, especially women. We have a right to know, to be educated, and make choices for what's best for our babies."
In an extremely effective media campaign, proponents of mandatory newborn HIV testing represented their opponents as more interested in privacy rights than the lives of babies.
"When I first introduced the Baby AIDS Bill in 1993, I quickly learned that gay and AIDS activists, feminists, and civil liberties groups were determined that privacy and secrecy remain the cornerstone of public health policy in dealing with AIDS," wrote Ms. Mayersohn in a letter distributed to her legislative colleagues. In a recent interview with the Saturday Evening Post, she said, "AIDS activists and civil rights groups presented the most incredible arguments against changing the law to allow mothers to know the test results. For example, if the baby tested positive, it meant the mother had AIDS, and giving her the information was a violation of confidentiality and her right 'not to know' about her condition."
Mayersohn herself has bragged about her efforts to implement mandatory HIV testing programs in other states: "I am now working with legislators in other parts of the country who are showing a very real interest in enacting similar legislation in their states." She has termed implementation of mandatory newborn HIV testing in New York as the "breakthrough" for other legislation that seems to offer quick fixes -- partner notification, names reporting, mandatory testing of people accused of rape.
"Mandatory newborn HIV testing is a hard issue," acknowledges Elcock. "People weren't jumping up and down. Large groups weren't screaming. This was not on the agenda -- was not on anybody's lips, because a lot of people were not hooking back to the larger issues, to counseling, voluntary testing, prevention, all the ways we know reduce transmission."
But, as McGovern notes, something else was also involved:
"A lot of advocates perceived this issue as not worth fighting for. It involved women, who throughout the epidemic have been ignored. This was not just unjust but also, as we see now, shortsighted."
Looking Ahead
Rosa, who has become a full-time health educator at a community-based organization, has made advocating for HIV-positive women her primary concern.
"I'm lucky -- I got connected really fast. What would have happened if I had not met powerful women advocates living with the virus, the ones who came before me? In the beginning, I thought I was the only one, but I reached out to other HIV-positive women. We will advocate every day for our lives the rest of our lives."

Chris Cynn is Coordinator of the Reproductive Rights Program at the HIV Law Project.
Illustration by Audrey Frank Anastasi
Back to the January 1999 Issue of Body Positive Magazine