Testing Pregnant Women | Orphan Support | TAG Looks Ahead
Body Positive Head Named NYAC Chair
The Institute of Medicine has recently recommended that voluntary HIV testing, coupled with post-test counseling, access to treatment, and improvement in the doctor-patient dialogue, become part of routine prenatal care.
Under the IOM plan, HIV tests would join those for hepatitis B, sphyilis, and tuberculosis as part of the standardized prenatal series, enabling HIV-positive pregnant women to begin treatment, such as AZT, to reduce the risk of perinatal infection. The IOM also recommended that current counseling requirements, cited as a major factor in scaring women away from testing, be scaled back, and urged employers to insist that the tests be covered by insurance.
David Zingale of AIDS Action, while basically endorsing the plan, pointed out that it requires that a pregnant woman be tested automatically unless she opts out in writing, and expressed concern that some physicians may fail to mention this option. "Universal voluntary testing must be implemented thoughtfully and with the intent of protecting the health of pregnant women, not tricking them into HIV tests," he said.
On World AIDS Day, December 1, 1998, President Clinton announced a new effort to help children orphaned by AIDS around the world. The initiative would provide $10 million for emergency international relief aid, more funding for vaccine research, and a special mission to Africa by AIDS Czar Sandy Thurman to investigate the need for additional relief efforts.
Advertisement
As 1998 drew to a close, members of the Treatment Action Group met to discuss the state of the AIDS epidemic and identify some of the key issues facing AIDS activists in 1999.
TAG Executive Director Odell Mays II warned that, "We have new weapons with which to fight AIDS, but we are only just beginning to fight the disease. We still have an enormous amount of work to do. Ninety percent of HIV-infected people worldwide have no access to these drugs. Worldwide, the HIV epidemic continues to grow. Even for people who can afford treatment, effective regimens are difficult to take and can have important side effects."
TAG also discussed priorities for AIDS activists in the coming year, including simpler treatment regimens, effective salvage regimens, and improving AIDS research programs.
Scott Cotenoff, Executive Director of Body Positive, Inc., has been selected as the new Chair of the Board of Directors of the New York AIDS Coalition, a statewide organization of community-based service providers united in the fight against AIDS. Cotenoff takes office in January 1999 for a term of one year.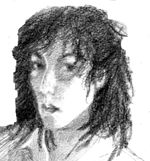 The drawings on the cover and throughout this month's Body Positive are the work of Audrey Frank Anastasi. Ms. Anastasi, a fine artist who has shown extensively, has a studio in Brooklyn.
Back to the January 1999 Issue of Body Positive Magazine.