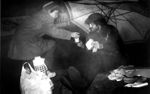 You can always tell when it's holiday time in New York City. People busy themselves with shopping. Hanukkah and Kwanzaa candles are lit. Christmas decorations are hung. Anxiety levels rise just a bit as we worry about getting exactly the perfect gifts for those we love. And New York City begins sweeping homeless people off the street.
Cleaning Up the Streets
Advertisement
As much as shopping, anxiety, and candle lighting, aggressive tactics against people who are homeless have become a municipal holiday ritual. As this issue of
Body Positive
is being prepared for press, halls are being decked and streets and stores prettied up with seasonal decorations. The Giuliani administration's contribution to all this beautification is to drive the homeless -- who are, after all, a visible reminder of our failures -- out of sight.
Rather than developing sane policies that address core issues of poverty and need, the mayor has once again unveiled yet another brutal policy during the time when most of us think about peace and joy. Step one is to intimidate and threaten homeless families: Parents, you'd better work, or we'll throw you out of the shelter and onto the street and we'll take your kids away and put them in foster care! Once out on the street, though, they are faced with the second phase of this year's homelessness lunacy: You'd better go into a shelter or we'll arrest you!
Now, the sense in this circular and contradictory policy may be clear to the mayor, but I for one don't see it. Homelessness has been a recurring problem for as long as most people can remember, from the Hoovervilles of the 'thirties to the denial of needed services to the deinstitutionalized mentally ill in the 'seventies. Over the last two years, the number of people unable to afford stable housing has ballooned as a result of welfare "reform."
So, we have an increase in the number of people and families who need shelter. We also have in Rudolph Giuliani a mayor seemingly unable to understand the need for comprehensive policies that attack the root causes of poverty. And we have a former United States Attorney who has brought his prosecutorial mentality with him to City Hall. Small wonder that the first tactic seen as viable is arrest. Throw in a percolating campaign for the U.S. Senate, and the incentive to "clean up the streets" intensifies.
Homelessness and AIDS
About now, you may be asking what this has to do with Body Positive and people living with HIV and AIDS. It has a lot to do with us, all of us.
Throughout the HIV epidemic, people living with the virus, activists, and service providers have made a compelling case for community-wide involvement in dealing with HIV. Eloquent, impassioned presentations about the need to care for and about both those we love and those we don't know has helped to rally people who might not otherwise have thought HIV affected their lives.
We must do the same with homelessness. How many times do we need to hear about the man or woman who had a decent job but lost it, then couldn't pay the rent, and ultimately had nowhere to turn but the street, before we realize our own vulnerability? How often must we read about the families who are only two or three paychecks away from being homeless before we see ourselves in the face of the person living in a cardboard box? How many politicians must we listen to bemoaning how mental hospitals "opened their doors" before we remember that our promise to those people was that they would be able to receive the services they needed in their own communities? How many times must we be reminded about those tens of thousands of patients released into communities not equipped to deal with their mental illness before we stop blaming homelessness on the person talking to someone who isn't there as we pass on our way to the subway each morning? And how many horror stories of people living with HIV, immune systems suppressed, exposed to unhealthy and unsafe conditions in city shelters, can we turn a deaf ear to before we demand that we do better?
Society's Contract
Homelessness, like HIV, is about us. As members of this society, we have all made a contract with each other (sorry, I am a lawyer after all). We have individual obligations under this contract just as surely as we are entitled to benefit from it. If we do not uphold these obligations, particularly with regard to the most vulnerable members of our communities, the contract (and society as we know it) fails.
And make no mistake about it -- whether we are talking about HIV, or violence, or any of a thousand other things -- people without stable housing are among the most vulnerable members of our communities. A recent study conducted by the federal Census Bureau found that most homeless individuals are deeply impoverished, and that two-thirds of them suffer from chronic or infectious diseases, excluding HIV and AIDS. More than half of them lack health insurance, and nearly forty percent exhibit some signs of mental illness. What's more, when provided needed support -- housing subsidies, healthcare, substance-abuse treatment, education and job training -- sixty percent of homeless individuals and 76 percent of homeless people living within families found permanent housing.
Think about this. If you can tune in to one of the mayor's call-in radio shows -- call in! The shows air every Friday from 11:00 to 11:45 a.m. on WABC (770 AM), (800) 848-WABC (9220), and the first Thursday of every month from 7:00 to 8:00 p.m. on WCBS (779 AM), (800) 268-8227. Let him know that, at its core, this is a city of compassionate people committed to the social contract. Let him know that all of us, regardless of social status, ethnicity, gender, race, HIV status, or level of physical and emotional ability, have the right to take advantage of all that this city has to offer. Let him know that what we need in this city are more services and better support for those services, not more aggressive police actions. Finally, let him know that his job is to lead, not to try to remove from sight the thousands of people who remind us each day about failed policies.
It is the responsibility of all of us to be active participants in our society.
Scott Cotenoff is Executive Director of Body Positive, Inc.
Editor's note: As Body Positive goes to press, the Mayor's work-for-shelter plan has been put on hold. On December 8, citing concerns about its impact on children, two state judges ordered implementation of the plan delayed. The decision is the latest in a string of judicial setbacks dealt some of Giuliani's more audacious schemes.
Back to the January/February 2000 Issue of Body Positive Magazine