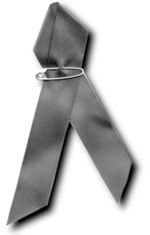 James is a waiter in a pub in New York City's theatre district.His dress is typical of that worn by the staff in many of the casual restaurants in the area: black pants, white cotton shirt, pocketed apron at the waist. In the collar of his shirt James wears a red ribbon -- one of the small metal enameled ones. He's been wearing it since 1992.
James, to some people, is hopelessly out of date.
On a recent evening, a young woman from California and her mother were seated at one of James's tables. As he served their water, brought their menus, and prepared to take their drink and food orders, James chatted with the women, answering their questions about the restaurant's menu and the shows they might like to catch on Broadway.
Advertisement
Then the younger woman noticed the pin in James's lapel. "Is that one of those AIDS red ribbons?" she asked. When James said that it was, the woman seemed puzzled. "I didn't think those were still in fashion," she said.

The red AIDS ribbon certainly did not start out as a fashion accessory. I remember once, in the early 'nineties, a counter woman in a bakery asking me why I was wearing one. When I told her it stood for AIDS awareness, as an expression of support for those living with the virus and in memory of those who had died, she started yelling and refused to serve me, because "I don't want no AIDS!"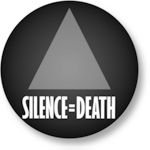 The Birth of a Symbol
The red ribbon as a symbol of AIDS awareness was conceived in the spring of 1991 at the Visual AIDS Artists Caucus. Painter Frank Moore lived in upstate New York, where a neighboring family were displaying yellow ribbons in support of their soldier-daughter's safe return from the Persian Gulf. "It convinced me that it could be a metaphor for AIDS as well," he said. "It just seemed there were a lot more people ready to support action against AIDS than were publicly identified." (Ribbon symbols didn't start with the Gulf War, either. I remember green inverted-V ribbons being worn as symbols of concern about the Atlanta child murders twenty years ago.)
The idea was adopted by Visual AIDS, which, as an organization made up of artists and art professionals, quite naturally promoted the use of visible symbols of the fight against AIDS. It started simply enough. From an early Visual AIDS handout: "Cut red ribbon 6" in length, then fold at the top into an inverted 'V' shape. Use a safety pin to attach to clothing."
The Ribbon Project was officially launched at the 45th Annual Tony Awards ceremony on June 2 of that year. All of the nominees and presenters were encouraged -- with a good bit of success -- to wear the ribbons. According to the Visual AIDS press release announcing The Ribbon Project, "The red ribbon (an inverted 'V' without a bow) will act as a symbol of our sympathy, support and hope for a day without AIDS. All involved with this project hope that by December 1st, World AIDS Day, these ribbons will be worn across the world."
And it caught on bigtime. Even though AIDS-phobia was at its height, red ribbons began sprouting from lapels, hat brims, purse flaps -- anything that could take a safety pin. Over the next few years, the ribbons became part of the dress code for the glitterati at not only the Tonys but the Oscars and the Emmys too.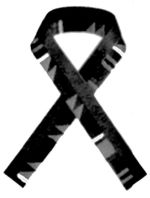 From Acceptance to Cliché
Then came the non-ribbon ribbons. The small enameled metal pins, like the ones James wears, didn't get dirty and didn't unravel and leave red threads on people's clothes. Pictures of red ribbons appeared on T-shirts. Ribbons were embroidered on baseball caps, windbreakers, backpacks, and all manner of other casual clothing. Red-ribbon pins got bigger and fancier, becoming less symbol than jewelry. Some were set with garnets and other red stones; even a pin covered with rubies was advertised.
The ribbon's progeny moved off of clothing and onto practically everything else. China candy dishes. Christmas tree ornaments. Briefly (until a rate increase made it obsolete) a first-class postage stamp. Champion figure skater Rudy Galindo, who had lost a brother and two coaches to AIDS, performed a program in which he was dressed as a red ribbon.
With saturation came backlash. Many in the HIV/AIDS community found little of substance in this sea of symbolic concern. The perception was that people were wearing AIDS ribbons instead of working for a cure, a vaccine, and vital services. The charge was hypocrisy.
And not without some justification. Even as AIDS became, briefly, the charitable flavor of the month, ribbons on lapels didn't always translate into money in the banks of AIDS organizations, or the kind of real political action needed to budge the pols and the healthcare establishment off the status quo.
Visual AIDS had decided at the beginning not to trademark its red ribbon because, as Frank Moore said, "We didn't want to discourage people from using it." The down side of that is that among those "using it" were commercial enterprises cashing in on the latest fad. If you bought a ribbon product at, for example, Under One Roof, the San Francisco not-for-profit gift store for AIDS charities, you could be pretty sure that your purchase did more than make a visual statement to those who happened to pass you on the street. If you bought it at a big department store, though, it probably didn't. And if you bought it from a guy with a card table on the street, you could be underwriting child labor half a world away.
And then there are the aesthetic considerations. In conjunction with World AIDS Day 1997, Visual AIDS, originator of The Ribbon Project, published a booklet called Art. AIDS. Action. It contains an interview with essayist and critic Daniel Harris about what he calls "The Kitschification of AIDS." Harris describes a walk through "the epidemic's strip mall" in the Castro, past a ribbon-festooned Christmas tree, ribbon-wearing teddy bears, miracle-touting objets, and even "a line of AIDS-specific sympathy cards sporting inconsolable naked men sobbing on tombstone angels."
Harris, who is also the author of The Rise and Fall of Gay Culture (Hyperion, 1997), attributes the proliferation of this "AIDS product" to harsh political realities. "My thesis is this," he says. "In the early days of the epidemic, the Reagan and Bush administrations refused to allocate the money necessary to cover basic costs of research and treatment, with the result that movie stars, and not government officials, became the epidemic's statesmen, its panhandlers, the ones who were forced to seek alternative sources of funding out in the open market, in charity balls, rock concerts, and fashion benefits. Because of insufficient federal funds, activists were forced to turn the disease into a commodity and sell it to the public like any snack food. They compensated for lack of government support with private support, with charitable contributions, which they extorted from the public by arousing pity for the victims, by packaging the epidemic in sentimental clichés that reduced potential donors to a state of maximum susceptibility. The more money that was needed for the disease, the kitschier it became. Had the Republican administrations of the 1980s been more responsible, the epidemic would not have spawned nearly as many sentimental images which activists designed expressly to overcome consumer resistance and prime the pumps of private contributions. So I see kitsch in crudely economic terms, as a practical response to federal irresponsibility, which provoked a massive PR blitz as tacky as any advertising campaign for a new shampoo or a dish detergent."
And so, for whatever reason or combination of reasons, the red AIDS ribbon is less ubiquitous than in years past. To some, it remains a symbol of continued commitment, even in the face of AIDS apathy. To others, it has itself become a symbol of the fickleness of the self-proclaimed philanthropist. To yet others, it is just yesterday's accessory.
The Other Symbols
The ribbon, of course, is not the only symbol that was taken to the hearts of many in the HIV/AIDS community, and it is not the only one to generate controversy or the only one to outlive its own popularity.
Two of the most important early expressions of solidarity with people with AIDS were also initiated by The Ribbon Project's parent, Visual AIDS. Day Without Art and Night Without Light, both observed on World AIDS Day, December 1, began in 1988 in recognition of the devastating impact the epidemic was having on the art and theatre communities.
During its first few years, Day Without Art was symbolically just that. Art museums, galleries, and municipalities with public art displays across the country removed paintings and sculptures from public view or covered them with black drapes, as a demonstration that the loss of an artist is a universal loss. Day Without Art has metamorphosed in recent years into a Day With Art. Visual AIDS, as part of its program of support for HIV-infected artists, arranges countless exhibits of their work in venues large and small, and supplies information to assist art groups around the world commemorate World AIDS Day.
Night Without Light was conceived as a similar demonstration involving the theatrical world. In the Broadway theatre district -- the "Great White Way" of song and legend -- theatre marquees went dark for fifteen minutes on World AIDS Day, commemorating the loss of so many in the theatre world. Other city landmarks, including the Empire State Building, joined in the observance, transforming the Manhattan skyline into a visual reminder of the impact of AIDS.
By 1999, enthusiasm apparently had diminished. The Broadway lights were turned off, but only for one minute, and the gesture went almost unnoticed by the press.
Night Without Light did live on, however, albeit only after AIDS activists succeeded in making some noise. As the December spending season approached, plans were being made for record-breaking hoopla surrounding the lighting of the Rockefeller Center Christmas tree. The people who decide these things scheduled the gala ceremony for December 1, apparently unaware or unconcerned that this was World AIDS Day. When the Christmas tree (the biggest ever!) was being delivered and set up before being decorated, a group of AIDS activists invaded Rockefeller Center and mounted a vocal protest against the insensitivity of throwing a big, nationally telecast, party on such a solemn day. The result was that Rockefeller Center officials capitulated in part, and, after the huge tree was lit, its lights were turned off for one minute in symbolic recognition of World AIDS Day. Ana Olivera, the newly minted Executive Director of Gay Men's Health Crisis, was allowed to deliver a World AIDS Day message -- still on that national telecast! -- before the microphone was turned back over to the carol singers and holiday cheerleaders.
The NAMES Project Quilt, probably the most familiar of the organized symbols, has also generated its share of controversy. With panels designed and sewn by the loved ones of people who have died from AIDS, the entire quilt made its final public appearance on the Washington Mall in the summer of 1996. It's grown too big to be displayed in its entirety anymore.
But not everyone loves the quilt. My friend Fred, for instance, hated it. I only found this out on the day in 1992 when a few of us were sitting at Fred's bedside waiting for the mortuary attendants to come and take away his body. Someone asked about making a quilt square in his memory, and his priest told us how Fred had felt about the quilt: "We've created this portable graveyard as a place to put all our grief and all our anger about this disease," he quoted Fred as saying. "But we're entitled to that grief and that anger, and we need to do something with it to help bring this thing to an end."
Daniel Harris also objects to the quilt: "Placing the epidemic within the context of this mythically pure colonial history is part of the way we sanitize the victims of AIDS," he says, "enshrining them within this cluttered museum of tacky folklore so resonant with wholesome patriotic feelings and nostalgia for a simpler agrarian America." He admits that he may be judging people's grief, but adds, "I can only say that I personally don't want consumerism and all of that 'homemade' and 'old-fashioned' crap at my graveside."
But those are, by far, minority views. To most people who have seen the quilt, even if they do not have loved ones memorialized in one of its panels, the experience is one of the most intensely moving of their lives.
And who isn't familiar with the pink triangle and "Silence = Death" slogan of ACT UP? In keeping with its in-your-face attitude, ACT UP borrowed the inverted pink triangle that gays had been forced to wear in Nazi Germany and literally turned it upside down. It symbolizes both the disproportionate toll of AIDS in the gay community and that community's refusal to lie down and die.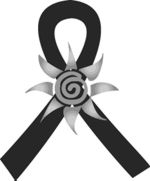 Next Symbol, Please?
So where does that leave us? Symbols continue to be created, some of them growing out of those that already exist. The Hispanic AIDS Forum, for example, through its Dialogue for Life Project, is "Latinizing" the AIDS epidemic through the use of a modified version of the red ribbon. This new, specialized symbol places a bright yellow sun -- a strong symbol for life in Latin culture -- in the middle of the ribbon. The symbol is accompanied by a legend showing an equation: a picture of the ribbon + a picture of the sun = Lucha Latina Contra el SIDA -- Latin Fight Against AIDS.
Similar efforts are taking place in Africa and in the African-American community, where the ribbon is being modified through the use of traditional colors. The Rollins School of Public Health at Emory University, working with leaders of the black faith community, has created an electronic stained-glass window featuring the red ribbon. It can be seen on the Internet at www.sph.emory.edu/bshe/imhr and is being offered to black churches for use on their AIDS-related materials.
I still have a red ribbon tied to the zipper pull of my purse. Like James, I guess I may be judged passé. But I do see some value in symbols, as long as we recognize them as symbols, not as substitutes for action and not as transient fashion accessories.
Laura Engle is Editor of Body Positive.
Back to the January/February 2000 Issue of Body Positive Magazine