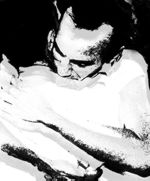 In the beginning there was nothing -- no services, no money, no knowledge, no education, no social support, no recognition by the medical and political establishments.
But there were a lot of questions: What is it? Where did it come from? How do you get it? Who will it get next, and what will it do to them?
And there was one terrifying certainty: It's a killer, and it kills in some of the most horrifying ways imaginable -- wasting, choking, crippling, bleeding, dementia, disfigurement, before, finally, death.
Advertisement
The Need
One of the hallmarks of those early days of the epidemic was a dearth of understanding or compassion, certainly on an official level. If you look at the literature from that time, you'll see how often people with AIDS and those who loved and cared for them referred to "living on the moon." All around them, "normal life" was going on as usual, while they went through their own private, unacknowledged, surreal hells.
Of course, part of the reason for this apathy -- even hostility -- was that AIDS was perceived as a gay disease. AIDS in the United States struck first among gay men, and political leaders and the healthcare establishment were slow to act. And so, in the beginning there was nothing . . . except for what a handful of gay men were able to carve out in response to their unfolding awareness of the health crisis in the midst of their community.
In 1981, New York's Gay Men's Health Crisis became the nation's first volunteer-based AIDS service organization. By now, its founding is legendary: six gay, white, middle-class men -- friends, unlikely activists -- coming together in the living room of Larry Kramer's apartment to try to figure out what was happening and what they should do about it. All of them were terrified about a mysterious illness striking gay men that they were all clearly at risk for. Their friends and lovers were getting sick and dying at an alarming rate. And nobody was doing anything.
The Early Days
The Hotline and the Buddy Program were the fledgling GMHC's earliest services and are still among its best-known. Volunteers would show up at the agency's basement office. When a call came in requesting help, someone would be dispatched to provide it. Nobody planned the Buddy Program. Buddies evolved organically out of a need. They helped sick people with the tasks of daily living -- shopping, cleaning, cooking, laundry, getting to the doctor or other appointments, whatever might need to be done.
Sterling Zinsmeyer became one of those volunteers in the summer of 1983, before anyone was even using the term "buddy." He remembers his very first assignment. He'd been given the task of delivering an envelope to a man named Bruce. When Bruce answered the door, Sterling was so frightened and taken aback, he shoved the envelope at him and took off. You see, Bruce's face was disfigured by huge purple KS lesions, and he had KS over 70% of his body. Sterling had never seen anything like that before.
But Sterling didn't forget Bruce, and the next time Bruce requested help Sterling went again. This time he was prepared, and he continued to work with Bruce throughout the next six months -- the last of Bruce's life. Bruce was one of Sterling's longer-term clients. During that same period, he served as a buddy to three other clients, each of whom died within the space of one month. This was not unusual.
There's no doubt that friends, neighbors, and coworkers were already acting as carepartners to people they knew. But volunteer strangers stepping in and helping out because they saw the need -- that was a new twist, beyond anything that could be expected. Their importance cannot be exaggerated. There was so much prejudice involved with having AIDS, so much shunning of people with AIDS, so much fear and hysteria, that many times people with AIDS had nowhere to turn for help with the simplest and most necessary tasks.
Sterling remembers going on shopping trips with Bruce and the whole grocery store emptying out. Once he had to go to a city office to process some of Bruce's paperwork. The woman who took the paper screamed when she saw AIDS printed on it and threw it down; she did not want to touch something that had been handled by a PWA. Bruce Beckwith, a long-time buddy and staff member at GMHC, remembers one of his clients being forced out of the an ambulette at knifepoint by the driver when he discovered his passenger had AIDS.
Those stories are not unusual from those days. Reports of people being fired from jobs, denied proper medical care, evicted from apartments, shut out by friends and family were routine. There was such public stigma and shame around homosexuality and AIDS during that Ron-and-Nancy era that PWAs were freely discriminated against. The message to John Q. Public was that there was a killer epidemic out there, and that perverts and junkies were disease carriers who posed a threat to middle America.
Becoming a Program
The earliest buddies "did everything from soup to nuts," says Sterling, "from the beginning to the end, right to the funeral." Anybody who wanted to could be a buddy, and most buddies did whatever was requested of them, whenever it was needed. Besides the laundry and the shopping, they provided information about AIDS, fought with social service providers, advocated for better treatment on behalf of their clients, and even called funeral homes and family members in the end.
Sometimes the service needed was just being there. Especially in those early days of widespread stigma and discrimination, PWA s were likely to be socially isolated. Buddies were able to supply the emotional support and human contact so many people were denied. Some buddies became so much a part of their clients' lives that they maintained contact with families, friends, and lovers even after their clients had died. Sterling, for example, is still in touch with both Bruce's sister and his lover, more than fifteen years after Bruce's death.
As volunteer numbers increased and GMHC began hiring more staff, formal structures were set up to train, supervise, and support buddies. By 1985, several hundred volunteers had stepped forward to help PWAs who needed what buddies provided. New recruits learned about opportunistic infections, safer sex techniques, and the ins and outs of the healthcare and welfare systems.
Sterling remembers Mitch Cutler as being the man who was the guiding spirit of the Buddy Program at GMHC, and who implemented the team structure that is still used today. Each buddy is a member of a team consisting of six to twelve other buddies and a scribe. Teams are co-led by volunteer supervisors who are themselves veteran buddies. At the team's monthly meetings, volunteers report in about their clients, pick up new information, and offer each other advice and support. This enables a full-time staff of only two or three to run a program which utilizes hundreds of volunteers and serves hundreds of clients.
This pattern of volunteering and the development of buddy programs happened in similar ways in big cities across the country. Community organizations were founded by gay men to spread information and take care of the sick and dying in their neighborhoods. In some cases, gay and lesbian health centers already in existence, or other programs such as hospital visitor programs, were expanded to address the epidemic and take on the role that buddies were playing in New York. Some programs designed the systems they created based on the GMHC model. Buddy programs expanded rapidly because they were addressing a real need. At GMHC and other big AIDS service organizations in cities like Los Angeles, San Francisco, and Boston, hundreds of people were volunteering and serving clients.
Mitch Cutler died in the late 1980s, and his memorial service was packed to the rafters. Before he died, he had tape recorded a message for all the buddies, past and present, to be played at his service, saying farewell and thanking them for what they had done on behalf of people with AIDS.
Evolution
Who were the earliest buddies and why did they do it? In the beginning, and for several years after, most buddies resembled their clients. White, middle-class, gay men in their thirties and forties were the earliest hit by the epidemic and the first clients of GMHC, and most buddies were also drawn from that pool. This was in the days before HIV testing, so nobody knew who was infected and who was not, and these men feared for their own health and that of their loved ones.
Anybody could fall ill at any time, with no warning. People died quickly then, because prophylaxis to combat the various opportunistic infections had not yet been developed. Buddies identified with their clients, for the most part, and they became friends and confidants, comforting and listening to PWAs who had often been abandoned by the other people in their lives. Buddies saw themselves in their clients. And being buddies changed their lives.
Another big reason for volunteering as buddies has been the desire "to give back." Friends and family members of PWAs who had died and who had been served by the AIDS service organizations were spurred on to do something out of gratitude for what was done for their loved ones. Gay men who looked upon the agencies as being part of the gay community felt that they should do something for their own. In the early days, gay men and AIDS were practically synonymous. Doing somthing for AIDS was doing something for the gay community.
Buddy assignments in those days were made on the assumption that clients were not going to live long and that their buddies would be assigned to them until they died. Often this was true.
But things changed. AIDS invaded new communities. More and more, the poor, people of color, women, intravenous drug users and recovering users, and children and families were becoming the clients of the existing agencies. In the larger cities, new, smaller agencies were created to address the needs of the new constituencies. Sometimes these agencies started their own buddy programs, often with the technical assistance of the big agencies in their cities.
Volunteers have changed too. Although all of the large buddy programs still retain some volunteers from the very earliest days, volunteers have grown increasingly younger, with the average age now hovering between 22 and 25. These volunteers stay in the programs for a much shorter time than did their predecessors, and they include more heterosexuals, especially women.
The big volunteer corps, however, are still predominantly white, middle-class, and college educated, and all of the big AIDS service organizations have had to make special recruitment and outreach efforts to attract volunteers who more closely resemble their clients. The results have been mixed.
And treatment has changed. What was once assumed to be inevitable -- early death -- is no longer so certain. Prophylaxis and treatment were prolonging life even before the advent of protease inhibitors, but nothing has made as dramatic an impact on the epidemic as these drugs. Has AIDS become a chronic manageable illness? For some people, it seems that it has. People with HIV and AIDS are living much longer, with a much higher quality of life, than could have been expected just a few short years ago. They are thinking about and pursuing futures they thought had been denied them -- careers, education, relationships.
And there's funding. Along with this new class of drugs has come a public perception, sometimes fed by the media, that "AIDS is over." Fundraising has fallen drastically, and many organizations have been forced to make painful staff and service cuts.
What does this mean for buddy programs? There are many more services available to people with HIV disease now, replacing a large part of what buddies did in the beginning. Is there still a need for these programs?
Jim Williams of AIDS Project Los Angeles answers with an unqualified yes. "It's definitely not over," he says. "There's definitely a need." His agency has 186 buddy volunteers serving about 250 clients. Other big AIDS service organizations, including GMHC, although greatly reduced in volunteer numbers, still retain corps of volunteers numbering in the hundreds, serving roughly a similar number of clients.
What are they doing? Not everyone is doing well on protease inhibitors, and some people cannot tolerate them at all. There remain a significant number of people who still need concrete assistance with day-to-day things like shopping, cleaning, hospital visiting, and escorting, just like in the old days. Also many clients remain alone and isolated with their HIV infection, fearing others will find out, or having lost the people they used to know. Buddies provide an important connection for these people, helping them get out of the house and giving them a place to talk freely about their HIV. Buddies become part of their clients' support systems, offering encouragement to those going through complicated behavior changes like struggling with treatment regimens, implementing safer sex practices, and trying to get clean and sober. Even those doing well on the new drugs and contemplating positive change -- a return to work or to school, say -- can use a sympathetic buddy ear as they go through major life transition.
Buddy programs have changed with the times. Many have implemented a system of phone buddies and short-term assignments to complement the traditional one-on-one long-term assistance they've always provided. Many of the veteran buddies operate much as they did in the bad old days, but perhaps less intensely. Where once they were almost on call when their clients need them, they may now visit only once every week and a half or two weeks.
Short-term assignments are generally for concrete services, or for helping a client over a particularly rough period. For example, despite the medical advances, people with AIDS still wind up in the hospital fairly frequently. The difference is that, unlike the early days, they don't go there to die but to be treated for pneumonia, or neuropathy, or whatever. Their buddies are still important, to bring them their mail, to make sure they are getting the type of treatment to which they are entitled, to lift their spirits.
Looking Ahead
Clients of AIDS service organizations still ask for buddies. GMHC, for instance, has a waiting list that hovers around several dozen at any given time. Other agencies manage wait lists for buddies too, often for geographic reasons. Either there is no one available to work with the client where they are, or else the client presents some special need that is hard to fill and that needs the appropriate volunteer to step forward. Admittedly, this is one of the biggest frustrations for clients seeking help, but for most of those who are ultimately matched up the rewards are worth the wait.
Earlier this year, GMHC's Buddy Program asked its clients how they felt about the program and the buddies. Their responses illustrate the programs value: "The person assigned to me is truly excellent. He's a sweetheart, always available." "My buddy offered a lot of herself." "If it's possible to clone this buddy, do so." "The program has always been there for me." "I've gotten the best help I've ever had in my life" "Thank you for this service." "Never get rid of it."
What's become increasingly critical in the last few years is the demand for new recruits as older volunteers leave the program and the newer ones stay for shorter periods. There's a particular need for those who will travel to sometimes out-of-the-way or not-so-nice neighborhoods to work with clients and for emotionally mature people who can deal with complex and overlapping client issues. Some buddy programs, including those at GMHC and APLA, have started to use peers, clients of their agencies or other people who are HIV positive. These new buddies can fill a special request heard more and more often by clients in recent times -- to have somebody who can identify with their situation and who knows their way around the bureaucratic maze the newly diagnosed must navigate in order to get entitlements and services.
Client buddy needs can be harder to discern than ever because they cover such a wide spectrum, from the traditionally physically sick and needy who have always been served, to those who are relatively healthy physically but who need emotional support. And everything in between.
So, although the needs of many people with HIV have changed quite a bit over time, ironically, for others they remain very much as they used to be. The more things change, the more they stay the same, at least some of the time.
What hasn't changed are the essential ingredients of the buddy programs -- one human being lending a hand to another in need, both of them benefiting from the exchange. Some of the most unlikely pairs of strangers have come together to make beautiful music . . . and continue to do so.
Tom Weber has worked at GMHC for over ten years and is the newly appointed Coordinator of the agency's Buddy Program. He is a frequent contributor to Body Positive.
Back to the January/February 2000 Issue of Body Positive Magazine