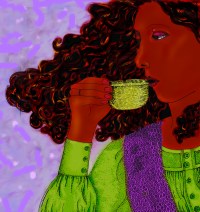 Illustration by Joanne Gale
HIV infection among U.S. women has increased significantly over the last decade, especially in communities of color. The US Centers for Disease Control and Prevention (CDC) estimates that, in the United States, between 120,000 and 160,000 adult and adolescent females are living with HIV infection, including those with AIDS.
Between 1992 and 1998, the number of persons living with AIDS increased in all groups, as a result of the 1993 expanded AIDS case definition and, more recently, improved survival among those who have benefited from the new combination drug therapies. During that 6-year period, a growing proportion of women were living with AIDS, reflecting the ongoing shift in populations affected by the epidemic. In 1992, women accounted for 14% of persons living with AIDS -- by 1998, the proportion had grown to 20%.
In just over a decade, the proportion of all AIDS cases reported among adult and adolescent women more than tripled, from 7% in 1985 to 23% in 1999. The epidemic has increased most dramatically among women of color. African American and Hispanic women together represent less than one-fourth of all U.S. women, yet they account for more than three-fourths (77%) of AIDS cases reported to date among women in our country. In 1999 alone, women of color represented an even higher proportion of cases.
Advertisement
While AIDS-related deaths among women were decreasing as of 1998, largely as a result of recent advances in HIV treatment, HIV/AIDS remains among the leading causes of death for U.S. women aged 25-44. And among African American women in this same age group, AIDS was the third leading case of death in 1998.
Heterosexual Contact With Drug Users
In 1999 most women (40%) reported with AIDS were infected through heterosexual exposure to HIV; injection drug use accounted for 27%. In addition to the direct risks associated with drug injection (sharing needles), drug use also is fueling the heterosexual spread of the epidemic. A large proportion of women infected heterosexually were infected through sex with an injection drug user. Reducing the toll of the epidemic among women will require efforts to combat substance abuse, in addition to reducing HIV risk behaviors.
Many HIV/AIDS cases among women in the United States are initially reported without risk information, suggesting that women may be unaware of their partners' risk factors or that health care providers are not documenting their risk. Historically, more than two-thirds of AIDS cases among women initially reported without identified risk were later reclassified as heterosexual transmission, and just over one-fourth were attributed to injection drug use.
Prevention Needs of Women
Pay attention to prevention for women.
The AIDS epidemic is far from over. Scientists believe that cases of HIV infection reported among 13- to 24-year-olds are indicative of overall trends in HIV incidence (the number of new infections in a given time period, usually a year) because this age group has more recently initiated high-risk behaviors -- and females made up nearly half (49%) of HIV cases in this age group reported from the 32 areas with confidential HIV reporting for adults and adolescents in 1999. Further, for all years combined, young African American and Hispanic women account for more than three-fourths of HIV infections reported among females between the ages of 13 and 24 in these areas.
Implement programs that have been proven effective. These programs can change risky behaviors among women and sustain those changes over time, maintaining a focus on both the uninfected and infected populations of women.
Increase emphasis on prevention and treatment services for young women and women of color. Knowledge about preventive behaviors and awareness of the need to practice them is critical for each and every generation of young women -- prevention programs should be comprehensive and should include participation by parents as well as the educational system. Community-based programs must reach out-of-school youth in such settings as youth detention centers and shelters for runaways.
Address the intersection of drug use and sexual HIV transmission. Women are at risk of acquiring HIV sexually from a partner who injects drugs and from sharing needles themselves. Additionally, women who use noninjection drugs (e.g., "crack" cocaine, methamphetamines) are at greater risk of acquiring HIV sexually, especially if they trade sex for drugs or money.
Develop and widely disseminate effective female-controlled prevention methods. More options are urgently needed for women who are unwilling or unable to negotiate condom use with a male partner. CDC is collaborating with scientists around the world to evaluate the prevention effectiveness of the female condom and to research and develop topical microbicides that can kill HIV and the pathogens that cause STDs.
Better integrate prevention and treatment services for women across the board. These should include the prevention and treatment of other STDs and substance abuse and access to antiretroviral therapy.
Women Who Have Sex With Women (WSW)
Female-to-female transmission of HIV appears to be a rare occurrence. However, case reports of female-to-female transmission of HIV and the well documented risk of female-to-male transmission of HIV indicate that vaginal secretions and menstrual blood are potentially infectious and that mucous membrane (e.g., oral, vaginal) exposure to these secretions have the potential to lead to HIV infection.
What do surveillance tools tell us about transmission between women?
Through December 1998, 109,311 women were reported with AIDS. Of these, 2,220 were reported to have had sex with women; however, the vast majority had other risks (such as injection drug use, sex with high-risk men, or receipt of blood or blood products). Of the 347 (out of 2,220) women who were reported to have had sex only with women, 98% also had another risk -- injection drug use in most cases.
Note: information on whether a woman had sex with women is missing in half of the 109,311 case reports, possibly because the physician did not elicit the information or the woman did not volunteer it.
What do investigations of female-to-female transmission show?
Women with AIDS whose only reported risk initially is sex with women are given high priority for follow-up investigation. As of December 1998, none of these investigations had confirmed female-to-female HIV transmission, either because other risks were subsequently identified or because, in a few cases, women declined to be interviewed. A separate study of more than 1 million female blood donors found no HIV-infected women whose only risk was sex with women. These findings suggest that female-to-female transmission of HIV is uncommon. However, they do not negate the possibility because it could be masked by other behaviors.
What Are the Behaviors That Place WSW at Risk of HIV Infection?
Surveys of risk behaviors have been conducted in groups of WSW. These surveys have generally been surveys of convenient samples of WSW that differ in sampling, location, and definition of WSW. As a result, their findings are not generalizable to all populations of WSW. These surveys suggest that some groups of WSW have relatively high rates of high-risk behaviors, such as injection drug use and unprotected vaginal sex with gay/bisexual men and injection drug users.
What can WSW do to reduce their risk of contracting HIV?
Although female-to-female transmission of HIV apparently is rare, female sexual contact should be considered a possible means of transmission among WSW. These women need to know:
that exposure of a mucous membrane, such as the mouth, (especially nonintact tissue) to vaginal secretions and menstrual blood is potentially infectious, particularly during early and late-stage HIV infection when the amount of virus in the blood is expected to be highest.
that condoms should be used consistently and correctly each and every time for sexual contact with men or when using sex toys. Sex toys should not be shared. No barrier methods for use during oral sex have been evaluated as effective or approved by the FDA. However, women can use dental dams, cut-open condoms, or plastic wrap to help protect themselves from contact with body fluids during oral sex.
their own and their partner's HIV status. This knowledge can help uninfected women begin and maintain behavioral changes that reduce their risk of becoming infected. For women who are found to be infected, it can assist in getting early treatment and avoiding infecting others.
Health professionals also need to remember:
that sexual identity does not necessarily predict behavior, and that women who identify as lesbian may be at risk for HIV through unprotected sex with men.
that prevention interventions targeting WSW must address behaviors that put WSW at risk for HIV infection, including injection drug use and unprotected vaginal-penile intercourse.