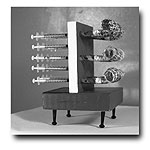 "I'm sorry. At this point the rooms we have are $400 a night," read the fax from the Official Accommodations Office for the 12th International AIDS Conference in Geneva two years ago. In a month, I was leaving for one of the most expensive cities in the world, along with 15,000 other people. My application for housing had been lost, then found, but by then all the rooms were booked. I called several travel agents -- nothing. Beginning the slide into panic, I thought of the guidebooks I had gotten from the library. By calling direct, within twenty minutes I had a choice of three rooms, all at less than $60 a night, in downtown Geneva. "Thinking outside of the box" had saved me again.
---
I love going to conferences -- seeing friends, hearing about new approaches to AIDS education, treatment, and prevention. I also love to travel. It doesn't matter if it's an international flight or a bus trip to Jersey -- I've got wanderlust, bad. In the process of satisfying my two passions -- conferences and travel -- I've learned ways to make it more enjoyable and productive. With the International AIDS Conference in Durban and the U.S. Conference on AIDS just around the corner, Body Positive asked me for tips their readers could use.
Before Leaving Home
Get information. When I travel, I spend most of my travel dollar sightseeing and shopping. That means that I look for the cheaper hotels and try to figure out how to eat as inexpensively as possible. To sightsee and shop, I need to know what's there, how much it costs, and how to find it. Check out guidebooks before you leave home. Photocopy lists of cheap restaurants, the main sightseeing attractions, and where to shop. If I'm going to a country or city where I've never been, I also want to know the average weather at that time of year, what the public transit situation is, which areas are dangerous, and some useful phrases in the language. Once I've used the photocopies, I throw them away, freeing space in my luggage. I also bring along a map of the downtown area. If I know people who have been to the city, I call them up and ask for recommendations of what to do and not do.
Advertisement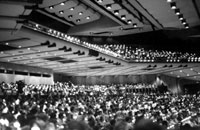 If I'm going to a foreign country, I make sure to change at least $100 before I leave, and I always ask for at least $5 in coins for telephone calls or vending machines at the airport. Figure out a rule of thumb for the exchange rate so you have a mental idea of how much things cost. For example, when I went to the Geneva conference, the Swiss Franc was worth a little more than half a dollar. So I remembered that one franc equaled 60¢, two Francs was $1.20, and so on. Do this while you are still at home, before you're jet lagged and hungry and trying to figure out if the taxi driver is ripping you off in strange money.
Get a plastic travel tube. There are often beautiful posters available (they make great gifts!), but without a tube, there is practically no way to get them home without wrecking them. Travel tubes can be bought at nautical supply houses or art supply stores. Roll the posters up, stick them in the tubes, and take them as carry-on luggage.
Traveling
My goal is always to arrive at the conference city the day before the conference starts, in daylight if possible. Ask if your hotel has a van that can pick you up at the airport, or if there is a bus or train to the hotel. Van services often give you a break if you buy a round-trip ticket to get you back to the airport for your flight home. Remember, many people from your conference will be heading home at the same time, so plan to give yourself extra time when you are leaving in case the vans are full and you have to wait for an empty one.
On your way through the airport or train station, stop at the tourist office and pick up a public transit map, a free map of the city, and any notices of special exhibits or shows. At international conferences, there is often an "AIDS cultural program" that is staged the same days as the conference, with dances, plays, concerts, and art exhibitions about HIV. If you don't speak the language, you still might enjoy the art, dance, and music.
Get the hotel staff to mark the hotel's location on the map, and ask about the nearest grocery and bakery (packing breakfast and lunch to the conference each day is a great way to save time and money). After unpacking, head to the conference site to register and pick up your conference packet.
Registration
Go as early as possible to register and get your conference information, preferably the day registration opens. Then sit down with a cup of coffee and a pen and start planning which sessions you want to attend. Some conferences, such as the one coming up in Durban, have started putting their schedules on their websites months early. This can save you valuable time as you plan out which sessions to attend.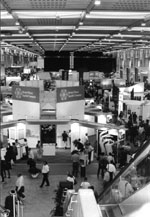 Prioritizing what you want to see and do is vital. "If you think you are going to see everything, get that thought right out of your head now," says John Hatchett, Director of the PWA Leadership Training Institute. "You have to prioritize, look at the program ahead of time, and figure out what you really want to do," says another PWA.
Most large conferences are organized in "tracks," which are divided by type of information (e.g., "Opportunistic Infections" or "Social Sciences") or populations ("prisoners" or "adolescents"). International conferences are generally broken into a) Basic Science -- which looks at the biochemistry and cellular information about HIV; b) Opportunistic Infections -- including diagnosis and treatment of clinical disease; c) Epidemiology -- examinations of how HIV patterns of infection vary by country, area, or means of infection; and d) Social Science -- the social impact of HIV (or as a friend of mine calls it, "everything else"). If you are not a medical professional, a treatment educator, or a PWA, you will probably find that most of your time is spent in the last two categories.
Don't feel you have to stick with one track. You can mix and match to your heart's content.
Plenaries/Workshops/Roundtables
Most conferences start each day with a large opening presentation for all the attendees called a "plenary," then divide the day up into three or four official conference workshops. At international AIDS conferences, the format of workshops is generally the same: a table at the front of the room with five to eight presenters, each of whom gets up in turn and presents slides and research for five to ten minutes. At the end of an hour or so, the facilitator will open the microphones and take questions or comments from the audience.
At national conferences workshops may feature panel presentations in the same format as outlined above, or they may be seminars given by single presenters. These latter generally provide more chances to ask questions and may also include small group exercises or audience skill-building opportunities. Another format is a "roundtable," in which four or five people with expertise in the same area discuss different aspects of a single topic -- "Treatment Adherence Programs in Prison," for example. Roundtables can also offer more opportunities for audience members to speak and ask questions.
Satellite Sessions
In addition to the officially sanctioned workshops, there are also "satellite sessions" located on-site or in hotels in the area. Information about these may be found in the official conference guide, in flyers from your conference packet, in handouts from the PWA lounge (see below), or at conference booths (see below). Satellite sessions have sponsors -- pharmaceutical companies, research institutes, not-for-profit groups such as the Harvard AIDS Institute, or government organizations such as the World Health Organization or UNAIDS. At these sessions you will hear about the sponsor's drugs or programs or both. Some of the presentations and presenters you will see in the regular sessions, but it is wise to remember that the sponsor isn't staging this event to present bad news about its products or work. On the other hand, satellite sessions can often offer an opportunity to ask more detailed questions or to get additional information about a drug or program. You can also get materials that may be helpful in your work -- videotapes, brochures, palm cards, etc. Do not use any of this material until you have reviewed it; while it is often useful, some of it is just advertising with a thin coating of information.
Satellite sessions often have free food, but don't try substituting it for a meal. Evening sessions are usually just cocktail nibblies, and your fellow attendees will be scarfing down the food as well. Delegates who are scholarship recipients receive a per diem allowance for living expenses; those from the developing world will often be stretching this as far as possible -- any money they save will be spent on medicine or food for loved ones at home.
Posters
At international conferences posters are displayed on a sea of bulletin boards on legs that stretch for room after room. Chosen researchers are given six feet of bulletin board to display their data, tables, etc., and posters are grouped by tracks (Basic Science, Opportunistic Infections, etc.). Every evening that day's posters come down and a new set goes up. Researchers stand next to their posters and answer questions. These are a terrific way of gaining information about topics that are less popular, or work done by younger researchers who don't have enough pull to rate a workshop presentation. You can request a copy of the research by leaving a business card at the poster.
PWA Lounge
All international and many national conferences have a special lounge for people who are HIV-positive. In addition to comfortable chairs and bottled water and food, some lounges also have nap rooms, checkrooms (great when you're carrying stuff), and sometimes even professional massage. In Geneva, the PWA lounge had a restaurant with terrific food and discounted prices. You will often also find PWA-specific information posted here, along with invitations to PWAs-only social events. This is also where researchers seeking participants for their studies post their solicitations.
Industry and Community Booths
Every conference will have booths for community-based organizations (known internationally as "Non-Governmental Organizations" or "NGOs") and industry booths -- primarily drug companies but also firms that sell blood tests, medical equipment, etc. Plan to visit these booths early in the conference. NGO booths might have interesting tools, handouts, or souvenirs, but they nearly always run out of material part-way through the conference. Booths with especially attractive materials may ration them at first, but become more generous as the conference is ending. The German agency AIDS Hilfe is famous for its sexy posters; on the next-to-last day of the conference, it puts all its posters out for anyone to take. Don't forget to look outside as well. In Geneva, the Danish Safe Sex Tour Bus was parked outside the conference, complete with a 15-foot inflated orange condom.
As you are acquiring materials, keep in mind that you have to get them home. Some people take an extra suitcase that is empty for just this purpose. Each night I sort material into the stuff I will need as soon as I get back (which travels with me) and material that I ship home via the mail (could take over a month). On the first day of the conference, locate the nearest post office; international conferences will have one at the conference site. Pack shipping tape and a marker from home, and snag two or three good boxes early. In the last days of the conference, when everyone wants a box to carry materials home, you'll have a hard time finding one.
Industry booths will offer pens, hats, bags, backpacks, videos, CD-ROMs, water bottles, even candy wrapped with the names of their drugs. Think about whether you will use whatever it is that is on offer -- a neon green backpack with the name of an AIDS drug on it? Will your kids use it?
General Advice and Good Counsel:
Get familiar with the conference site.
When Prince Charles began making royal visits, his father advised him never to turn down a chance to sit down or go to the bathroom. Find the bathrooms and the locations of the workshops you want to attend the first few days. Walk the entire site first thing, so you know how long it will take to get from Point A to Point B. If you have difficulty walking or are traveling in a wheelchair, scope out the options for cutting the distance between workshops. Escalators and elevators are often jammed, and sometimes go out of service. I find the ramps, back doors, and stairs. Popular presentations will be literally standing room only. If you think it might fill up, consider leaving a coat or bag on a chair to stake out a seat.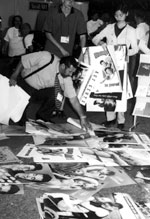 Anticipate crowds. AIDS conferences tend to be large (15,000-20,000 people). Keep this in mind always: Anything that you want to do, at least a hundred other people want to do too. Don't wait until the last minute before heading for the bus or trolley -- it might be too full for you to get on. There will be lines for everything. To handle this, think out of the box -- go early, go late, use the back door. For example, at lunch, all the cafes, sandwich bars, etc. will be mobbed, because everyone wants to eat at the same time and get to their afternoon session. Keep fruit, a loaf of bread, and cheese, salami, or a can of fish in your room. I always pack a sandwich for lunch. Most hotel restaurants fill up to capacity at 6:45 a.m., so I often pack breakfast too.
Eat, drink, and sleep. "Schedule downtime just like you schedule a workshop or a meeting -- and stick to it!" says John Hatchett. It will be tempting to cut back on sleep or try to schedule every moment, but without downtime, you'll find yourself dazed, glazed, and unable to concentrate. If you don't carefully plan meals, it is easy to miss one or find you are spending the meal break somewhere miles from any food.
Carry water. Some conference centers have no water fountains! Drinking bottled water is one less change for your body to get used to -- the food in a new location will be enough. International conferences and most national conferences have bottled water, but don't assume it will be there the first day, or that there will be any left later on. If there is a logistics problem, you could easily get dehydrated.
Money and banking. Watch the exchange rates -- they go up and down each day. Every time you change money there is a charge, so don't change $10 at a time. If the password for your ATM card is over four digits, talk to your bank about changing it; many overseas ATMs can't process a longer password. Traveler's checks (American Express or Cook's) may be a good choice. Wear a money belt under your clothes, and keep only a small amount of cash in your wallet. You may not be wealthy at home, but in some countries, your shoes, clothes, and glasses can be sold for a fortune.
Safety. Ask the hotel staff and local PWAs about areas you should avoid and about local laws. Don't assume that a lifetime in Harlem will clue you in to a dangerous neighborhood in a foreign city. People have been ripped off at every conference I've been to. Be on the watch for pickpockets; child pickpockets often work in groups of three or more, and they are very skilled. Laws about drug use or possession and having sex in public vary a great deal from city to city and country to country. It may be difficult to buy condoms, and the quality may be poor -- it's best to bring them from home.
Food. Learn about the eating habits of the country you're going to. At the Berlin Conference in 1993, some folks were stunned at how difficult it was to get vegetables, while smoked meats were everywhere. In Switzerland in 1998, cheese was king -- but those who couldn't digest dairy products had to plan carefully to get the proper nourishment.
Foods to avoid. Outside the United States, don't eat raw, unpeeled fruits or vegetables, raw or undercooked seafood or meat, unpasteurized milk or dairy products, or tap water or drinks or ice made with tap water. What's safe? Hot, cooked food, fruit you peel yourself, bottled drinks, beer, wine, and water that's been fully boiled for at least a minute.
Medications. Take the medications that you will need for the days that you will be gone, and perhaps a week's extra supply just in case. Take them in their original packaging from the pharmacy, and bring a letter from your doctor on his or her stationery listing your drugs, in case you run into problems with the authorities. Leave additional pills at home. Medications are worth a lot of money; you don't want to be mugged for your giant economy bottle of AZT. Need syringes to take your meds? Have your doctor list that in the same letter. Take all the syringes, medical supplies, etc. that you will need for the days you will be gone. Do not assume that you can take an American prescription to a foreign pharmacy or that they will stock all the supplies you may need.
If you will be crossing time zones, discuss meds with your doctor. Your doses may need to be altered for the days that you are flying, since your body's clock will be off.
---
Conferences offer terrific opportunities, but in some ways the most important thing is to have a great time! Happy traveling!

Karin Timour is a New York City-based AIDS consultant and a frequent contributor to Body Positive.
FOR MORE INFORMATION
The Centers for Disease Control has international travel information available by phone at (888) 232-3228 or www.cdc.gov/travel.
Get a new brochure entitled Preventing Infections During Travel: A Guide for People with HIV (brochure 9344) by calling the New York State Department of Health at (518) 474-9866 or (800) 541-2437.
Back to the
July 2000
Issue of
Body Positive
Magazine.