If anything good has come from my AIDS diagnosis, it has been my art. The lower the T-cell count, the higher the creative output of both poignant and ironic artistic expression. After a life-threatening diagnosis, you become painfully aware that life is not a dress rehearsal.
Before the protease, when I was slowly recovering from pneumonia, my constructions and paintings had a grimness that proved difficult to market. For example, "High Chair for Terrorist Baby" was a twelve-foot baby chair made of flammable matchsticks.
Now that my health has improved, my paintings are less about phantomesque anxieties and more about spiritual Zenlike realities. Painting is like meditation. The repetitive application of thousands of pieces of gold leaf to a surface is like breathing, chanting. The "zone," the "flow," is tangible.
It is an experience both enchanting and intense. Before, I asked to paint; now I have to paint. I am present when painting.
Advertisement
Preston McGovern first showed in galleries in the East Village in the late '80s. He will be showing from July 15 to August 15 at the Sara Nightingale Gallery, 688 Montauk Highway, Water Mill, NY 11975. His work can also be seen in the Visual AIDS 2000 calendar.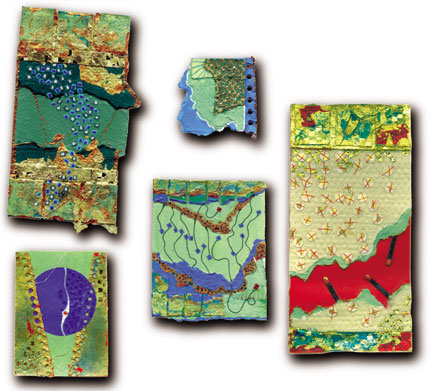 Back to the
July 2000
Issue of
Body Positive
Magazine.