But Eating Healthfully Can Be a Little Trickier . . .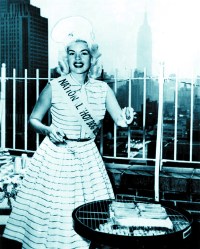 Jayne Mansfield, 1950 Ambassador for the National Hot Dog Retailers Association
Summer's here, and with it comes a change in eating habits. For me, barbecued food and ice cream become incorporated into my diet, things I don't normally consume during the rest of the year. But this summer I'll be modifying my intake.
Two years ago, I took a share in a beach house with four friends. We had a wonderful time, a large part of which consisted of preparing and eating meals together. Normally, I'm a careful eater: not too much red meat, very little butter, even less sweets. But that summer, I threw caution to the wind: I felt like pampering myself, and I didn't want to be the only one to object to having a steak on the grill. Subsequently, I ate barbecued meat at least twice a weekend; had ice cream every time my sweet-toothed roommates brought it out (which is to say after every meal); and lunched on sandwiches of cold cuts and cheeses. At the end of the season, my guard was down: I returned to my normal life in the city, but not to my normal eating habits. I had let go a bit.
Last summer, once again I was a house member with the same group. We ate with even more abandon and glee; luckily, my metabolism is good and I didn't gain weight. What I did gain, however, was an unhealthy dose of cholesterol. In October of 2000, my doctor did blood work that included cholesterol testing. My numbers came in high: 243 overall. A "safe" number, according to my doctor, is anything under 200, and he reminded me that on my prior testing, three years before, I'd been at a healthy 167. What to do?
Advertisement
Obviously, I had to make some revisions to the way I was eating. But there were so many things coming up that would interfere: a trip to Italy; my birthday; Thanksgiving, Christmas, New Year's. The list seemed endless. On the other hand, continued high cholesterol would lead to my going on medication. I'm the sort of person who'll take a fistful of
vitamins
three times a day, but who never wants to take medications unless there's absolutely no alternative. Thus, I had to watch my diet.
It wasn't all that bad. By making a few alterations, I've dropped my cholesterol to an acceptable 183 in about five months. And the cholesterol issue is particularly important for people living with HIV. Donna Tinnerello, a nutritionist and the chair-elect of the HIV/AIDS Dietetic Practice Group of the American Diabetic Association, says "Current medications, while keeping people alive, do raise cholesterol levels and can bring on diabetes. People living with HIV should eat like their lives depend on it. Before we had today's drugs, we advised HIV patients to eat everything; they often died of malnutrition. Today, the nutritional issues for people with HIV are about the same as for those who aren't infected."
What are some of the areas of concern, and how can you work with them this summer? Ms. Tinnerello advises a number of simple habits to keep your summer healthy.
"If you're eating hot dogs, never eat them raw. Boil, bake or broil them, but make sure they're thoroughly heated through. If you're using the microwave, keep them in for at least one minute. Needless to say, turkey or chicken hot dogs are preferable." All other meats should be cooked well-done. I asked her for a definition, and she advised that juices should run clear, not pink, and the meat should have a gray tint. Eggs, also must be well cooked. "Food-borne infections, such as salmonella and E. coli, can disrupt improvements in the immune system that are brought about by medications," she says. In effect, you don't want to take a step backward by getting one of these infections.
Also, she advises that cold foods must be eaten cold; and while freezing foods suspends bacterial activity, at room temperature those bacteria come alive. Salad bars harbor potential danger for two reasons: first, the lower parts of the food trays that are closer to the refrigerating elements stay cold, but the upper parts do not; also, people are constantly milling above the foods in a salad bar and the potential for contamination through sneezing or coughing is great. Another caution is street fairs. Foods there are often cooked haphazardly, or not maintained at the proper temperature level.
So what's good? "Pizza and bottled water or juice make a quick, healthy meal," says Ms. Tinnerello. So do fruits and salads, as long as the proper precautions are taken. Salad goods should be washed under a hard stream of water before being eaten. Using tap water for food preparation is less of a concern these days, due to improved medications, better immune systems and less susceptibility to bacteria and parasites in the environment. All fruits must be washed, including non-obvious ones such as watermelon or cantaloupe. Why? When you're slicing through a melon, the knife carries any bacteria that may be on the outside; therefore you can contaminate the edible part. Scrub the outside of the melon.
If you're grilling, fish and vegetables are preferable. Meat or chicken drip fat, and the charcoal spits it back up onto the food, with the addition of heterocyclic amines, which are carcinogenic.
Here are a few more tips that worked for me in getting (and keeping) my cholesterol levels down. Use oils that contain monosaturated fats, such as olive or canola oil. Stay away from fried foods. If you drink regular milk, start lowering the fat level by dropping first to two percent, then one, and ultimately if you can, to skim. Eat eggs in moderation; Ms. Tinnerello suggests three a week as a healthy proposition. Also, if you can eat hot cereal in the summer, have oatmeal. I incorporated a daily bowl into my diet when I began my cholesterol-watch, and I believe it helped tremendously.
How about picnics? They're great fun in the summer and, as long as some basic rules are followed, will pose no threat. Edwin Krales, coordinator of nutrition and outreach at Momentum AIDS Project, advises to "bring portable coolers, and only put out as much food as can be eaten immediately. Leave the rest in the cooler. If people are coming around for seconds, and the food has been sitting out for a bit, throw it away and take out a new supply from the cooler. This is most essential with protein foods; with green salads and vegetables it's less important, unless they're in a mayonnaise-based dressing." Not only is there the threat of bacterial infection if food is at the wrong temperature, there's the ordinary, air-exposure possibility of contamination.
Also at a picnic or a cook-out, there's the issue of cross-contamination of utensils and plates. The same utensil should be used on only one food substance, not a variety; and if raw meat or chicken is brought to the grill on a platter, that must be washed thoroughly before the cooked meat is returned to it.
Finally, there's take-out food. Mr. Krales advises, "don't pick up take-out too early, whether it's cooked or raw. Remember, cold food must stay cold and hot food hot. Buy it when you're ready to eat it."
There's a social issue involved when you're going to a picnic: how do you check about food preparation and handling with the agency or friends sponsoring a picnic? Mr. Krales suggests that you have a discussion before the event; call the agency or the host and ask about the food. If you don't feel comfortable with that, give Edwin Krales a call for some other ideas; he can be reached on 212-691-8100, extension 311. Other good sources of information are Harlem United and God's Love We Deliver.
According to Mr. Krales, "Every year there are food poisoning issues beginning in the spring; I had my first cases this year in April." Have a wonderful summer, enjoy your food, and do be careful. Nutrition and food safety are crucially important to people living with HIV; just a bit of care will help maintain your good health.
Ronald C. Russo is a freelance writer living in New York City and a frequent contributor to Body Positive.
Back to the
July 2001
Issue of
Body Positive
Magazine.