The 2001 Body Positive Annual Conference, "HIV Drug Resistance and New Treatments: A Practical Understanding," took place on March 14, 2001 at Fordham University's Lincoln Center campus. The morning session consisted of a panel of some of the top leaders in the field. Panel members were diiverse in their backgrounds and areas of expertise, spanning biological, clinical, and social aspects of HIV/AIDS. Audience members ranged from the newly infected to the more experienced practitioner. The morning panel session consisted of the five following parts: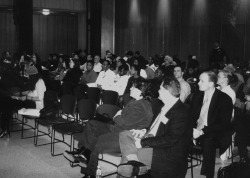 Morning session attendees
New Treatment Options
Antonio Urbina, M.D.
, an attending physician in the Comprehensive HIV Center at Saint Vincent's Catholic Medical Center, and an Assistant Professor of Medicine at New York Medical College, spoke about current treatment options as well as emerging ones. According to Urbina, treatment durability range spans from working as little as 8 months to as long as 6 years. All treatment options will probably eventually fail sooner or later. The drugs of Highly Active Anti-Retroviral Therapy (HAART) are not potent enough to combat multi-drug resistant HIV strains, some of which may be resistant to up to six of the currently available drugs. Resistance to one of the class of drugs can lead to a cross-resistance to other drugs in the same class. Resistance is one major issue in the decision to begin drug therapy. Others include side effects, method of treatment, and lifestyle changes.
The first hit is the best hit in drug therapy, according to Urbina. He has found that subsequent drug treatments are less likely to be as effective. There are many possible ways to address this situation. One may choose to delay therapy for as long as possible. Patients may not need to start treatment as early in the course of their HIV as was once believed. Delaying drug therapy in turn delays resistance. The question is, can the immune system wait?
There is a need for new drugs in all three of the major HAART classes: protease inhibitors, nucleoside analog reverse transcriptase inhibitors and non-nucleoside analog reverse transcriptase inhibitors. There is also a need for drugs that attack HIV at different places in the viral life cycle, such as the T-20 fusion inhibitors currently in trials.
Advertisement
Structured
treatment interruptions
, another option, may be effective in recently infected or currently seroconverting individuals. Data is mixed with regard to people with chronic infections, and points to the idea that structured interruptions are not an effective course of treatment for these individuals. Also, most people who take an structured interrruption see their CD4+ cell count decrease, which increases the chance of contracting
opportunistic infections
.
Immune-based Therapies, such as the REMUNE vaccine, have not been proven to be beneficial in trials so far. Interleukin T-cell growth factor increases killer cell activity. This treatment, taken either on a continuous basis or alternated with HAART, may raise T-cell counts as much as 50 percent. However, interleukin must be administered intravenously or subcutaneously, and comes with a great deal of side effects.
Urbina also commented that one to two percent of white males have a defect in the HIV receptor that allows resistance to to HIV, naturally inhibiting HIV from bind orinfect CD4+ cells. Finally Urbina believes that if people have failed multiple or all therapies, it could benefit them to find a clinical study in which to participate.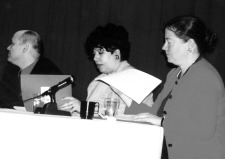 Wade Leon, Tanya Zangaglia, and Karin Timour
Understanding HIV Resistance
Wade Leon, R.N., C.S.-A.N.P.
is currently the director of informatics and a primary care nurse practitioner at Saint Vincent's Catholic Medical Center's HIV Practice Center. He is also an instructor of medicine at the New York Medical College School of Medicine.
To begin his discussion, Leon posed the question, "Why is understanding drug resistance important?" To answer that question, Leon explained that resistance is the primary cause of drug and treatment failure. It has also changed the way we treat and deal with the virus.
In a 1999 San Francisco study, 37% of newly infected patients found that they were resistant to medications. Likewise, 75% of patients who are on one treatment are resistant to other treatments, and up to 95% of those who have shown resistance have failed on more than one treatment. Up to 26% who have never been on a treatment are resistant to drug treatment. Clearly, resistance is a huge issue in treatment for HIV/AIDS.
Leon went on to explain viral resistance, a loss of sensitivity to HIV drugs as well as a decrease in efficacy of drugs. There are two types of resistance testing, genotype and phenotype. Phenotype testing measures the susceptibility of HIV to a particular drug. Genotype testing looks at mutations and how the virus changes when exposed to drugs and the environment.
The tests are not equivalent. Genotype and phenotype results do not always match. Some people appear to be resistant, but are not resistant according to a phenotype test. Many studies do suggest the use of tests for resistance. Developing new treatment options is important as we change the way we look at HIV/AIDS. It is not just about new drugs, but also about new ways of taking them, dosage amounts, and lifestyle. These are just a few of the important things to consider when weighing treatment options and resistance testing.
Let's Talk About Testing
Tanya Zangaglia, M.D.
, a family physician who has been involved in HIV medicine for almost a decade, is the Medical Director of Project Street-Beat, a mobile medical unit which serves disenfranchised New Yorkers in four of New York City's five boroughs.
Zangaglia began by talking about the history of HIV testing. At one point, testing simply involved a two-step process of an ELISA test along with a Western Blot test to confirm the results of the ELISA. Today, we understand more about the science of HIV infection and can test for a variety of virological, immunological and genetic markers as well as HIV-related co-factors.
As people live longer, there are more health tests and issues with which people have to cope. Cholesterol, triglycerides, hepatitis A, B, and C, opportunistic infections, and sexually transmitted infections like gonorrhea, syphilis, herpes, chlamydia, human papilloma virus (HPV), and pelvic inflammatory diisease (PID), are just some of the issues that can complicate HIV status. Further, infection with a sexually transmitted disease (STD)by either a positive or negative sexual partner can dramatically increase the chances of HIV transmission.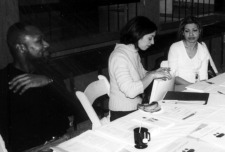 HIV Center recruiting for research study
Resistance Testing: How ADAP Can Help
Karin Timour, M.A., M.Ed.
has been an AIDS educator for 11 years. Until recently, she worked as the health program administrator for the New York State AIDS Drug Assistance Program (ADAP), was previously director of education at Body Positive, and has written a number of articles for this magazine.
Timour opened her discussion with the question, "So how can ADAP help?" ADAP is a program of the New York State Department of Health that provides payment for treatments such as medications, health insurance, premiums, and home healthcare. People who receive ADAP benefits receive a plastic card that enables them to pay for approximately 450 HIV-related medications. This list includes a number of vitamins and nutritional supplements, and up to $30,000 in home healthcare. ADAP will also help pay for three resistance tests a year.
To qualify for ADAP in New York State, a person must be living with HIV, live in New York State, have less than $25,000 in the bank, and earn $44,000 or less in a given year. If someone lives in a two-person household, they can have a combined income of $59,200 and family of three can make up to $74,400.
While regular Medicaid will not cover hospitalization or emergency room visits, ADAP can be used to cover those costs. People can and do use ADAP to go back to work; ex-prisoners can use it before their Medicaid coverage starts. Those who are working but have no insurance can use ADAP to pay for COBRA costs.
ADAP applications can be processed in 3 to 5 days. If a person loses their Medicaid due to alcohol or drug use, they can use ADAP to help with medical care. Finally, as long as a family or an undocumented person can prove they live in New York State and are HIV-positive, they are eligible to receive ADAP benefits.
Coping with Changes in HIV Treatment Guidelines
Robert Remien, Ph.D.
is a research scientist at the HIV Center for Clinical and Behavioral Studies and an assistant professor of clinical psychology at Columbia University as well as chair of the New York State Psychological Association's Task Force on AIDS.
Remien began by discussing the fact that we have all come a long way in 20 years, but still have a long way to go. We need to stay informed and to work on physician-patient relationships. It is important that we never rush into treatments, find support, and that each individual truly decides what is best for himself or herself. No one knows you better than you know yourself.
Remien outlined the characteristics of early long-term survivors: they took charge of their disease, avoided denial, and were aggressive about new treatment strategies. As the years passed in the course of the epidemic, many of the same characteristics held for survivors but new ones surfaced. Today we know that a person must keep up to date on HIV treatments and issues, make plans for the future, be on top of changes in one's own body, report such changes to one's physicians, adhere to agreed upon treatments, maintain a healthy lifestyle, and finally have a positive mental attitude.
Remien also suggests that in this day and age when there are so many HIV-related issues of concern, it is important to stay informed, and to foster a good doctor-patient relationship. It is important to continue a dialogue over time, to not rush in or out of appointments or treatments, ask questions, know your own HIV history, find support, and always remember "we are in this together." There are a lot of reasons to be hopeful, and continue to work to make informed decisions in the midst of uncertainty.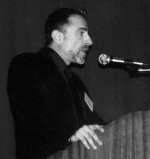 Perry Halkitis, BP board member, morning moderator, and afternoon speaker
Break-Out Sessions
In the afternoon, the conference consisted of six breakout sessions designed so that people could ask specific questions related to their own relevant issues. Each of the breakout sessions were repeated so that participants would be able to attend two sessions.
Three of the morning panelists, Leon, Timour, and Remien, hosted afternoon breakouts as well. Their sessions picked up where their morning presentations left off. Three other presenters were added. Perry Halkitis, M.S., Ph.D., a professor at New York University and co-director at the Center for HIV/AIDS Educational Studies & Training, (CHEST), presented a session entitled, "The Role of Adherence and New Treatment." Leo Wilton, Ph.D., a psychologist and postdoctoral research associate at CHEST, presented "Perceptions of Health Risks Within HIV+ Gay Men in Sero-Concordant Primary Partner Relationships." David Koch, C.S.W., Ph.D., assistant professor of social service at Fordham University, presented a session on "The Changing Face of HIV: The Role of Stigma." The conference concluded with an address by Body Positive Executive Director Michael Dentato, C.S.W. thanking the presenters and participants and encouraging continued dialogue about HIV/AIDS treatment concerns.
Brad Clark is treatment education coordinator at Body Positive.
Back to the
July 2001
Issue of
Body Positive
Magazine.